A suspended Tory candidate embroiled in a row over using a "stage-managed" English Defence League protest to boost his election chances has mounted a bizarre defence of his actions, including quoting passages from Rudyard Kipling.
Amin, who claims he was the target of a sting operation, will face a disciplinary hearing tomorrow after he was filmed by former EDL leader Tommy Robinson, who apparently objected to being used as a pawn. Conservative candidate for Dudly North Afzal Amin
Asked about Robinson's claim that he was told he would be "looked after" if Amin won the seat, the would-be MP said: "When a man is in front of you in tears because he can't provide Christmas presents for his children, you have to extend a degree of humanitarian compassion to him. I did say that to him - 'Look, if I'm eating, you won't go hungry', because that's a normal human response."
Amin told the BBC Radio 4 Today programme what was suggested was "very normal conflict resolution, confidence-building measures" rather than a march that was entirely cooked up to boost his chances against Labour on May 7th.
"If people do announce that they are going to do an action, and other people disagree with it, then they sit together and they resolve their differences and the action is then stopped; then this helps the communities feel that 'Yes, on the other side there is a working partner we can work with'. That's what we were trying to stage-manage."
Contrary to all the quotes in the Mail on Sunday, Amin insisted that the second march was proposed by Robinson in a meeting at the Toby Carvery in Dudley. "There is no way that I would have the confidence to propose such a manoeuvre to the EDL leadership. He is the one that proposed, absolutely, that we would do this march and then we would negotiate a way out of it. When he first came to me he presented himself in tears, saying that he wanted to see an improved Britain.
"I didn't realise this was the start of a year-long sting operation. That's really what I've been subject to here."
Amin failed to explain why he had had never discussed the march with West Midlands Police but insisted "that was exactly what was going to happen next".
"As soon as the EDL would have announced that they were going to do a march, that would have been the right time to bring in everybody and say 'This is what we are hoping to achieve and this is how we are going to do it'. What we tried to do with the previous march they had was we met with the members of the EDL to try and convince them not to march and they said 'It's too far down the road not to march now, too many people are coming'."
He insisted that "on the day it was a very peaceful event" but added: "The first march cost us, in Dudley, £1 million between the policing operation, the loss of earnings for traders and the council's costs. That has to be avoided at all times in the future. So we can't have it, in six months' time, the EDL come again.
"The point of having a march that would be announced and then negotiated down was to develop a model for building bridges and confidence-building measures between these communities. The British Muslim community isn't going anywhere, supporters of the EDL aren't going anywhere. We all need to share this space on our island. The more we understand each other, the greater that unity can be," he said.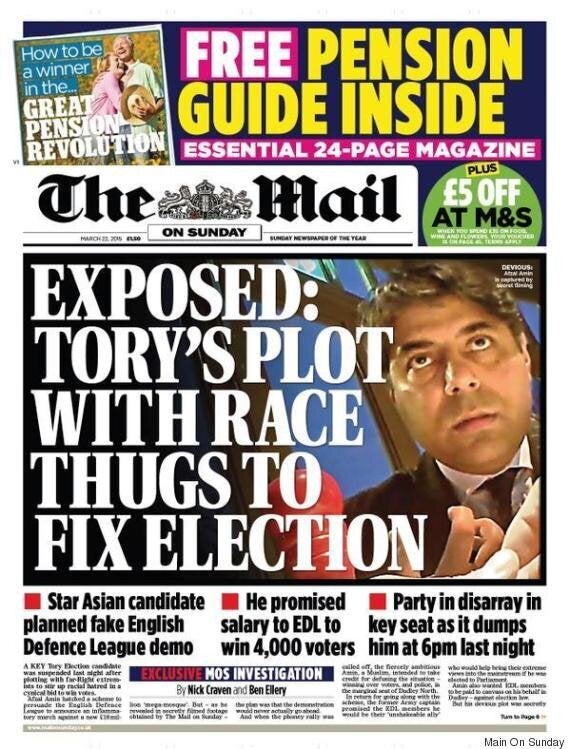 Amin refused to admit his political career was over, and said he would make his case to the Conservative Party at tomorrow's hearing. "I want to make a robust defence of my actions and I want to assure that party that I am a loyal party member and a party supporter and I look forward to seeing a Conservative victory in May and David Cameron returned as Prime Minister," he said.
Amin was hoping to unseat Labour MP Ian Austin, who has a majority of just 649. Dudley North is number nine on the list of seats the Tories need to capture at the next election.
"We need to recognise that people like me … we are not foreigners, we are not immigrants, we haven't come from somewhere else, we are from here. The party needs to speak to us as British people and not as people from abroad," he said.
Robinson himself has been speaking out on LBC, claiming he fears for his family's safety after the revelations - despite having made them himself.
"It's not my word against Afzal's. This is pure video evidence in which Afzal clearly states 'This is my fantasy, this is my idea' and then he goes on," he told the radio station.
"For him to say it's been taken out of context or anything like that... this has been filmed for an upcoming documentary. Every single minute of this is on camera."
Related