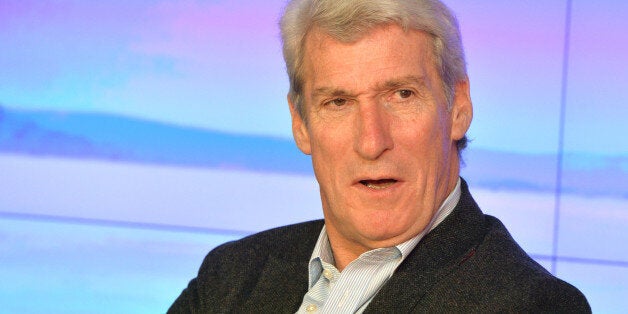 Jeremy Paxman has said his conservative politics should not be an issue for Labour as he prepares to host two high profile live televised general election interviews with David Cameron and Ed Miliband.
Paxman will interview the Labour leader and prime minister on Thursday 26 March. The Channel 4 and Sky News programme will also see both leaders subjected to a Q&A from an audience, chaired by Kay Burley. The broadcasters had initially hoped to present voters with a Miliband and Cameron head-to-head clash similar to the debates held in 2010. However in the end only two separate interviews could be agreed.
Speaking at the Advertising Week conference in London on Monday, the former Newsnight presenter confirmed he had been "tapped up" by the Conservative Party to run for election to parliament from Kensington. And he said had a been a "mistake" to tell the Tories that he would "think about" standing for London mayor rather than just rejecting the suggestion outright.
Paxman told the event today Cameron was a "very effective" media performer, before adding: "Then you'd expect that from a PR man."
He had been asked which MPs he thought were the best at handling interviews. When it was noted he had not listed Ed Miliband, Paxman replied: "How astute of you to notice." He added: "David Miliband was very accomplished ... Ed's alright. He's not a bad bloke."
Paxman singled out foreign secretary Philip Hammond and former foreign secretary William Hague as two other senior politicians who performed well when faced with tough questions.
Asked whether Labour was worried that any perception that he had "Conservative leanings" would make it unfair for him to chair the Cameron and Miliband interviews, Paxman said he would "hope not".
Paxman said: "It's terribly hard to affect impartiality. I think fairness is important. I don't know about whether impartially is ever really truly achievable," he said. "As long as people know where individuals are coming from."
He added that as it "wouldn't make any difference what the politics of your car mechanic are" it should not matter what the personal politics of a journalist or interviewer was.
Speaking about this week's interviews, Paxman suggested voters should not be too disappointed that there was no head-to-head debate between Cameron and Miliband. "You can often get further in an interview than you can in a debate," he said.
Related