Labour has struggled with immigration. Politicians sense the public mood has gone against hundreds of thousands of people coming to Britain every year. Ed Miliband has said his party previously "got it wrong" on the issue in an attempt to win back voters.
Now, the party is trying to put all that behind them by flogging a mug with "Controls On Immigration" on it.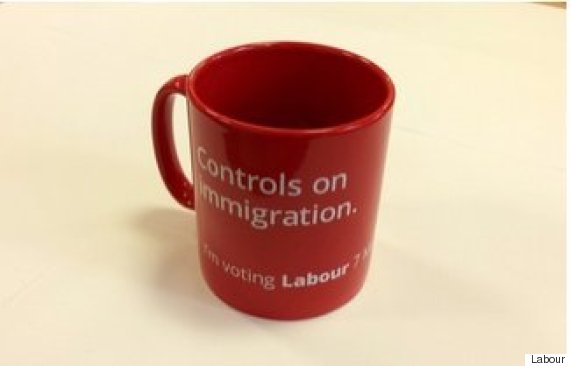 If someone at work, carrying this mug, asked if you wanted tea, would you say yes?
That's right, for just £5.00 you can enjoy a cuppa AND, at the same time, reassure yourself Labour isn't soft on immigrants.
The red mug also says "I'm voting Labour", presumably to ensure no one confused it for a piece of Ukip merchandise.
Somewhat optimistically, Labour's shop specifies the £5.00 price is "for one", perhaps presuming people would think they could get multiple conversation-stopping, concerns-you-are-a-bit-racist-inducing "Controls On Immigration" mugs for that price.
For the person in your life who just won't stay away #HellYes pic.twitter.com/QqrGNCECPp

— Tim Stanley (@timothy_stanley) March 28, 2015
What kind of bizarre obsessive would buy a Labour mug with "controls on immigration" written on it? pic.twitter.com/skncdgCCWn

— David Skelton (@DJSkelton) March 28, 2015
Would love to know how many they actually sell of these - apparently they've got 500 (and a counter?) #stockwatch pic.twitter.com/lEjt1Ozpbg

— Dylan Sharpe (@dylsharpe) March 28, 2015
Lovely gift for any tea-drinkers in your life that you hate pic.twitter.com/h5FY9EENL5 via @dylsharpe

— Stig Abell (@StigAbell) March 28, 2015
The racist Labour party cup, sold on the Labour party website https://t.co/carRUBunu7 @Fight4Aylesbury pic.twitter.com/MUkiSIte0p

— South London RCG (@SouthLondonRCG) March 28, 2015
The @UKLabour party appears to be selling off merchandising stock it got from the BNP, like this > https://t.co/CY9yO6RDHc #shameful

— tash (@tashLDN) March 28, 2015
At the time of writing, there were 498 mugs still in stock, meaning at least two have been bought.
The mug is one of five to feature the party's core pledges. The others are 'A strong economic foundation', 'Higher living standards for working families', 'An NHS with time to care' and 'A country where the next generation can do better'.
A Labour spokesperson told ITV News: "Labour has five election pledges. This is one of the election pledges."
SEE ALSO:
Immigration is an issue both main parties have struggled to sound convincing on recently.
Miliband's centrepiece immigration speech in December was overshadowed by the leaking of a strategy document that told candidates to move conversations on the doorstep away from the issue, saying it "does not translate into electoral advantage for us".
David Cameron has been haunted by his commitment to cut net migration to the tens of thousands "no ifs, no buts", only to fail to come even close to achieving it.