Despite being fired from Ukip for being racist, Rozanne Duncan has once again described in public her less than positive feelings about black people.
Duncan, who served on the district council for Thanet - where Ukip leader Nigel Farage is standing for election, in Thanet South - made her latest controversial statement during a televised debate show.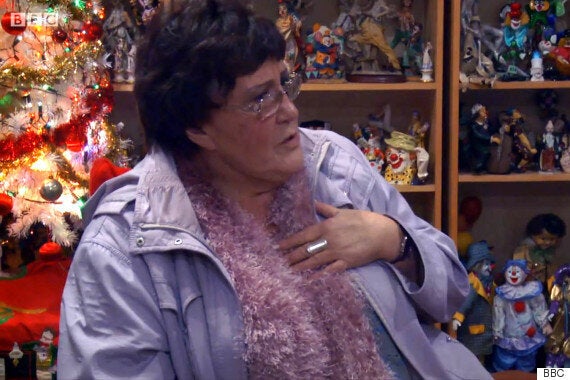 Speaking on the new ITV daytime show, O'Brien, when asked how she felt towards black people, Duncan said: "I can't explain the discomfort I feel, I really can't."
In the clip released ahead of the show airing tomorrow, a black woman in the audience, sitting just two seats away, asks if she is "too close", and is making her feel uncomfortable.
Duncan replies: "Not uncomfortable, no. But let's put it this way, I wouldn't form a friendship with her."
The woman in the audience responds: "It's not an option."
A clip from 'Meet the Ukippers'
The exchange takes place on the new daytime show presented by journalist and radio broadcaster James O'Brien in the run-up to the General Election. The first of the shows tackles the topic of racism.
Duncan was expelled from Ukip when she was filmed saying she was "absolutely" not racist, before commenting: "The only people I do have problems with are negroes."
A clip from 'Meet the Ukippers'
She added: "I really do have a problem with people with negroid features."
Also on the new show with Ms Duncan is comedian Jim Davidson, who sits on the programme's expert panel, and fellow audience member, Ukip MEP Bill Etheridge.
Etheridge is also challenged by O'Brien over a photo of him with a golliwog. He asks the politician why he continues to have this picture up on his Facebook page.
The MEP says that he does not mean it to be offensive, but that he has left it there because these issues should be discussed.
When it is put to Davidson that he is generally seen as the "poster boy for political incorrectness", the comic says: "I would like to get rid of political correctness and replace it with courtesy and politeness, and a little bit of intelligence."
When Davidson jokes that he would be on TV on a Saturday night if it wasn't for Ant and Dec, O'Brien suggests there's an opening going on Top Gear.
The 61-year-old says: "I would love to do it, but I am always banned from driving."
O'Brien will run daily for two weeks to coincide with the first fortnight of the election campaign.
Popular in the Community