BBC Films boss Christine Langan is among the senior execs at the Corporation crossing everything for Charter renewal, because there's a lot more she wants to do.
Asked if there's a Plan B for her section should the Charter not be renewed, she shakes her head, "I'm sticking with Plan A.
"BBC Films is very good value for money. We're very pared back, we have a lower budget than we had a few years back and we're doing a lot more with it," she adds, referring to the increased slate of 16 films this year.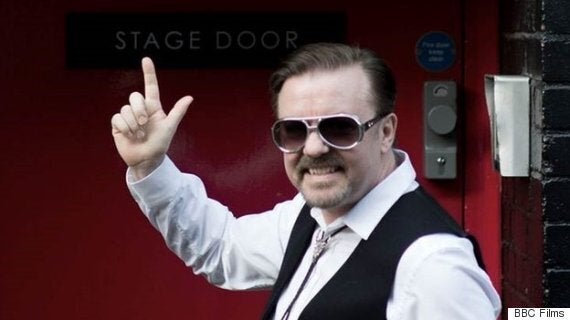 David Brent is coming to BBC Films, with Ricky Gervais's 'On The Road' movie
"I think we're resourceful in the way we approach the work, there's a strong value-for-money argument as well as a cultural dividend."
BBC Films has been celebrating its 25th anniversary with the announcement of an impressive list of additions to its bill – comedy king Armando Iannucci is teaming up with 'Veep' co-writer Simon Blackwell to work on 'David Copperfield', while Ricky Gervais will be making his David Brent film 'Life on the Road' under the BBC umbrella. Director James Marsh will be following up his Oscar-nominated 'Theory of Everything' with a portrait of amateur sailor Donald Crowhurst, starring Colin Firth. Meanwhile, planned documentary subjects include two very different icons in their fields, retiring jockey AP McCoy and the unretiring Grace Jones.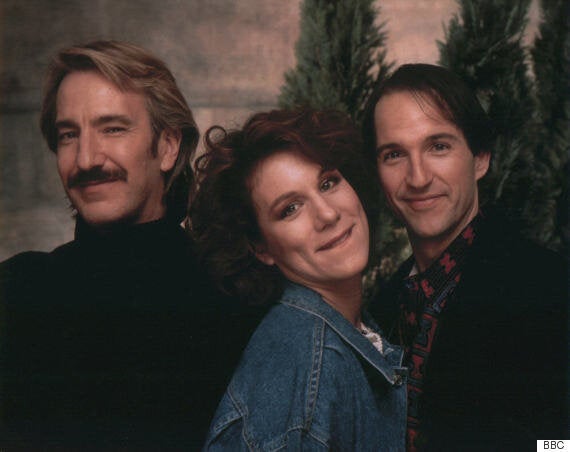 'Truly Madly Deeply' was the first film made by BBC Films 25 years ago
Christine Langan has been at the helm of BBC Films for the past six years – previously, her impressive production record includes 'Cold Feet', 'The Deal' and the Oscar-nominated 'The Queen'. Since joining the BBC, her proudest moment was watching Steve Coogan and Jeff Pope's 'Philomena' winning commercial success, critical praise and Oscar nominations.
"Philomena really worked, it did many different things, it managed to be both very commercial, very moving and focus on the theme of forgiveness but with a light touch," she remembers. Christine's pride is evident, not least at her own creative matchmaking.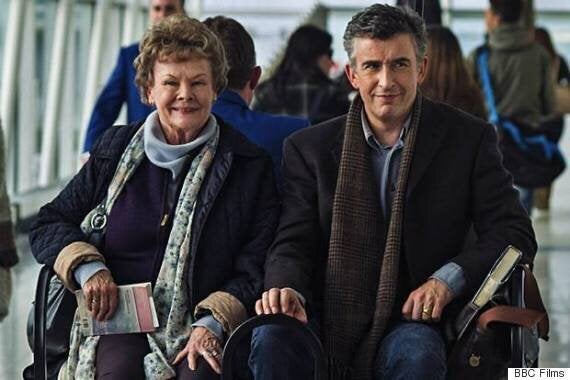 Christine Langan is particularly proud of the success of 'Philomena'
"I put Jeff Pope and Steve Coogan together, and that shows what we can do when things are going well.
"For Steve, with his enormously brilliant successful life elsewhere, but trying something new and potentially scary, we were able to surround him with the things he needed,.
"At the same time we could help launch Jeff ('Appropriate Adult', 'Cilla'). He's been incredibly hardworking for years in TV, and this helped raise his game. I'd known him for years, so it was great to be reunited with him."
In an era when the BBC has to justify every pound it spends, Christine will no doubt be happy to read the Director-General Tony Hall's description of her department – with its core team of around a dozen - as "a creative powerhouse recognised the world over. The money we put in goes a very long way – every £1 attracts around £5 more of investment to produce British films that otherwise wouldn't be made".
She herself is adamant that what her team offers is an essential part of the cultural makeup of the country.
"I do think the BBC has a responsibility to public life and without a doubt the film makes to creative economy and cultural life of the country. This is the sole participation of the BBC in the independent film sector
"Plus other distributors are purely commercial. They may be quality, but the pound sign is at the front of their thoughts. No bad thing, but in the early stages, the best ideas may not seem commercial, and you need a free period to explore something creatively. We offer guidance, and producers can come to us knowing they have the support of a strong brand. They don't just feel stronger working with us, they are stronger."
Any films she shouldn't have made? Christine is unsurprisingly diplomatic…
"No film is a mistake, you learn more from your failures than your successes. You can make a really good film and if it doesn't have the right hook, whatever that is, it might not perform at the box office and that's really tough."
Going forward, then, what's the biggest challenge?
"I don't think the challenge is money. The challenge is continuing to punch above our weight, to be heard above all the noise. Older audiences get it, but it's capturing the imagination of younger audiences, it's not falling into your own traps of safe formulas, but keeping fresh.
"I want the brand to get stronger, and for people to see the films associated with it are always interesting and bold. I can't guarantee it, but that's the aim."
Some of the biggest hits in the BBC Films catalogue:

1990 Truly Madly Deeply

1997 Mrs Brown

2000 Billy Elliot

2002 Iris

2006 Starter for 10

2006 The History Boys

2007 Notes on a Scandal

2008 The Duchess

2008 The Other Boleyn Girl

2009 An Education

2009 In The Loop

2009 The Men Who Stare At Goats

2010 Made in Dagenham

2011 We Need To Talk About Kevin

2011 My Week With Marilyn

2012 Salmon Fishing in the Yemen

2013 Alan Partridge: Alpha Papa

2013 Philomena

2013 Saving Mr Banks

2014 Pride