Amid the last-minute attacks on each other, the name-calling, the bacon sandwiches and the debates, it's easy to forget that who you vote for in the General Election 2015 should actually be based on an informed knowledge of a party and its policies.
If you're not quite sure with one day before voting, there are an extensive array of tools and quizzes that can help you better understand the policies, and where your views fit among them.
General Election: When Is It And How Do I Vote?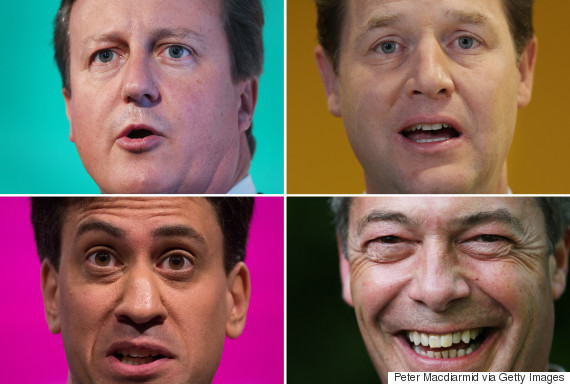 Four of the people who want to lead the country after the General Election
The following are all independent resources. None claim to tell you who to vote for, but all can give you information which could help you to choose who to pick on 7 May. (All this is useless if you forget to register to vote though - so sign up by 20 April.)
1) VoteMatch
The most widely-used online voting quiz: over 1.2 million people took it for the 2010 General Election. VoteMatch offers up a selection of statements based on the policies of different parties (checked by the parties themselves) and asks you how strongly you agree or disagree with them. It aims to be an 'educational tool' and also has editions for different European election as well as the UK version. It is created by the campaign Unlock Democracy.
2) ISideWith
This independent quiz adds new questions and issues each week, and was started by two data geeks who are into politics - with no shareholders or party affiliations. It asks you how much you agree with policies, and also how important they are to you.
3) They Work For You
They Work For You is a great resource for information on MPs - enter your postcode and find information on your local representative. (There are technically no MPs at present as parliament has been dissolved before the election, so make sure you look at the list of MPs before 30th March.) You can see what they have voted for and against, what they have said recently in your name, and how often they rebel against their party line. It's run by my Society, a project by the charity UK Citizens Online Democracy, and uses information from Hansard, the official record of parliamentary debates.
100 Facts About The General Election
4) Who Should You Vote For
Using data from YourNextMP.com, another My Society website, Who Should Vote For hosts four quizzes. It currently boasts pre-election questionnaires for voters in England and Scotland and will soon be updated with more extensive versions.
5) Vote For Policies
We should vote for policies, not people: that's the premise behind Vote For Policies, a not-for-profit independent organisation which says the results of its quiz " may surprise you!" As with other tools, before rating policies you must select which issues matter most for you out of a selection including health, the economy, welfare and foreign policy.
6) Positiondial
Positiondial claims to give "a new way of exploring your political position". Click on "Where do you stand?" and you can compare your view on statements to the main parties, but also to your friends and the general public. You can also create a tailored 'Positiondial' showing your leanings on different topics. There's a particularly intriguing section called Antibod which gives you a news stream of articles that challenge your political views. The quiz was developed with the University of Westminster Centre for the Study of Democracy.
MORE: General Election 2015 News
7) YourCandidates.org.uk
Tap in your postcode to compare the candidates in your area on Your Candidates. Browse information on their policies on subjects from immigration to benefits, and see what their past and predicted share of the vote are. It is powered by data from YourNextMP and ElectionForecast which is run by several academics. One handy addition is a Twitter feed, pulling together of all of your candidates' tweets.
8) Tickbox
If you're pushed for time, Tickbox claims it can tell you who "deserves" your vote in just 30 seconds. The full site, complete with information on all candidates and the chance to engage directly with would-be MPs, will launch on 15 April. It is the created of a student on sabbatical from Exeter University.
9) WhoShallIVoteFor.com
A teacher and a digital publisher joined forces for WhoShallIVoteFor, a platform which hopes to combat the inevitable pre-election mud-slinging with straightforward information on how the parties compare. They gather their data from manifestos and policy statements, and allot a 'score' to different parties representing how much they agree with different questions. The team plan to update it every workday in the run up to the election, and there are a host of other things to check out such as political debate videos, seeing how your city compares to others, and a timetable of election events.
10) Verto (coming soon)
Bite The Ballot, the youth voting campaign, will soon launch Verto, an app for England, Wales and Scotland which hopes to encourage people to get engaged in politics from their smartphones. Using a sleek format and a statement-matching process similar to other platforms, it promises to "demystify the parties' policies, give manifesto pledges meaning and help users compare in real-time."
GENERAL ELECTION 2015