An electrical fire continues to cause chaos in Central London as clouds of thick black smoke and flames shooting from manholes prompted the evacuation of around 2,000 people from nearby buildings on Wednesday night.
Ten fire engines and 70 firefighters were at the scene and Holborn Tube station was closed. There have been no reports of injuries.
Onlookers reported "chaos" as people gathered on the streets and others said they "struggled to breathe" as the sky filled with "acrid smoke".
Latest news and photos from the #HolbornFire plus details of how it is affecting theatregoers http://t.co/V2patq7dkk pic.twitter.com/7JYNffxkzz

— BBC London Newsroom (@BBCLondonNews) April 1, 2015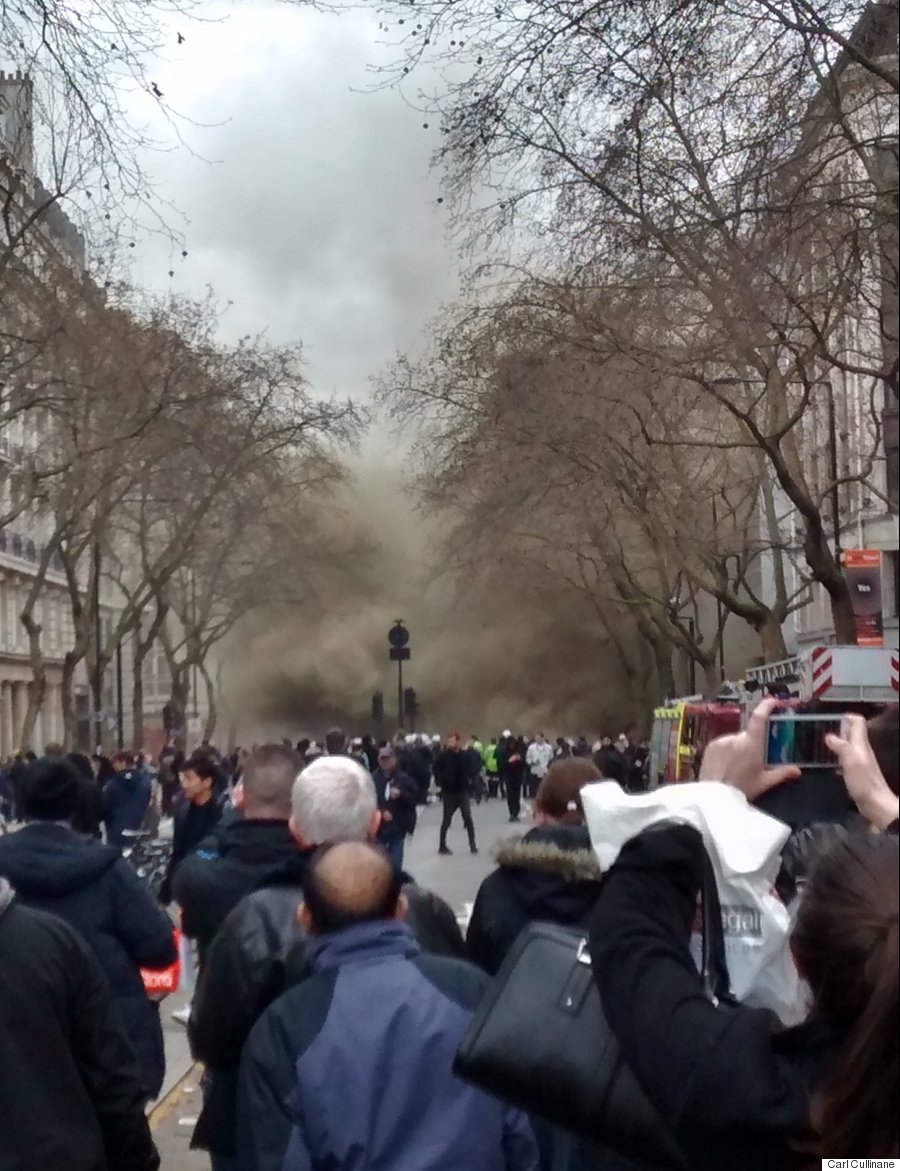 The inferno reportedly led to power surges, electricity failures and internet outages in the surrounding areas, with office workers and students filling the closed streets. The fire is thought to have been started by a faulty electrical junction.
Gary Squires of the London Fire Service told the BBC's Sarah Campbell flames seen bursting through a manhole cover were caused by a ruptured gas main.
#fire Flames pour from manhole in Kingsway, central London, as underground fire forces 2,000 evacuated from area pic.twitter.com/GXdiPtHSsi

— Martin Brunt (@skymartinbrunt) April 1, 2015
Venting gas from an underground pipe, according to @LondonFire #HolbornFire pic.twitter.com/qJLxlSBfGS

— Richard Baker (@bakerpictures) April 1, 2015
Fire at holborn #london pic.twitter.com/idSx89HDn1

— Tom Aldrich-Smith (@tomunleashed1) April 1, 2015

Vehicles are being told to avoid the area while firefighters attempt to quell the blaze.
A local office worker told RT: "At 1pm there was some smoke coming out of the pavement outside the Civil Aviation Authority building, and our internet died. Then we worked for about an hour, and watched the cordon outside get bigger and they stopped the road.
"At half past two our electricity died... and we were told to leave. There was thick brown smoke coming out of the drain and covering the whole road. smelt of burnt plastic. Apparently a server room fire has spread to other cables"
Around 2,000 people evacuated from buildings near cable fire on #kingsway Crews waiting for power to be switched off. pic.twitter.com/HGVDtBF7t5

— London Fire Brigade (@LondonFire) April 1, 2015
So this is happening just outside my office! #kingsway #holborn #london #fire pic.twitter.com/Ywy97tnrjA

— Martin Dyan (@MartinDyan) April 1, 2015
Six fire engines & 35 firefighters at electrical fire on #Kingsway in #Holborn. Avoid if poss http://t.co/tSJuIIExsP pic.twitter.com/DX1NS8FfEQ

— London Fire Brigade (@LondonFire) April 1, 2015

Among those evacuated in the area were judges, lawyers and staff at the nearby Royal Courts of Justice on the Strand.
Nicola Foxfield, 29, said: "I was walking from Covent Garden towards Holborn and I could smell burning in the air.
"As I got closer I could see fire engines everywhere then I could see loads of thick, brown smoke rising off the road. It's chaos and fire engines are coming from every direction and there are so many people around."
Avoid #Kingsway in #Holborn! pic.twitter.com/72mFSt5Ia2

— Blasco Goes Jr (@blascojnrgoes) April 1, 2015
Aerial shots from the Sky News chopper show smoke filling #Kingsway #Holborn #Kingswayfire pic.twitter.com/CLYgR6X0Xj

— Hazel Baker (@HazelBakerSky) April 1, 2015

Shows including Lion King (Lyceum Theatre), Beautiful (Aldwych Theatre), and The Play That Goes Wrong (Duchess Theatre) will not go on tonight.
London Fire Brigade Assistant Commissioner Peter Cowup said: "Crews are currently working to prevent the spread of the fire to surrounding buildings. We are working closely with the various electricity companies involved to identify the source and extent of the fire which is underground.
"As this is likely to be an electrical fire we have to ensure the power is off before we apply water to extinguish it.
"We are working with our partners and implementing well-rehearsed plans to prevent the fire from spreading and to protect surrounding properties."
Most of #LSE is being evacuated due to a fire on #Kingsway #Holborn

— LSE (@LSEnews) April 1, 2015
How's that for April Fool? Local fire by the Peacock Theatre = Power cut + Full evacuation. pic.twitter.com/aPRzCu5vF5

— LSE_ID (@LSE_ID) April 1, 2015
Evacuated from the library cause there's a fire #London #fire #excusetoslackoff pic.twitter.com/KZxfh25uSo

— Lucy (@Lmccray13) April 1, 2015
#fire Flames pour from manhole in Kingsway, central London, as underground fire forces 2,000 evacuated from area pic.twitter.com/GXdiPtHSsi

— Martin Brunt (@skymartinbrunt) April 1, 2015
I came to have a look at the fire in Holborn. This is as near as I could get. Loads of smoke. pic.twitter.com/SFKju6CX2R

— Philippa_Perry (@Philippa_Perry) April 1, 2015
Holborn electrical fire in Covent Garden 👀 pic.twitter.com/Dn0hW5TyNm

— Lauren Johnstone (@Nakedfashions) April 1, 2015
The London Fire Brigade said: "Fire crews are dealing with an electrical fire among cables under the pavement on Kingsway, Holborn.
"The alarm was raised after smoke was seen coming out of an inspection cover on the pavement.
"A large safety cordon is in place and more than 2,000 people have been evacuated from a number of nearby buildings due to the large quantity of think black smoke in the area.
"Police have declared a major incident and closed Kingsway at both ends. Motorists are being advised to avoid the area."
The fire is not connected to the London Underground, and Holborn station was only evacuated for purposes of "traffic management".
Motorists are being asked to avoid the area, which is affected by road closures and traffic lights no longer working.
Teacher Cath Davies said she had been in a cafe waiting for a friend when customers were asked to leave.
"There are a lot of curious people wondering what's happened," said Ms Davies.
"Kingsway is blocked off and there are police and firemen everywhere. From the end of the street you could see smoke pouring out.
"It seemed to be coming from under a building. The area seems to be in darkness."
The LFB said there have been no reports of injuries.
SEE ALSO: