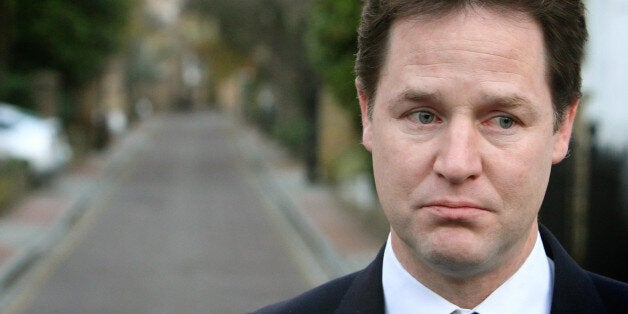 Nick Clegg is in serious danger of losing his seat at May's general election, a poll published by Lord Ashcroft on Wednesday afternoon suggested.
The survey, which took in eight marginal Liberal Democrat constituencies including Clegg's Sheffield Hallam, showed Labour's candidate Oliver Coppard is ahead of the deputy prime minister by 36% to 34%.
Clegg, who is defending a healthy 15,284 majority, said he was confident of remaining an MP. A defiant Liberal Democrat leader said: "I'm going to win."
The Lib Dem leader said he would be knocking on doors in his constituency over the Easter weekend. "On May 7 I will be returned as MP for Sheffield Hallam, which is one of the greatest pleasures of my public life," he said.
Coppard said on Twitter following the poll: "Good news from @LordAshcroft but genuinely doesn't change a thing; 36 days to keep talking to people about why we deserve their support."
A spokesman for Clegg said: "We are confident of winning Sheffield Hallam. We are not complacent. We do not take any voters for granted.
"But we are confident of winning because Nick has been the local MP there for 10 years. He's got a record in Sheffield that we are happy to defend and that his constituents appreciate."
The loss of their leader on May 7 would be a devastating blow to the Lib Dems, who are battling low national poll ratings in an attempt to cling onto as many of their 57 seats as possible. The party is hoping to return to Westminster after the election with at least 30 MPs.
Clegg dismissed a previous poll that showed he would lose his seat as "bilge". But today's numbers are likely to worry the Lib Dem leader given polling day is just over a month away.
In his analysis of his poll, Ashcroft said: "On the ground, the campaign is being very closely contested. While 53% in these seats said they had had literature, letters, phone calls or visits from the Conservatives, 52% said they had heard from the Lib Dems.
"There were variations between seats, though activity levels were high throughout. The highest contact rate of all was from the Lib Dems in Sheffield Hallam, where 76% said they had heard from Nick Clegg's team; we will know in 35 days if it has paid off."
Clegg's decapitation would leave the Lib Dems without a leader on May 8, just as any frantic coalition negotiations would be getting underway.
The deputy prime minister is not the only big name facing defeat in May. Labour's Douglas Alexander faces a tough fight against the SNP as does Lib Dem chief secretary to the Treasury Danny Alexander. Conservative education secretary Nicky Morgan is also defending a highly marginal seat.