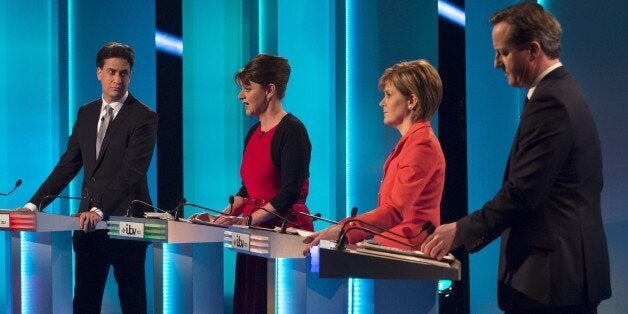 There was no clear winner in the only TV debate pitting seven political leaders against one another ahead of the May 7 general election.
Ed Miliband topped one poll, the Scottish National Party's Nicola Sturgeon another and the Labour leader tied with David Cameron and Nigel Farage in first place in a third.
After the Prime Minister refused to face Miliband in a head-to-head televised debate, the two-hour ITV showdown was the only chance for the two men to confront one another on key election issues like the economy, jobs, immigration and health.
Cameron accused the Labour leader of planning more debt, taxes, borrowing and spending and urged voters to let Conservatives complete their "long-term economic plan", telling them: "What my plan is about is basically one word - security. Security for you, for your family, for our country."
In a clear effort to bolster his credentials as an alternative premier, Miliband repeatedly described what he would do "if I am prime minister". He accused the PM of wanting to talk about the past rather than the future, and said: "Some people will tell you that this is as good as it gets for Britain. I say Britain can do so much better than it has done over the last five years."
Farage repeatedly accused the other leaders of being "all the same" and said he was the only one who wanted to control immigration by pulling Britain out of the European Union.
But he clashed with Plaid Cymru's Leanne Wood, who accused him of "scaremongering" and said he should be ashamed of himself after he raised the issue of foreign nationals receiving HIV treatment on the NHS and said: "We've got to put our own people first".
Nick Clegg sought to distance the Liberal Democrats from the two biggest parties, directly taking on Cameron over what he termed "ideologically driven cuts" and challenging Miliband to use the opportunity presented by the debate to apologise publicly for "crashing the economy" as part of the last Labour administration.
At one point, Cameron was interrupted by a heckler from the 200-strong studio audience, Victoria Prosser, who demanded to be heard as she protested at the treatment of military veterans, shouting: "There's more of us than there is of them and they are not listening to us."
Farage claimed an early advantage, with 24% of viewers polled at the half-way point by ComRes for ITV News rating him the best performer, ahead of Miliband on 21% and Cameron on 19%.
But by the end, the picture was less clear, with Miliband leading an ICM poll in The Guardian taking 25% of support, just ahead of Cameron on 24%, with Farage on 19%. A ComRes post-debate poll for ITV News had Miliband, Cameron and Farage tied in first place on 21%, with Sturgeon on 20%. And a YouGov poll had the SNP leader top with 28% backing, followed by Nigel Farage (20%), David Cameron (18%), Ed Miliband (15%).