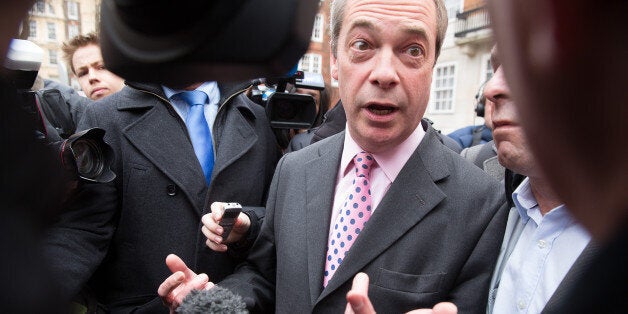 Nigel Farage has blamed Conservative defectors for Ukip getting into trouble for controversial things said by its members.
This week one Ukip parliamentary candidate suggested Israel should kidnap president Obama and put him on trial in the style of a Nazi war criminal and another was accused of making racist and homophobic comments on Facebook.
Speaking on the BBC's Today programme this morning, Farage said Ukip was "far from" perfect but that it tried to "weed out those who do say or do inappropriate things".
"We have had a problem with some Conservative defectors. Nearly every one of these cases is when people have come from the Conservative Party to us," he said.
"It's interesting. Last year I was here there was a Ukip town councillor who said derogatory things about gay marriage. It was a national news story. It led on some of the BBC bulletins. He had been a Conservative councillor for 22 years saying the same things."
The two high points for Farage last year were arguably when two Conservative MPs, Douglas Carswell and Mark Reckless, defected to Ukip.
Farage's Twitter account also accused the BBC of bias while he was on air being interviewed. "So the BBC admits it doesn't think that other parties have bad eggs in their ranks. Clear and evident bias," the account said.
Also recently, Ukip MEP David Coburn compared Humza Yousaf, the Scottish government Europe minister, to Islamist terrorist Abu Hamza while Janice Atkinson, who was set to stand as the party's general election candidate for Folkestone and Hythe, was expelled over allegations of an inflated expenses claim.
At Ukip's Spring conference in March, party candidates were given a stern warning to watch when that said on Facebook and Twitter. David Soutter, Ukip's head of candidates, did not disguise the directive when addressing activists gathered in Margate. "Don't let the party down," he said. "Because one of you can make all the rest of us, the work that we do, wasted. And I am sure none of you want to do that."