Chris Evans has pulled out all the stops, or rather, pulled on a sock, to promote the return of 'TFI Friday'.
The presenter stripped completely naked, apart from a strategically placed sock, to film a clip ahead of a special 20th anniversary edition of the Channel 4 show.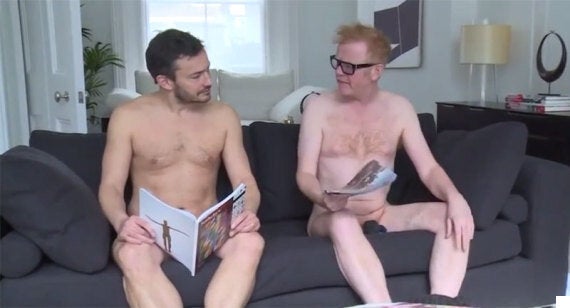 Chris Evans and Giles Coren
The Radio 2 Breakfast Show host is joined in the clip by food critic Giles Coren, who is seen knocking on Chris's door and asking him about TFI's return.
"So I hear you're bringing TFI back with all the funny bits," Giles asks.
Chris responds with: "Some of them, but not all of them - just the best bits. Not the naked parade, though. It was good, but I think my body is over the nudity thing."
Obviously Chris had a change of heart though, as moments later the pair can be seen recreating their own, private 'naked parade' on the sofa.
'TFI Friday' ran from 1996 to 2000 and was a huge hit despite regularly courting controversy.
Related