Nigel Farage met a tearful voter upset by the "bedroom tax" on Monday, insisting Ukip did not support the "divisive" coalition policy. Pamela Vaughan, 59, wept when she spoke with the Ukip chief in her home in Broadstairs, Kent, describing the impact of having to pay an additional £25 a week.
"Every day I wake up and think what if I can't pay it next week," she said. "You've got to choose between food and heating because it's got to be paid. When you're in your 60s you think you're settled. You don't think you're going to have this upheaval."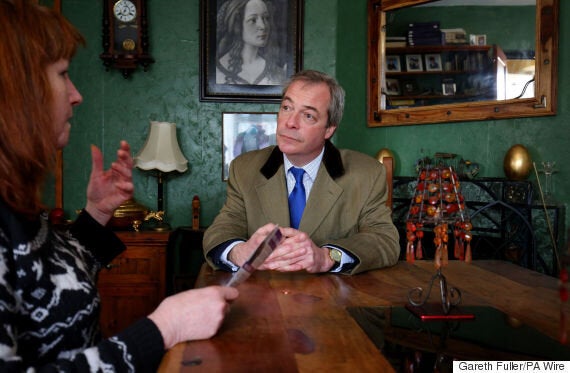 Ukip Leader Nigel Farage meets Pamela Vaughan in Broadstairs, Kent, as he continues his campaign trail for the South Thanet seat
Farage, who was canvassing as Ukip's candidate for South Thanet, told her: "We don't support it, it's been very divisive and you're living proof of how upsetting it is." The controversial regulations introduced on April 1 2013 led to reductions in housing benefit payments to social tenants assessed to be under-occupying their accommodation.
Speaking afterwards at the Holly Tree pub in nearby Cliftonville, Farage said: "People who work in Westminster and formulate policy, I don't think they always see the impact on people's lives. There was a lady who had lived in that house for 35 years, a council house which she paid rent for, she had decorated it in the way she liked, she was nearly 60, hasn't got a very big income and suddenly there's an extra £25 a week she has to find because of the bedroom tax.
He added: "She was pretty much in tears over it. It just goes to show you there are people out there who really do suffer directly as a result of Government policy. I felt very sorry for her."
Meanwhile, Farage said he was "confident" about his chances of becoming an MP despite a recent Comres poll which showed he was one point behind the Conservatives. "I've been out today knocking on doors for four hours and I think support for us is very, very good," he said. "Opinion polls are going to show all sorts of different things. Don't forget there is a methodology where the undecided get reweighted back to the 2010 vote."
He added: "Frankly politics has changed so much in the last five years, that doesn't really work. Even in that Comres poll, look at the raw data, we're still five points ahead. I think I'm going to win. I'm confident but not complacent."
On Friday Farage was mocked by comedian Eddie Izzard for his repeated use of Monty Python phrases. The cross-dressing comic said: "If Nigel Farage is setting himself up as a funnyman I don't think that's really going to work. I don't think by pretending to be Monty Python he's going to actually get anywhere because people who actually like Monty Python are people who are not going to vote for the UK Independence Party."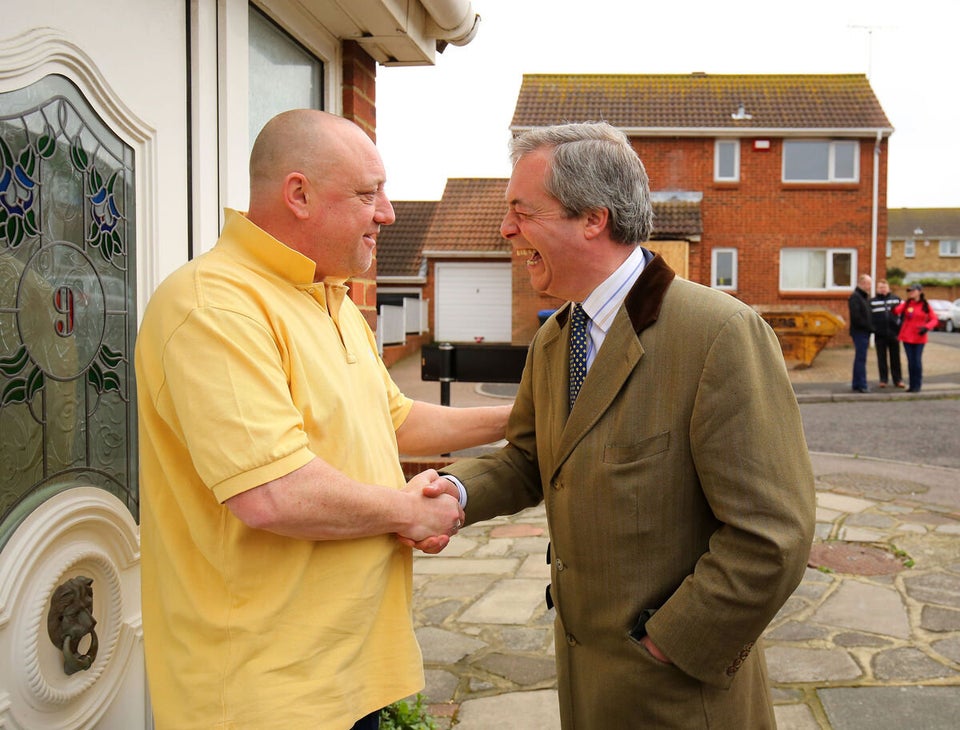 Farage Goes Door To Door