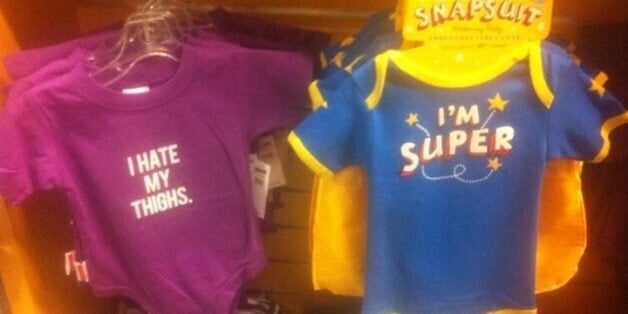 A baby grow emblazoned with the shocking slogan 'I Hate My Thighs' is no longer for sale thanks to an outcry on social media.
One man, his camera and Facebook have proven that we all, as individuals, have the power to change things that simply aren't acceptable, such as this deplorable example of body shaming for very young girls.
Jason Evans took a picture of the purple baby grow hanging next to a blue one with the slogan 'I'm Super' in New York University's Bookstore.
He posted it on Facebook with the message: "I had a very difficult time not raging out about this in the college store. These are onesies…for infants…guess which one is for girls and which one is for boys. THIS is the problem."
Within just five days Evans's post had been shared more than 16,500 times.
"Talk about starting the body issues young," wrote one commenter.
Another added: "Seriously! One of the cutest things about babies are the chubby thighs!! Come on people!"
Jason added in a later comment:
"I have seriously tried to figure out how to write an email that isn't a complete rant about this to the powers that be internally.
"I don't want to come off as insane, and I also know there are some people who obviously think this sort of thing is harmless.
"How do you calmly explain to the people who run the bookstore how wrong this is? This is testing my abilities, really."
But he needn't have worried, before long a number of people who had seen this photo called the shop asking for the baby grow to be removed, and the NYU Bookstore promptly complied.
The offensive baby grow was created by baby clothing company Wry Baby, and this wasn't the first time the design had some under criticism.
On 18 March 2015 Michele Kort, editor of American feminist publication Ms Magazine, wrote about it in a blog piece:
"But really, there's something icky about projecting fat awareness on babies...
"The Wry Baby website deems this "a tiny statement regarding self-image." Hahaha. Actually, it's a pretty large statement for a 10-pounder to be making—a harbinger of things to come later in a child's life, especially if that child is a girl."
Following customer complaints, the baby grow was pulled from Wry Baby's online store.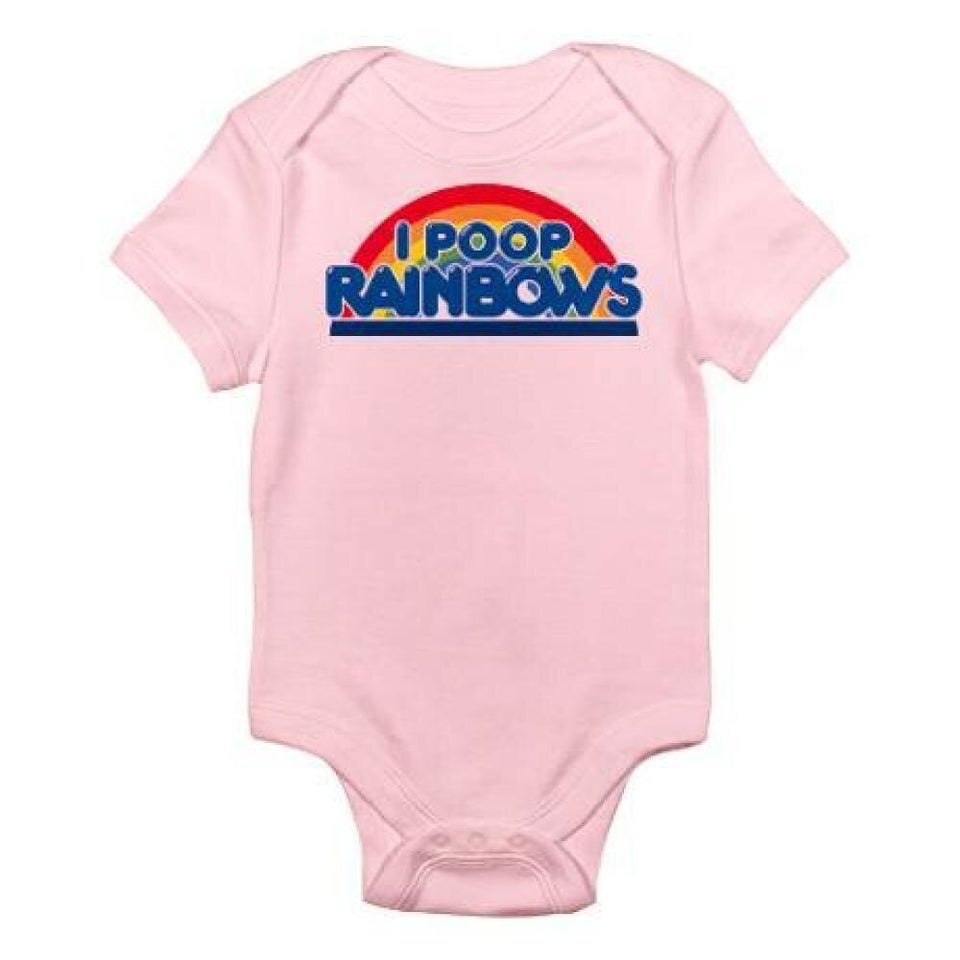 Inappropriate Onesies