"Do you want a giggle?" a middle-aged Ramsgate voter asks conspiratorially, lifting up her doormat to reveal crumpled Ukip leaflets featuring a beaming Nigel Farage. "Everything we get from them goes under there so we can stamp on his face. All they are is fascists."
At Ukip's spring conference in February, Farage triumphantly pointed to a poll that showed him on course to become the next MP for South Thanet. He had a comfortable 11 point lead. But two months on and with the election under a month away, the battle for the Kent coast seat now looks much tighter. A leaked internal poll conducted by ComRes, but dismissed by the party, suggests it is a three-way scrap. The survey put Ukip on 30%, behind the Conservatives on 31% and just one point ahead of Labour on 29%.
To lose in South Thanet, Farage has admitted, would be the end of his political career.
Will Scobie, Labour candidate, senses blood. With just under a month to go until polling day he is pinning his hopes on anti-Ukip voters swinging behind him rather than the Conservative candidate Craig Mackinlay.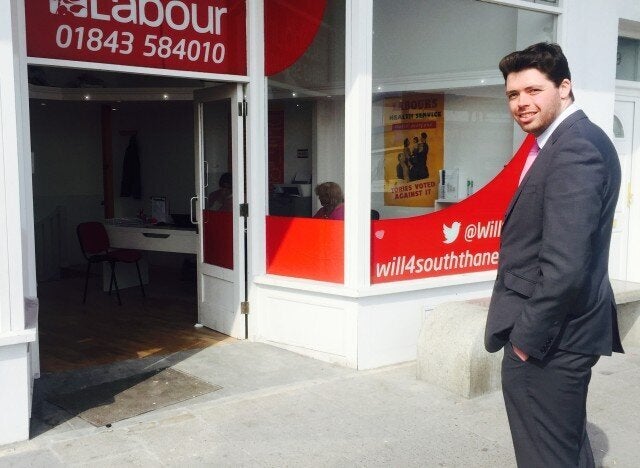 The Tories won here in 2010. But the incumbent MP, Laura Sandys, is stepping down from the Commons after only one term. Her departure threw the race wide open. Sandys, Scobie concedes, would have "coasted" to victory had she run for reelection. But while she is a One Nation pro-European Union Conservative. Her replacement on the Tory ticket, Mackinlay, is a former leader of Ukip. In South Thanet Conservative Campaign HQ is quite literally trying to out -Ukip Ukip.
"If Laura Sandys was standing it would a totally different ball game. They gave Farage exactly what he wanted. Mackinlay is not splitting the Ukip vote, he is just denying the Tories that unification of the other vote. I think it's a mistake."
Scobie's father, who is out stuffing leaflets through Ramsgate postboxes, agrees that the battle between a right-wing Tory and the Ukip leader has given his son a huge chance. "Sandys standing down was a game changer. Farage standing was also a game changer – he is marmite."
Locally, the Conservatives have long been seen as the main barrier to Farage sweeping into Westminster in May. But Labour's candidate is convinced he can become South Thanet's next MP. It is not an unreasonable belief. And the poll suggesting it is a three-horse race is plastered all over his campaign literature to persuade anti-Ukip residents that a vote for Labour is not wasted. But Scobie, who grew up in the constituency, candidly admits he would rather see his Tory opponent beat him than the Ukip leader. "Yes, if there is a gun to my head, I would prefer him to Farage.
"Farage would be an embarrassment to the area. It would be the worst thing to happen. We've seen some really, really shit times. It has been bad. We always seem to have people pulling things and closing things down. For the first time in 20-years we seem to have people opening businesses, coming down here bringing properties back into use. Now, six months since Farage got selected. It's going in reverse.
He adds: "People are saying horrendous things about the area. They have the image we are all a bunch of racists down here, that we are all a bunch of Ukip supporting toothless thugs."
There is of course a substantial amount of support for Farage in Ramsgate and throughout the constituency. One elderly resident, Joe, greets the sight of a Labour rosette with an "oh god" and a frown. "I'm Thanet born and bred and I've been a Conservative all my life." Will he be backing Cameron's Tories in May? "Oh no. Give us back our country. Ukip." Another passer-by approaches the Labour canvassers to politely, if brusquely, chastise the work ethic of sitting Labour MPs in safe seats.
For Farage, juggling the responsibilities of running a national campaign and fighting a three-way battle for his own seat is a test. On the same day as Scobie is leafleting Ramsgate's lengthy Crescent Road, the Ukip leader is being swamped by TV cameras and requests for selfies as he takes a walk on the beach up the constituency's coast in Broadstairs. The questions from the press are not about Thanet, but about the latest controversy in the national election air war.
Farage insists he confident of victory. But has he has admitted that a failure to get elected an MP would end his leadership of Ukip. And there is surely, aside from remaining in Downing Street, nothing David Cameron would like more. Aware that he risks a humiliating loss on May 7, Farage sent a Facebook message to his supporters across the country on Monday asking them to do him a "personal favour" and "spare just one or two days" to campaign for him in South Thanet this weekend.
It is a marked change in tone since the start of the year, when the Ukip leader was in bullish form. "Many in the media have been speculating I was going to do very badly," he said. Pointing to a Survation poll showing he had a big lead, he added: "We are on our way to winning this seat. Let me tell you we are serious challenges to win four or five seats in this county alone."
Farage also greeted Ukip members from across the country to their Margate conference by emphasising the party's core anti-EU message. "Welcome to Kent, welcome to Thanet. Welcome to one of the most eurosceptic counties in the whole of this country," he said. But the campaign on the ground is more local. The priorities listed on his literature include housing, the local airport, tourism and "dog mess". The European Union and immigration do not make the top six.
The Conservatives are also battling hard to, as one Tory MP described it, "cut the head right off the snake" of Ukip. The national party machine has sent former Tory leader Michael Howard and party chairman Grant Shapps to support Mackinlay in near-by Sandwich. Last Saturday, Sol Campbell was even dispatched to the constituency. The high stakes also mean access to the Tory campaign is run through central office.
And the constituency, given it elected a Conservative in 2010 with a majority of 7,617 and was home to conservative cabinet minister Jonathan Aitken before the 1997 Labour landslide, is fertile ground for the Tories. "No good him coming to me," one retiree says cheerfully when she spots the Labour candidate. "I vote Conservative and I won't vote anything else," she says. "I've voted Conservative all my life and so have my family."
The Tories, Scobie says, have thrown more money at the seat than Labour is willing or able. But he thinks he is the best-resourced non-incumbent Labour candidate in the country. London HQ has noticed the polls and senior Labour MPs including shadow transport secretary Michael Dugher have visited. Diane Abbott is due next week.
And national Labour politics does crop up on the doorstep. One sympathetic resident approaches Scobie. "I wish it was David Miliband. I have to say that to you," he says somewhat apologetically. "He's a much better person. It's a great shame. That's it. I think Labour shot themselves in the foot. If it was David Miliband then I would certainly vote Labour for sure."
The leadership issue, Scobie says, is mentioned very rarely and is usually triggered by outside influences, such as Jeremy Paxman's grilling of Miliband during the first TV leaders' debate. On the flip side, the Labour campaign estimates the Ukip vote locally was hugely damaged by the BBC's 'Meet the Kippers' documentary that focused on the constituency. People were embarrassed, rather than proud, to vocalise support for the eurosceptic insurgent party.
"I do it more as a local thing I don't do it as a national thing," one voter tells Scobie when asked about politics. And Labour hopes an intensely local campaign can win against a national figure like Farage. The Ukip leader, after all, was forced to spend much of the following day batting away questions about whether one of his parliamentary candidates the other side of England tried to bribe voters wish sausage rolls.
Related