One Direction star Niall Horan tried something a little different this week, acting as a golf caddy for Rory McIlroy.
However, his day at the Par 3 Masters contest didn't exactly go completely to plan, and the 1D star took a tumble - while Rory was being interviewed live on TV. Oh, Niall.
"@SkySportsWomen: To be fair to him...who wouldn't fall for Kirsty Gallacher?😂(Niall Horan falling on his arse)

April 8, 2015
Niall's never one to let a small slip-up get in the way of a good day though (apart from the time he needed surgery after being chased by a squirrel, obviously) and the singer laughed off his tumble before taking to Twitter to blame pine leaves.
If your walking around augusta , don't step on the pine leaves, slippy as hell Hahahaha! #redfaced !

— Niall Horan (@NiallOfficial) April 8, 2015
Well, at least this means he can cross golf caddy off his list of potential post-1D jobs, right?
The singer took on the task at the request of his pal - and golf champion - Rory, who made the offer just weeks ago.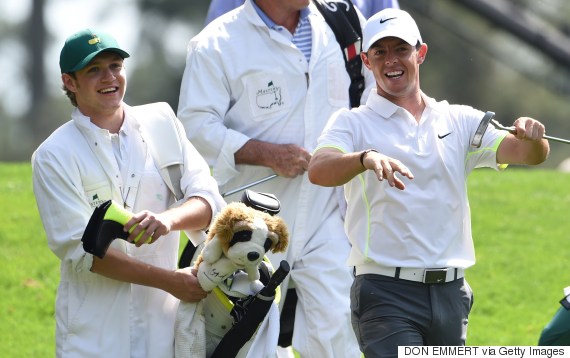 Niall and Rory
The time off is probably a welcome break for Niall, who's been busy touring with his band for the past few months.
Of course, unless you've been living under a rock, you'll know that things haven't exactly gone smoothly for the lads recently, and they're currently settling into life as a four-piece following Zayn Malik's departure.
See more pictures of Niall's efforts below...
LIKE US ON FACEBOOK | FOLLOW US ON TWITTER