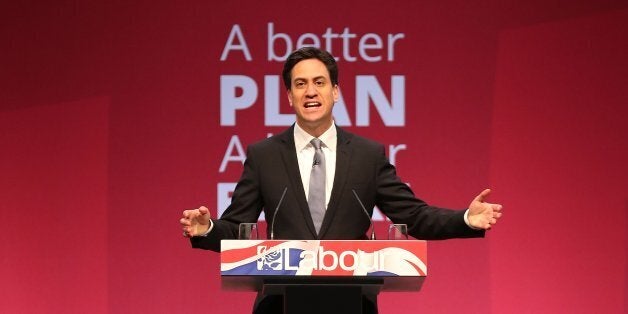 Ed Miliband launched Labour's election manifesto today by taking on directly two of his party's perceived weaknesses - its economic credibility and his personal qualities as leader.
Polls suggest Labour and the Conservatives are neck-and-neck in national vote share with just under four weeks to go until election day on May 7. The Labour leader predicted "this election could come down to a few hundred votes in a few dozen constituencies".
The first page of the manifesto, unveiled in Manchester this morning, commits a new Labour government to a "budget responsibility lock", guaranteeing that every policy is fully costed and will not require any additional borrowing. And Miliband attacked the Tories as "the party of sums that do not add up and commitments that cannot be kept".
In a confident speech that was greeted with whooping from Labour activists, Miliband also said he was "ready" to be prime minister. "I've been tested. It's right that I've been tested," he said. "Tested for the extraordinary privilege of pleading the country."
The Conservative campaign has sought to capitalise on the perception that David Cameron is more personally popular with voters than Miliband. But the Labor leader said the prime minister did not stand up for ordinary people. "He is strong at standing up to the weak, but he is always weak when it comes to standing up for the strong," he said. "Who do you want standing up for you? The answer will never be David Cameron."
"Whoever is making their case, I will always stand up for you. With me as prime minister no powerful influence will outweigh the interests of the working people of the country, that's my mission as prime minister," he said.
Launching the formal election campaign at the end of April, Cameron took the unusual step of personally targeting Miliband by name outside Downing Street. The Tories are confident Cameron wins in head-to-head popularity battle with Miliband and presented the general election as a "stark choice" between the two men.