Systematic rape, sexual and physical abuse, slavery and forced marriage are being carried out against Yazidi girls and women - some as young as 12 - by the group calling itself the Islamic State (IS), according to a horrifying new report.
Earlier this year HRW interviewed 20 women and girls in the town of Dohuk who escaped from the terrorist group and examined statements issued by the militants concerning the issue.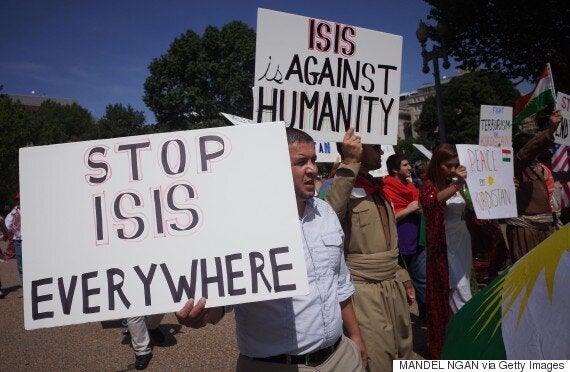 Demonstrators at a rally supporting Kurdistan hold placards protesting against the Islamic State of Iraq and Syria
Stories from survivors revealed an chilling organised system of abducting women from their homes and moving them around, before subjecting them to beatings, electrocution, rape and other sexual violence, as well as forced conversion and forced marriage.
Of the 20 Yazidis interviewed by HRW - 11 women and 9 girls - half had been raped, including two 12-year-olds. Some experienced multiple rapes by more than one militant and all witnessed the abuse of other captives.
Almost all said that they had been forced to marry fighters and had been sold or given as "gifts" to other militants.
Jalila (not her real name), aged 12, told HRW that she was examined by IS men before being selected by one. He slapped her and dragged her outside when she tried to resist being taken away by him.
Jalila said: "I told him not to touch me and begged him to let me go.
"I told him to take me to my mother. I was a young girl, and I asked him, 'What do you want from me?'
"He spent three days having sex with me."
The young girl said that she was "owned" by seven militants, four of whom repeatedly raped her.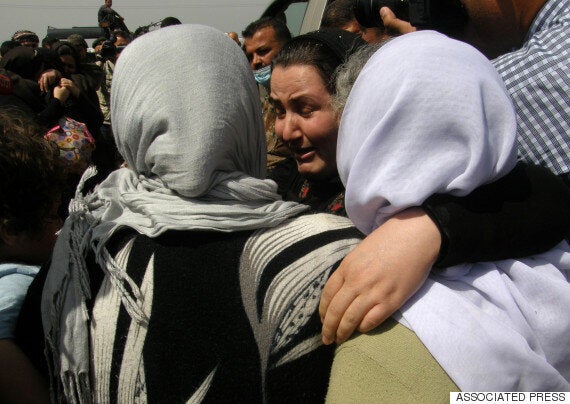 Yazidi women released by IS after being held captive for eight months
She said: "Sometimes I was sold. Sometimes I was given as a gift. The last man was the most abusive; he used to tie my hands and legs."
Another 12-year-old, Wafa (not her real name), said that after she was snatched from her village along with her family, she was separated from them.
An older IS fighter told her she would not be harmed but then went on to rape her multiple times.
She said: "He was sleeping in the same place with me and told me not be afraid because I was like his daughter.
"One day I woke up and my legs were covered in blood."
Three months after her abduction, Wafa managed to escape but the rest of her family is still missing.
Liesl Gerntholtz, women's rights director at Human Rights Watch, said: "ISIS forces have committed organized rape, sexual assault, and other horrific crimes against Yazidi women and girls.
"Those fortunate enough to have escaped need to be treated for the unimaginable trauma they endured."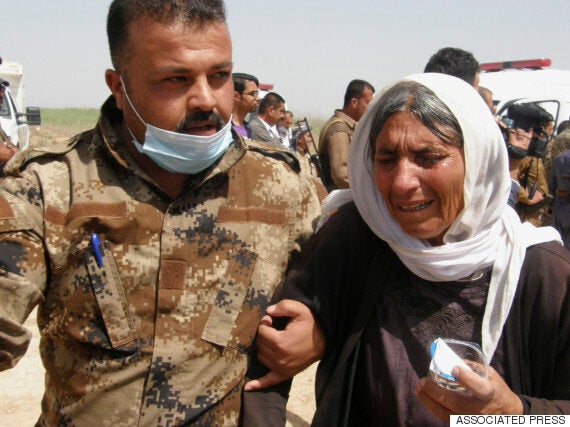 A Yazidi woman reacts after being released by IS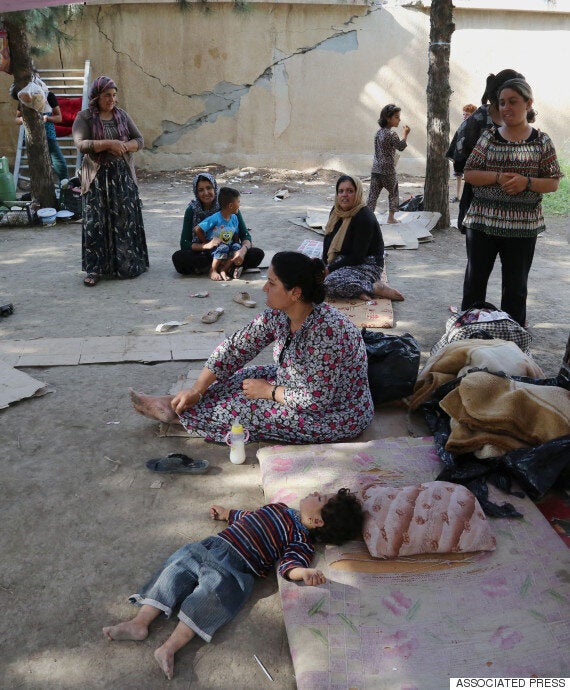 Displaced Iraqis from the Yazidi community
HRW found that this behavior was justified in literature produced by IS. Their report includes an excerpt from a document which reads:
"It is permissible to buy, sell, or give as a gift female captives and slaves, for they are merely property, which can be disposed of.… It is permissible to have intercourse with the female slave who hasn't reached puberty if she is fit for intercourse; however if she is not fit for intercourse, then it is enough to enjoy her without intercourse.… It is permissible to beat the female slave as a [form of] darb ta'deeb [disciplinary beating]."
The nationality of the militants carrying out abuse appeared to be mixed. Two sisters, Rana, 25, and Sara, 21, (not their real names) said that their 16-year-old sister was taken by the militants.
She was initially allowed contact with them and told her that the first man who raped her was European. She said that he also beat her, handcuffed her, gave her electric shocks, and denied her food. She was then "given" to a Saudi militant.
Rana and Sara were also raped several times by two men, one of whom said he was from Russia and the other from Kazakhstan.
Many of the victims described attempting suicide, as well as seeing others also try to take their own lives.
Survivors of the abuse have since been given medical care - although many said that almost two months after tests they were still waiting for results.