Nicola Sturgeon has pleaded with Ed Miliband to do a deal with the SNP after the election in order to "kick David Cameron out of Downing Street".
On current polling it looks like Labour will fall short of an overall majority on May 7 - in part due to a surge in support for the Scottish nationalists.
Miliband was judged the "winner" of the BBC Challenger's Debate in an instant poll by Survation on Thursday evening, just ahead of Sturgeon.
Speaking directly to Miliband on the stage, the SNP leader indicated her MPs would vote to keep a Labour minority government in office. And she told Miliband not to reject the offer. "Don't turn your back on it, people will never forgive you," she said. "Whatever differences you have with me they are as of nothing to the differences you have with the Tories."
The SNP appears on course to increase its number of MPs from just six to as many as 50. Sturgeon said the SNP would "force the pace of progressive change" in parliament. "I can help Labour be bolder to deliver the change we really need," she added.
The Conservative Party has sought to paint any potential SNP-Labour agreement as damaging for the country. Defence secretary Michael Fallon went as far as to say Miliband would "stab the United Kingdom in the back" to secure a deal.
Miliband used the debate stage to once again rule out a formal coalition with the SNP, but would not be drawn on a looser arrangement. "What I want is a majority government to implement my manifesto," he said. "I've got fundamental disagreements with you Nicola."
The Labour leader also criticised Sturgeon for possibly plotting another independence referendum despite losing the vote in September last year. "You haven't ruled out having a second referendum on independence the next five years," he said.
Speaking to reporters after the debate, Labour's campaign chief Douglas Alexander said people should vote Labour in order to get as many Labour MPs elected as possible and see Miliband move into No.10. However SNP minister Humza Yousaf said a Labour minority government needed the Scottish nationalists to keep it honest. "Vote SNP to give them a backbone," he said.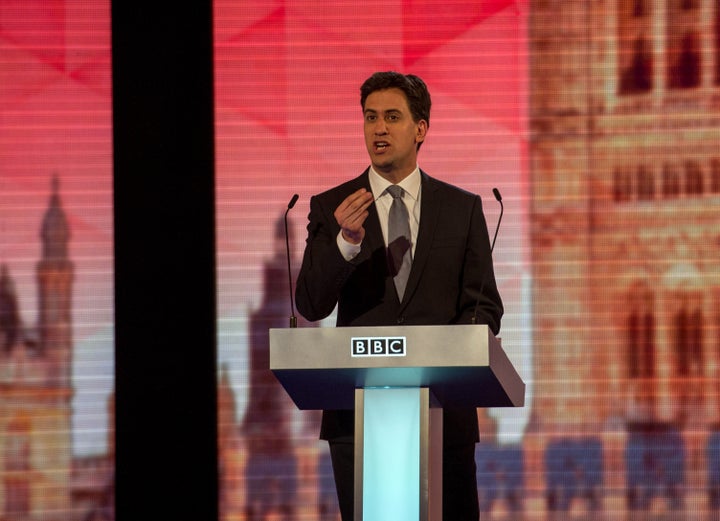 Miliband was accused of "letting the Tories off the hook" as he faced demands from the leaders of smaller parties urging him to form a "progressive" coalition to run the country.
The Labour leader also came under a concerted attack from SNP and Welsh nationalists for presenting the country with a "Tory-lite" alternative. However the leaders on the stage were met with applause when they criticised David Cameron for not agreeing to appear in the debate.
Miliband said: "David Cameron has chosen not to come tonight. He has chosen not to defend his record. I believe that Britain can do so much better."
Sturgeon branded Cameron "a disgrace" for his absence from the debate, two weeks after the only broadcast in which the prime minister is due to take on his rivals for Number 10.
In his closing statement, Miliband issued a direct challenge to Cameron to go head-to-head with him in a one-on-one debate before the May 7 General Election."David Cameron refused to come and debate tonight, but I have got a message for him," said the Labour leader.
"David, if you think this election is about leadership, then debate me one-on-one. I believe my ideas, my vision for the country are better for the working families of Britain. If you disagree, then prove it. Debate me and let the people decide."
However in the spin room immediately after the debate the offer was rejected. Conservative environment secretary Liz Truss said the schedule of debates had already been agreed.