Ukip has suggested members of Thursday's televised general election debate audience lied about their political opinions in order to bias the room against Nigel Farage.
During the debate, Farage took issue with the studio audience in Westminster for appearing not to be on his side. The Ukip leader said it was a "remarkable audience even by the left-wing standards of the BBC".
Presenter David Dimbleby insisted that those attending had been chosen to represent the spread of opinion in the population. "This audience was carefully chosen by an independent polling organisation to represent the balance between all parties," he said.
Ed Miliband, who clashed repeatedly with Farage over the course of the debate, also interjected gave the Ukip leader some advice: "It's never a good idea to attack the audience."
In the media 'spin room' immediately after the debate, Ukip's deputy leader Paul Nuttall suggested some of the audience had lied about their political affiliation in order to tilt it against Farage. "Maybe some people were being disingenuous on their application forms," he said. "I didn't think the audience was representative of the British people."
Nuttall also said he thought it was odd that the audience "clapped like mad" for unilateral disarmament but "you could hear a pin drop when Nigel Farage spoke about controlling our borders".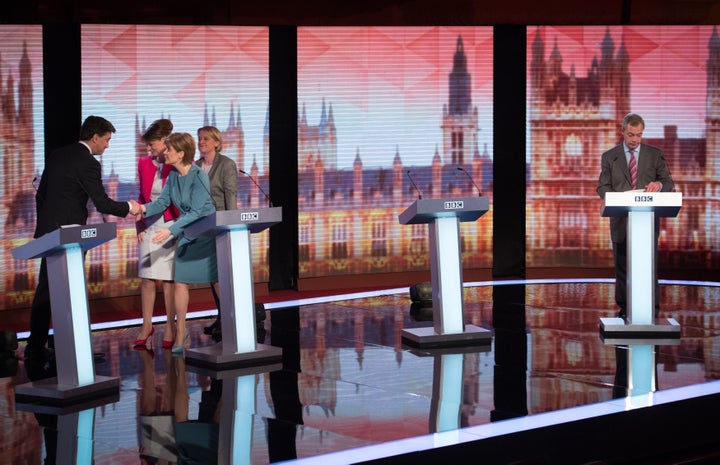 Farage stands alone as the other leaders shake hands
Miliband "won" the latest televised leaders' debate, a poll suggested, with viewers saying by a majority of 45% to 40% that they'd rather he was prime minister than David Cameron.
The finding will be seized on by critics of the Tory leader's decision not to take part in more than one head-to-head contest during the campaign as evidence it had backfired.