Ed Miliband and Nigel Farage could only look on as a Press Association photographer captured the snap that summed up the seismic shift in British politics.
The BBC challengers' debate had, for the first time, more women political leaders than men on the stage.
But that was not the only major shift that last night's debate signified. The stage contained one immigrant, a Jew, and three out of five of the challengers on the stage were state school educated (none of those things apply to the "maverick" Nigel Farage).
But it was seeing not just the presence of women on stage, but their solidarity, that really had the impact.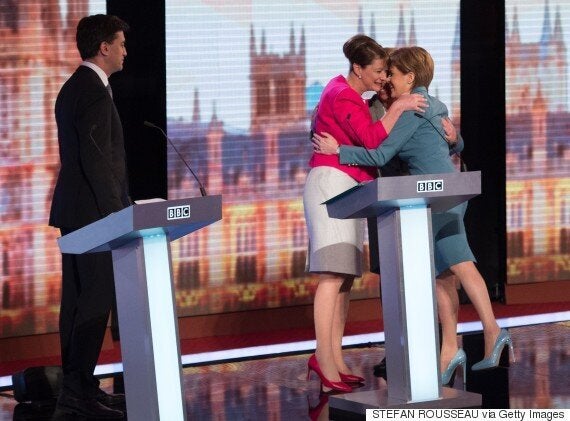 Leader of the opposition Labour Party, Ed Miliband looks on as leader of Plaid Cymru, Leanne Wood (2nd L), leader of the Green Party, Natalie Bennett and ;eader of the Scottish National Party (SNP), Nicola Sturgeon (R) embrace
And just for a brief moment, people forgot to be cynical about how politics can really change.
If their debating skills weren't impressive enough, then this happened.
Instead of a firm handshake, a harumph and a grimace, three of the most powerful political leaders in the UK had a warm embrace.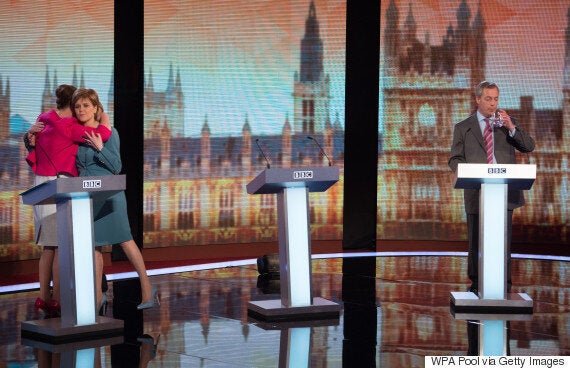 Plaid Cymru leader Leanne Wood, Green Party Leader Natalie Bennett andSNP leader Nicola Sturgeon share a hug
Related