Ed Miliband and Nigel Farage could only look on as a Press Association photographer captured the snap that summed up the seismic shift in British politics.
The BBC challengers' debate had, for the first time, more women political leaders than men on the stage.
But that was not the only major shift that last night's debate signified. The stage contained one immigrant, a Jew, and three out of five of the challengers on the stage were state school educated (none of those things apply to the "maverick" Nigel Farage).
But it was seeing not just the presence of women on stage, but their solidarity, that really had the impact.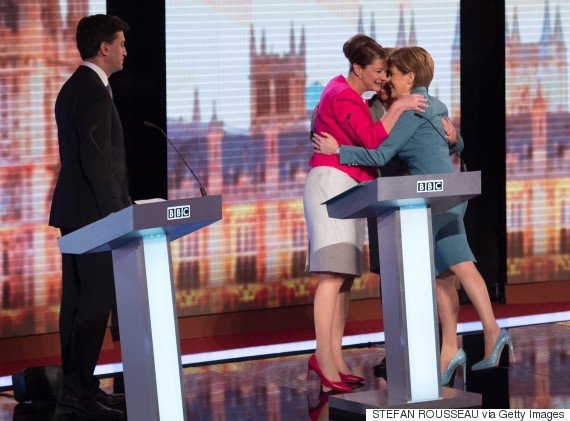 Leader of the opposition Labour Party, Ed Miliband looks on as leader of Plaid Cymru, Leanne Wood (2nd L), leader of the Green Party, Natalie Bennett and ;eader of the Scottish National Party (SNP), Nicola Sturgeon (R) embrace
And just for a brief moment, people forgot to be cynical about how politics can really change.
What a moment though: Men outnumbered by women in this TV debate. Who would have thunk it #BBCDebate

— Allegra Stratton (@BBCAllegra) April 16, 2015
Quite a moment this: a national political platform on prime time TV where the women outnumber the men #BBCDebate #ge2015

— Chris Mason (@ChrisMasonBBC) April 16, 2015
Wow! These women are so impressive! #BBCDebate

— Ann Pettifor (@AnnPettifor) April 16, 2015
Amazing to see three women on the panel, not just a row of middle aged blokes who went to school together #BBCDebate

— MrsMann (@mannoirs) April 16, 2015
I love that on the third anniversary of @EverydaySexism the women outnumber the men in this #BBCDebate

— Charlotte Trueman (@charrindisguise) April 16, 2015
#bbcdebate spin room warming up-not most important thing but looking at big pic of line up, how unusual to see 3 out of 5 pols are women

— Laura Kuenssberg (@bbclaurak) April 16, 2015
So tonight's #BBCDebate will have three women and two men taking part - how I wish that really represented our parliament!

— Ali (@AliDiva_) April 16, 2015
If their debating skills weren't impressive enough, then this happened.
Instead of a firm handshake, a harumph and a grimace, three of the most powerful political leaders in the UK had a warm embrace.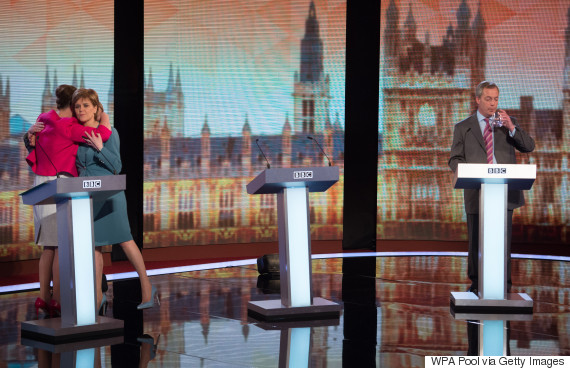 Plaid Cymru leader Leanne Wood, Green Party Leader Natalie Bennett andSNP leader Nicola Sturgeon share a hug
when u try to talk to girls in the club but they're with their squad pic.twitter.com/Mk3Lr8JJno

— Tom Phillips (@flashboy) April 16, 2015
A glimpse of new politics with leadership by women http://t.co/yjF9FI6prK Hugs instead of knives in the back? We'll all benefit. ##bbcdebate

— Maggie Langley (@OfficeHounds) April 17, 2015
There's something genuinely lovely about this photo. Politics would be better with more women leading. #BBCDebate pic.twitter.com/XZI4fCbbyo

— A* (@husseybyname) April 16, 2015
Because #women are *so* back stabbing and divided... *smug grin* #BBCDebate pic.twitter.com/5D6zMef4uU

— Roweena ♣️ (@r2ph) April 17, 2015
Love this picture. Tonight, feel really positive about increase in women's voice In politics. #BBCDebate #snp pic.twitter.com/b8Ia3dpfu4

— Moira Shemilt (@DrMoiraShemilt) April 16, 2015
SEE ALSO