Mike Tyson has become the latest celebrity to give it his all on 'Lip Sync Battle' and the results are… interesting to say the least.
SEE MORE:
After making his recording debut earlier this year - featuring on Madonna's track 'Iconic', alongside Chance the Rapper - the former heavyweight champion of the world and face tattoo advocate has clearly caught the performing bug.
In a newly-released clip from 'Lip Sync Battle', Mike is seen storming the stage with an energetic performance of Salt 'n' Pepa's beloved hymn track 'Push It'.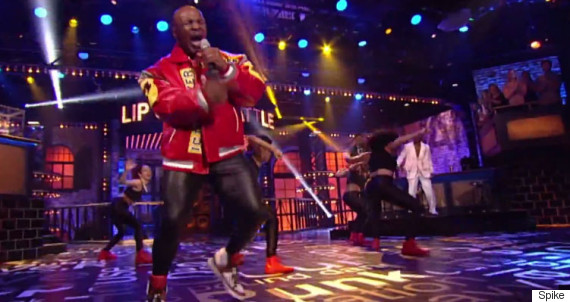 Wow
Clad in an oversized leather jacket and some skin-tight leather leggings, the boxing pro is shown leaping around the stage in a manner that suggests he truly does want to 'push it… real good'.
Talk about needing to see something to believe it...
He is the latest in a long line of stars to strut their stuff on the 'Lip Sync Battle' stage, though.
Earlier this month, Oscar-winner Anne Hathaway gave Miley Cyrus a run for her money as she swung from the ceiling in her underwear to take on her hit 'Wrecking Ball', while the series has also showcased the mad rapping skills of Daniel Radcliffe and the surprising talent of Joseph Gordon-Levitt.
Watch Mike's eye-catching performance to 'Push It' below...
LIKE US ON FACEBOOK | FOLLOW US ON TWITTER