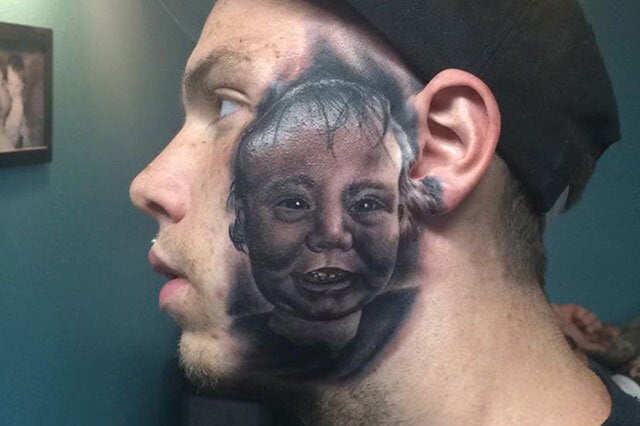 A young dad has paid tribute to the baby son he almost lost by having his portrait tattooed onto his face.
Christien Sechrist, 20, from Houston, Texas, decided to have the dramatic portrait etched onto his own face as a very public expression of his love for baby Perseus.
The trainee electrician – who is an avid body art enthusiast - shared a photo on his Facebook page showing off the new inking of Perseus adorning the side of his cheek.
He simply wrote: "Thanks Cody Gibbs for doing awesome work on me. Looks just like my son."
Not surprisingly, the post caused a ruckus, with commenters expressing their shock and surprise.
One wrote: "Is this a joke Christen?!"
Another commented: "Why on your f***ing face?! How are you ever going to get a real f***ing job to support your son with a tattoo on your face?"
But despite the criticism, Christien said his son loves the tattoo and he feels like a lot of people who see it overreact.
And he said he has no regrets and would gladly have the tattoo again.