Nicola Sturgeon accused the Tories of bullying Ed Miliband on Monday, before launching her own attack on the Labour leader for allowing himself to be "kicked around." Despite Miliband remaining steadfast that no deal would be done with the Scottish Nationalists after the May 7 vote, the Tories have relentlessly pushed the line that a vote for Labour is tantamount to giving the anti-unionists keys to Number 10, an eventually Theresa May theatrically likened to the constitutional crisis of 1936.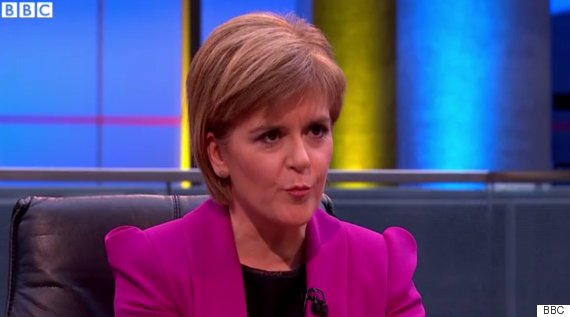 Sturgeon: 'I'm not going to do anything that would put, in the days after May 7, a Tory government into office'
Speaking with Evan Davis on the BBC, SNP chief Sturgeon harangued Miliband, lambasting the Labour leader -- a man she seems desperate to ally with -- for not being "tougher" and "bolder," while suggesting Westminster politicians were in danger of being "insulting" to Scottish voters. "I've not ruled anything out here, I've always said a coalition with Labour is highly unlikely, Ed Miliband has since said the same because he's been sort of bullied by the Tories to rule these things out," she said.
The First Minister said she had not ruled out a confidence and supply deal between the two parties. When it was put to her that Miliband had ruled out a deal, she said: "I think what he says the morning after the election will probably be different to what he says now. He's in an election campaign, he's trying to cling to the pretence that he is going to get a majority. Everyone else knows that's not looking likely. But what I am saying is I think a vote-by-vote arrangement is both most likely and probably the way in which a big team of SNP MPs can wield maximum influence for Scotland's benefit."
Commenting further on Miliband, she added: "I think he should be a bit tougher in not being kicked around so much by the Tories. I think he should be bolder in saying that he will respect the wishes of voters because there is a more fundamental point than just how people in Scotland vote."
Sturgeon was pressed on whether she would support a Labour minority government's Queen's speech even if she did not support 10% or even 50% of it. She said: "I'm not going to do anything that would put, in the days after May 7, a Tory government into office. In fact, I've gone to the opposite extreme and said we should lock out a Tory government.
SEE ALSO: