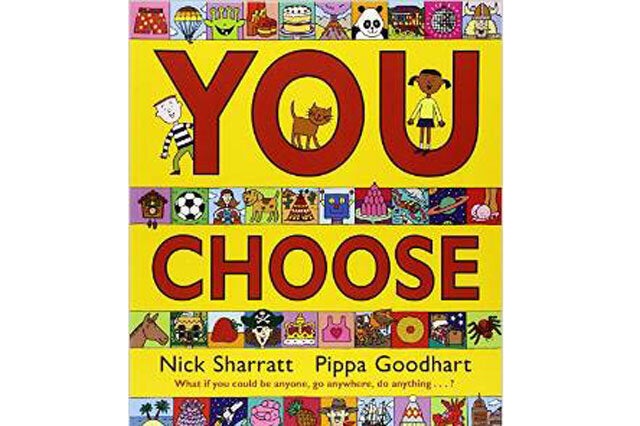 Just imagine...that there's a book that it's impossible for a small child not to fall in love with.
That book is Just Imagine – and there's also a sister book which is just as good, called You Choose. These modern favourites for toddlers and pre-schoolers have well-chosen words by Pippa Goodhart, but are really all about Nick Sharratt's characteristic ultra- clear, crazy, bright, simple illustrations, and the overall idea.
On each page, there's a collage of funny, silly and downright bizarre pictures to stretch children's imaginations. First, in Just Imagine, they are asked 'Can you imagine being BIG?', with pictures of giant children dwarfing an aeroplane and having a bath in a swimming pool. Then they are asked 'Would you like to be small?' and pictures show what that could be like – riding a roller skate, and living in a doll's house.
The fantasies get yet weirder – readers are then asked to imagine 'being made differently – not really human at all'. There's a girl made of glass, then jelly, then wool, then a balloon. And a boy made of cheese, biscuit, candle wax and Lego.
You Choose is a little bit like a Choose Your Own Adventure book for tiny children. They are asked: 'If you could go anywhere, where would you go?' – across a double page a huge picture shows them all the possibilities, from outer space to mountains, deserts and cities. Next they get to browse a gallery of pictures of potential people who could be their family and friends, including a fairy, a punk, a cowgirl, an alien, a caveman and all sorts of friendly-looking folk.
As the book progresses, readers select from pictures what kind of home they would live in, what they would put inside, how they would travel, what they would like to eat, how they would dress, what pet to have, what job they would do, what they would do for fun, and finally what sort of bed they would choose – from four-poster to a hammock.
Because it's so picture-led, children can read this book to themselves and get lost in the illustrations which expand their life's possibilities, sparking conversations and dreams.
Reading and rereading the book as they get older, different pages become favourites. My son was initially captivated at the age of two by the living underground page in Just Imagine and the transport page in You Choose, but now at four he's intrigued by You Choose's selection of jobs and hobbies to do – we now discuss him being an astronaut, a deep-sea diver or a detective.
Nick Sharratt is one of the best-loved children's illustrators in history – you'll have seen his pictures in books by authors from Jacqueline Wilson to Julia Donaldson.
Born in 1962 in Bexleyheath, Nick decided to be an artist when he was nine years old. After Art School, he worked as a freelance illustrator for magazines before moving gradually into children's books in the 80s and 90s. Today he has illustrated almost 250 books – some of which he has written too. Nick's website has more information about him and his super-fun style.
Just Imagine and You Choose are two failsafe books to give children as presents – they're guaranteed to delight children and parents alike.