The eight prisoners executed last night in Indonesia bravely refused blindfolds and sang Amazing Grace and Bless The Lord O My Soul, before their singing was silenced by the crack of gunfire.
Despite last minute pleas for mercy, Bali Nine ringleaders Andrew Chan and Myuran Sukumaran were killed by firing squad at 12.35am along with six others - four Nigerians, a Brazilian and an Indonesian. One prisoner, Filipina housemaid Mary Jane Veloso, was spared at the last minute.
The group hugged and farewelled one another, before joining in song.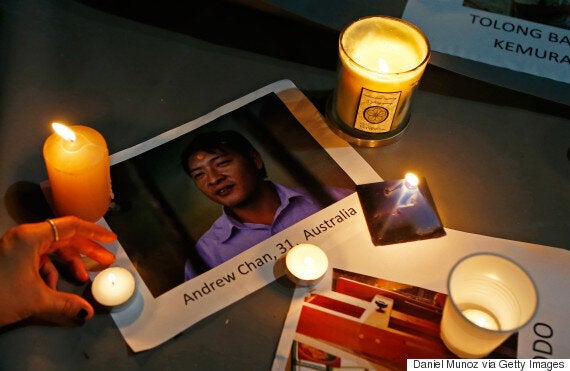 Bali Nine ringleaders Andrew Chan, pictured, and Myuran Sukumaran sang Amazing Grace as they were executed along with eight others
The families of those executed heard the gunfire that ended the lives of their loved ones. Having seen a procession of cars deliver their relatives to the execution site, known as Death Valley, at 11.45pm, they began reciting the Lord's Prayer, before being startled by the sound of the death penalty being delivered.
Pastor Karina de Vega said the voices of all eight members of the execution group cut through the air. The scene, she described to the Sydney Morning Herald, was "breathtaking".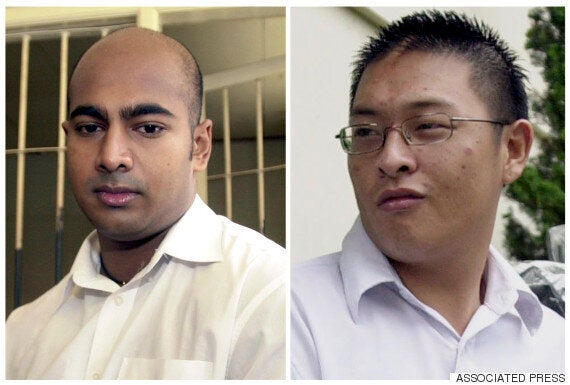 Sukumaran and Chan were said to have purchased a last supper of KFC for the other prisoners also facing the firing squad
She said: "They were praising their God.
"It was breathtaking. This was the first time I witnessed someone so excited to meet their God."
Pastor de Vega said it was the most beautiful experience she had ever had, as the group "bonded together", singing "like in a choir".
Michael Chan, the brother of Andrew Chan, tweeted his dismay after his brother was executed
Hours earlier, Australian's Sukumaran and Chan were said to have shouted their fellow condemned prisoners a last supper of KFC, The Daily Telegraph reports.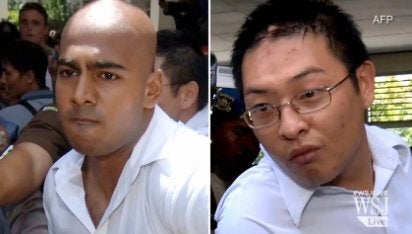 Eight prisoners executed in Indonesia
Michael Chan, whose brother became a Christian pastor during his decade in prison and married an Indonesian woman on Monday, reacted with anger after the executions.
"I have just lost a courageous brother to a flawed Indonesian legal system. I miss you already RIP my Little Brother," he tweeted.
In a statement, the Sukumaran and Chan families, said: "In the 10 years since they were arrested, they did all they could to make amends, helping many others. They asked for mercy, but there was none."
Mary Jane Veloso's mother, Celia, said that the stay of execution for her daughter was nothing short of a miracle.
Australia and Brazil condemned the deaths, with Australia withdrawing its ambassador, something Brazil had previously done in January following the execution of one of its nationals.
Australian Prime Minister Tony Abbott said the government "deeply regrets" the executions of Chan and Sukumaran who had "worked hard" since their arrests to rehabilitate themselves in prison.
He called the executions "cruel and unnecessary".
Abbott added: "Australia respects Indonesia's sovereignty, but deeply regrets that Indonesia could not extend the mercy it so often seeks for its own citizens."
He said the executions would have an effect on the countries' "very important" relationship: "This cannot be simply business as usual."
Meanwhile, Independent senator Nick Xenophon called for a fresh review of the actions of the Australian federal police in tipping off Indonesian authorities about the Bali Nine.
And politicians Clive Palmer and Cathy McGowan are to present legislation to parliament seeking to outlaw information-sharing that could lead to the death penalty being applied in foreign countries.
Brazil's President Dilma Rousseff said in a statement the execution of a second Brazilian citizen in Indonesia this year "marks a serious event in the relations between the two countries".
Brazil had asked for a stay of execution for Rodrigo Gularte, 42, on humanitarian grounds because he was schizophrenic.
Indonesia's attorney general Muhammad Prasetyo remained defiant, justifying the decision to execute the group: "We are fighting a war against horrible drug crimes that threaten our nation's survival."
And dismissed concerns that Indonesia had done long-term damage to bilateral relations through the executions.
"It's just a momentary reaction," he said. "What we're doing is carrying out court decisions."
The United Nations described the executions as "extremely regrettable, extremely sad".