There seems to be a dominant theme underpinning the majority of media coverage of the events in Baltimore...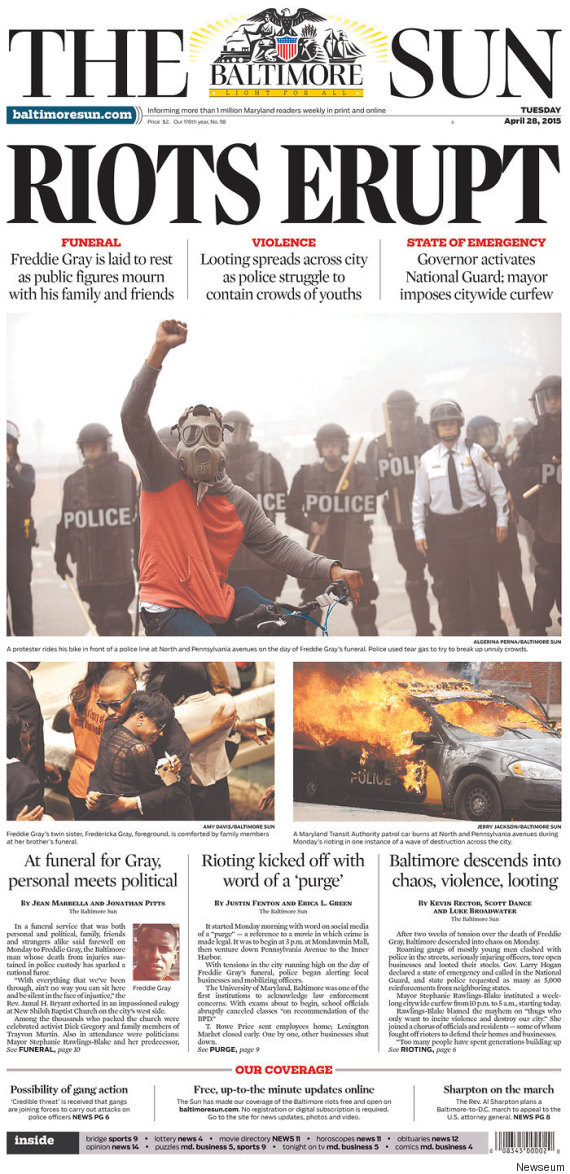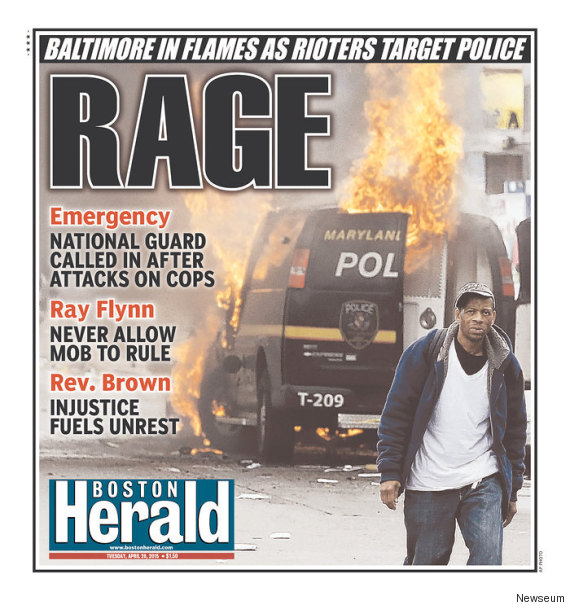 Powerful photos from the #BaltimoreRiots http://t.co/vzzZVOjSqP pic.twitter.com/9kknLVq3TL

— CNN Politics (@CNNPolitics) April 28, 2015
Flames, violence and destruction dominate front pages, TV and social media.
The protests were sparked by the funeral of 25-year-old Freddie Gray who died of a spinal chord injury suffered while in police custody this month.
While there has undoubtedly been questionable behaviour both on the part of the protesters and law enforcement, there have also been many positives to come out of the riots.
SEE ALSO: Baltimore Rioter Will Never Live Down Being Owned By His Mum On Live TV
People coming together to clean streets, feed and water police and protect their community have been covered by some - but far from all - media outlets.
Young kids are using their day off from school to clean the streets of West Baltimore. pic.twitter.com/DZw4GmhjLn

— Nicolás Medina Mora (@MedinaMora) April 28, 2015
Images cable news won't focus on: Baltimore residents restoring their city together http://t.co/sjLBisnqm5 pic.twitter.com/Z8sKvLxyya

— Mother Jones (@MotherJones) April 28, 2015
Peaceful protesters gather in Baltimore ahead of curfew http://t.co/oPwWevZF2y pic.twitter.com/wwWUoBAN9v

— RT America (@RT_America) April 28, 2015
Neighbor helping neighbor. Police and protesters standing peacefully side by side. #Baltimore's untold story: http://t.co/JtZnVtpwfT

— USA TODAY (@USATODAY) April 28, 2015
One video that shows the peaceful side of the #BaltimoreRiots: http://t.co/JUsMZuOA5z via @ACFromDaBranch pic.twitter.com/h2aWnuF9Gf

— Esquire Magazine (@esquire) April 28, 2015
In another twist in the events, many have been trying hard on social media to highlight what appears to be the heavy-handedness of police.
Keep RTing this video. This needs national attention. pic.twitter.com/ctf233HBwI

— FriendlyBlackHottie (@HollyGoNightly1) April 29, 2015
A young man named locally as Joseph Kent was 'kidnapped' by police live on TV after appearing to demonstrate peacefully.
An arrest should NEVER look like this in a democracy. This is like blackbag kidnapping. #JosephKent #Baltimore

April 29, 2015
Lots of tweets about #JosephKent this morning, arrested last night in Baltimore. CNN caught the moment: https://t.co/vz3UvYVJaa

— Brian Ries (@moneyries) April 29, 2015