Nigel Farage and Ukip have "declared war on the BBC" after a journalist made a joke about the party leader on Have I Got News For You.
When asked about Farage's chances in South Thanet, Sunday Times columnist Camilla Long said: "I went there more than Nigel Farage. By the time I arrived there he'd only been a few times."
Party officials issued a complaint to Kent Police after Tuesday's broadcast, saying the BBC had breached Section 106 of the Representation of the People Act, hampering Farage's chances of election in the constituency.
The constabulary said they had no intention of following up the claims, prompting the party to threaten further action.
A leading Ukip official said they were now "at war with the BBC" and planned to report the corporation to Scotland Yard. As of Thursday morning, Scotland Yard said they had no record of a complaint.
"The matter has been reviewed by officers but there's no evidence of any offences and there will be no further action," a Kent Police spokesperson told ITV News.
Ukip election strategist Raheem Kassam told the Huffington Post UK: "Camilla Long made false statements about a candidate at this election. The BBC chose to air it. If this isn't a breach of Section 106 of the Representation of People Act then we don't know what is".
Long's comments were made after a feature in the Sunday Times attacking the "erupted spleen" of South Thanet, saying it was "grubby and stuck in the past" and would "suit Nigel Farage to a T".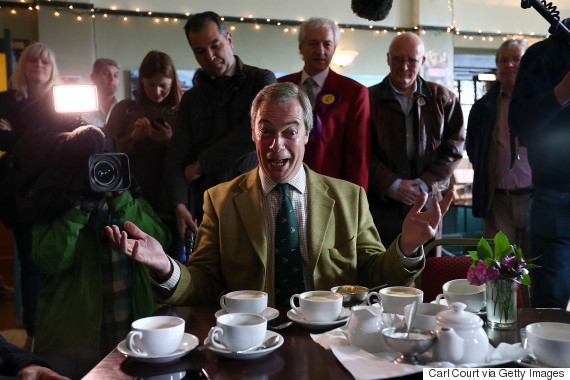 Nigel Farage campaigns in South Thanet
A party spokesperson told Breitbart: "The BBC's coverage of Ukip at this election, despite Ofcom's major party ruling, is akin to that of a bit part player.
"Sky and ITV have taken the ruling seriously and acted accordingly, but the BBC, which isn't answerable to Ofcom, has evidently decided to ignore this, and has left us with no option but to pursue them vigorously over their coverage."
In an LBC interview, Farage told Nick Ferrari the BBC was "guilty of blatant prejudice".
"We have complained like hell," he said. "We've written a number of letters to them. We were less than impressed by the audience they produced for the Challengers' Debate where there was an openly hostile audience.
"Time and again, we see the BBC treating us in a way that is really quite extraordinary.
"Even through to a programme on Have I Got News For You last week where comments were made about an individual in a constituency, namely me, that I just don't think would have been said about any other candidate in the country."
Meanwhile, a BBC spokesperson said: "Britain has a proud tradition of satire, and everyone knows that the contributors on Have I Got News for You regularly make jokes at the expense of politicians of all parties."
UKIP under fire for offensive remarks: "It was just a joke!"

Somebody makes a joke about UKIP: "CALL THE POLICE!" pic.twitter.com/FSqKFS6KkI

— The Media Blog (@TheMediaTweets) April 29, 2015
@TheMediaTweets I think that other members of UKIP might hinder farages chance of electoral success.

— Ian James (@iantjames) April 29, 2015
UKIP reported Have I Got News for You to the police? Wasting police time is an offence right?

— Jack Seaton (@JackSeatonTD) April 30, 2015
Despite the BBC's long history of satirising political parties, Ukip still intends to pursue the case as Farage lags two points behind his Conservative opponent in the latest Ashcroft poll.
The Tories pulled ahead by 2% in the battleground of Thanet South, garnering 34% of the vote in the latest poll. 32% said they would vote Ukip.
The result will no doubt worry Nigel Farage, who vowed to step down as party leader if he fails to take the seat.
Earlier this month Ukip suggested members of a BBC General Election debate audience lied about their political opinions in order to bias the room against Farage.
During the debate, Farage took issue with the studio audience in Westminster for appearing not to be on his side. The Ukip leader said it was a "remarkable audience even by the left-wing standards of the BBC".
Presenter David Dimbleby insisted that those attending had been chosen to represent the spread of opinion in the population. "This audience was carefully chosen by an independent polling organisation to represent the balance between all parties," he said.
SEE ALSO: