Having one of those days when it feels like you're carrying the weight of the world on your shoulders? A new website has a brilliantly simple solution to your woes, which will ease the load in just 60 seconds.
Visit Pixel Thoughts to be taken on a minute long meditation, that will allow you a brief pause to focus on your problems and put them in perspective.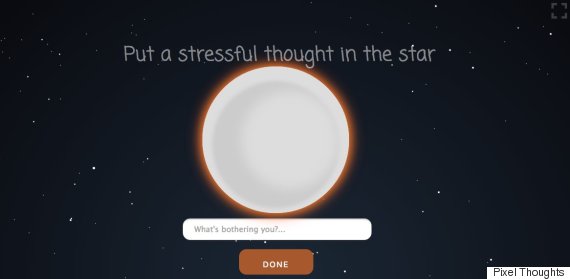 The site prompts you to write down what's bothering you and put your stressful thought into a large star that glows brightly in the centre of the screen.
You then watch as the star containing your stressful thought slowly shrinks to become just one of many tiny stars glistening in the background.
As you watch your stressful thought fade away the website asks you to take a deep breath and reassures you that in the grand scheme of things your thought..."does not matter".
There's nothing more to it than that, but the website's simplicity is what makes it so effective.
SEE ALSO

Mindfulness For Kids: Why We Should Be Encouraging Young People To Find Inner Peace
Mindfulness meditation, a technique aimed at focusing on the present moment and developing self-awareness, is believed to have benefits such as alleviating stress and anxiety.
It has been found to be as effective as anti-depressants at preventing people relapsing into depression, according to a recent study.
Emma Watson and Davina McCall are fans of the practice, which according to Dr David Cox, chief medical officer at Headspace can help you take control over how you react to a stressful situation.
"The reason this is important, and beneficial, is that when you spend time observing your thoughts, you start to realise that that's all they are - thoughts," he explains in a blog for HuffPost UK.
"And then you notice things about them - not just their content, but also their emotional payload, their frequency, patterns in which ones you have when and why. And noticing all this does two fundamental things.
"Firstly, it allows you to appreciate that thoughts are neither absolute nor necessarily true.
"Secondly, by having that awareness of your thoughts and feelings, you develop the ability to choose how you respond in any given situation, rather than just reacting."
So far Pixel Thoughts has been receiving a very positive response on Twitter:
Well, this is more than lovely. http://t.co/Fb4j8OC0mv -- 60 second relaxation exercise #PixelMeditation

— Kirsten-Rose Brooks (@thekirstenrose) May 1, 2015
Ok. Love this a lot.

http://t.co/WVt5n8LhXm -- 60 second relaxation exercise #PixelMeditation

— Steve (@MrSteveMcCarty) May 1, 2015
Can't even begin to explain how much I love http://t.co/GmS7i3HefI - @MarcBalaban you're an absolute a genius #PixelMeditation

— Sisi G (@MissSisiG) April 30, 2015
I could genuinely stare at this all day, every day - http://t.co/wqkBiszGVH - 60 sec relaxation exercise #PixelMeditation (via @SophieTighe)

— Nikki Barr (@_ikkin_) April 30, 2015
Even if you don't like it you've only lost 60 seconds, so why not give it a go?