Eddie Izzard has condemned "aggressive, violent" Scottish Nationalists who forced him and Jim Murphy to abandon a rally in Glasgow.
In what one journalist described as "absolute chaos", the leader of Scottish Labour initially tried to deal with the protesters, who shouted "Red Tories out!" but he and Izzard escaped into a waiting car when the noise became too much to overcome.
The protesters, some waving SNP leaflets, shouted that Murphy was a "traitor" and a "war mongerer".
Footage shot by Channel 4 News reporter Alex Thomson shows Murphy surrounded by supporters before he fled.
Minor scuffles - interviews abandoned as JM/EI make it to car and leave pic.twitter.com/HwSzxH5Yui

— alex thomson (@alextomo) May 4, 2015
BBC Scotland's James Cook described the scene of the pair trying to deal with the protesters as "absolute chaos".
Absolute chaos on the streets of Glasgow as Jim Murphy and Eddie Izzard try to be heard over protestors. #ge2015 pic.twitter.com/Y6naGLNN3j

— James Cook (@BBCJamesCook) May 4, 2015
Izzard said afterwards: "It's OK having different opinions, but everyone should be able to put their opinion forward. This aggressive, this violent emotion, why violence?
"Don't have violence, we should just put our point of view forward and then everyone makes their choice on Thursday."
The comedian added: "This is democracy, it's all about voting. They should let the democratic process happen, it's called democracy, we're putting forward a point of view, we're asking people to vote Labour and they're scared of these words being heard.
"Why are they scared of that? Let everyone have their say. It's called democracy."
Murphy added: "This sort of aggressive nationalism should have no place in our election.
"We've got a few days until we can kick David Cameron out of office, a few days to change our country forever and we won't be silenced by this form of aggressive nationalism, it's anti-democratic."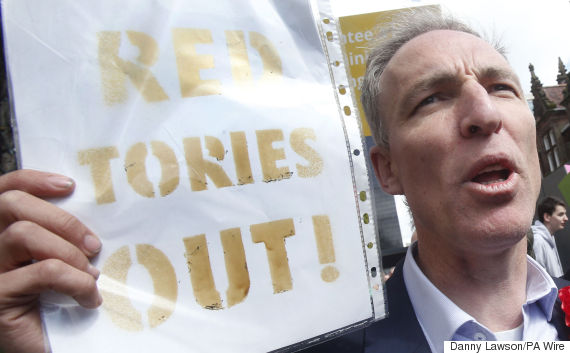 A protester holds a sign by Murphy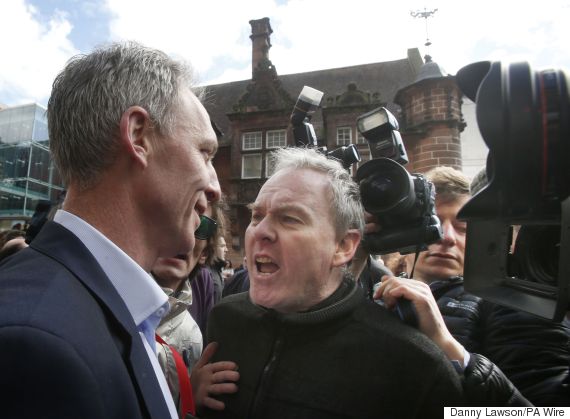 Up close and personal
Channel 4's Alex Thomson asked the protesters who told him they were "socialists" and "nationalists". He said the disruption was down to a small group of them.
Today's protesters call themselves "socialists" and "nationalists" when I asked them

— alex thomson (@alextomo) May 4, 2015
Small number or protesters - 4 key players - intent on denying free speech for ScotLab leader and Eddie Izzard

— alex thomson (@alextomo) May 4, 2015
None said they were members of the SNP but all voted Yes and most said they would vote SNP on Thursday...

— alex thomson (@alextomo) May 4, 2015
Tom Gordon, the Scottish political editor of the Sunday Herald, said the event was good for Labour, as it "made the opposition look demented on TV".
And that's the end of the Murphy/Izzard event. Jim'll be gutted there was no eggs, but he made the opposition look demented on TV. Result

— Tom Gordon (@HTScotPol) May 4, 2015
SEE ALSO: