The MailOnline has expressed its outrage at a group of (shock, horror) Cambridge University students getting drunk and having fun.
Some 2,000 youths dared to revel in the sunshine and frolic with their friends in a park near families during the bank holiday.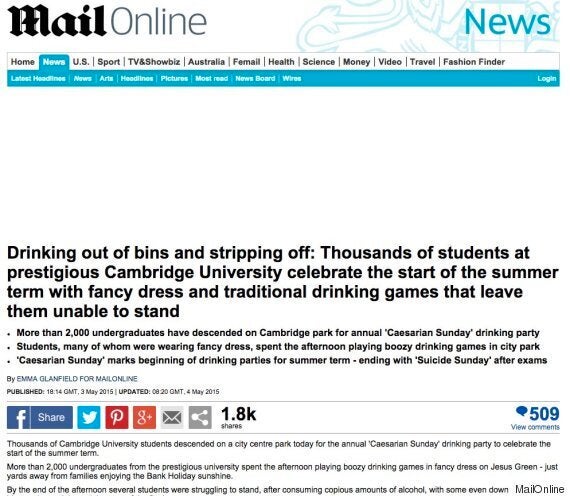 The raucous students were 'just yards away from families enjoying the Bank Holiday sunshine'
According to the website: "They watched as students wrestled on the grass and climbed onto each other's shoulders to play games.
"One father could be overheard talking to his two primary school aged boys about how to drink sensibly."
The students, who were partaking in an 80-year-old tradition called Caesarian Sunday, are naturally the embodiment of how society has gone to the dogs.
Expressing clear disgust at the students celebrating one more final hurdle before the end of term, the Mail added: "By the end of the afternoon several students were struggling to stand, after consuming copious amounts of alcohol, with some even downing drink from bins as they celebrated the start of the final semester."
Others dared to don fancy dress, with some even wearing the garb of the evil and dastardly Pac Man.
Popular in the Community