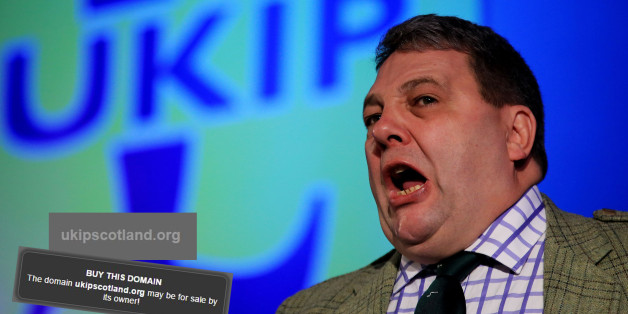 Gareth Fuller/PA Archive
It's been an exciting election period full of rough starts - Labour's campaign van broke down on day one and they called the AA, Nick Clegg's battle bus struggled to get down tight roads and Natalie Bennett had a bit of a rocky time too.
But Ukip Scotland had even more trouble it seems, launching their Scots-specific manifesto on Monday with just three days left until the general election.
For starters, they didn't actually have any manifestos. Due to the bank holiday, they hadn't been printed on time.
At UKIP Scottish manifesto launch. Due to bank holiday, they have not been able to get manifestos printed. #GE2015 pic.twitter.com/qGVs48uobP

— Dan Sanderson (@DanSandersonHT) May 4, 2015
They also had a bit of an issue with their online presence, with the URL on their official literature leading to a blank website.
It's pointed out UKIP Scotland website on banners does not exist. David Coburn blames 'cybernats'. #GE2015

— Dan Sanderson (@DanSandersonHT) May 4, 2015
Still, it looked like a laugh riot as Ukip's only Scottish MEP David Coburn led the fight to boost the party's dismal 2-4% opinion poll ratings north of the border.
'Fasten your seatbelts' says David Coburn, as manifesto launch gets underway pic.twitter.com/2oFrbRFQMa

— Dan Sanderson (@DanSandersonHT) May 4, 2015
Coburn went on to praise the Scots who were "quietly voting UKIP as they did when they put me in".
"I don't want to see Scotland turned into some stripped pine Scandinavian, peacenik sauna republic that the SNP seek to create," he said.
"If some people had their way we would still be with William Wallace in a cave."
Despite Nigel Farage's damning claim that his party were unlikely to win any seats in Scotland, Coburn used the manifesto launch to assure his supporters they could nab Falkirk, the seat Coburn hopes to take.
These "quiet voters" may not know what they're voting for, however, as hard copies of the manifesto have yet to surface and the only online copy available appears to be one year old.
SEE ALSO: