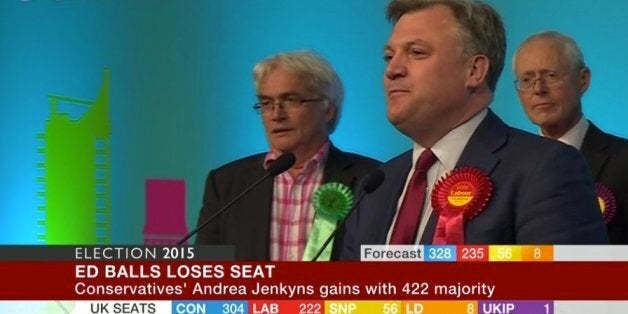 Ed Balls has lost his Morley and Outwood Commons seat to the Conservatives on a terrible night for Labour, as Ed Miliband's leadership of the party appears doomed.
The shadow chancellor was beaten by Andrea Jenkyns by 18,776 votes to 18,354 - a majority of 422 - after a recount. He said the disappointment at his individual political demise was "as nothing compared to the sense of sorrow I have" at Labour's showing across the rest of the UK.
David Cameron is on his way back into Downing Street for a second term as prime minister, this time with a narrow majority, having stunned Labour and the Lib Dems in England. In Scotland, the SNP have swept 56 of the country's 59 constituencies.
On a brutal night for Labour, the party also lost its Scottish leader Jim Murphy and its shadow foreign secretary and campaign coordinator Douglas Alexander.
In his speech, Balls said: "Any personal disappointment I have at this result is as nothing as compared to the sense of sorrow I have at the result Labour has achieved across the UK tonight in Scotland, as well as in England and in Wales, and the sense of concern I have about the future.
"We will now face a five years where questions will arise about the future of our Union, about whether we can stay as a member of the European Union and fight for jobs and investment, whether we can make sure we secure our National Health Service at a time when public spending is cut. Those are real concerns to me and to many people across the United Kingdom."
Cameron will leave Downing Street for Buckingham Palace to see the Queen at 12.30pm, Downing Street confirmed on Thursday morning.
Related