Can you imagine a world where nearly two thirds of children left school without getting GCSEs above a grade D? There would be outrage and calls for urgent action.
But this is the reality of life for deaf children.
The latest government figures show that just 35% of deaf children currently achieve the government's benchmark for five GCSEs grade A*-C, compared to 65% of their friends who can hear.
Deafness is not a learning disability, there is no reason for this to be happening.
"With the right support from the beginning, deaf children can thrive and achieve just as much as anyone else," Daniels tells HuffPost UK Lifestyle.
"And it's not just about academic achievements. I want deaf children to be able to feel comfortable in their own skin."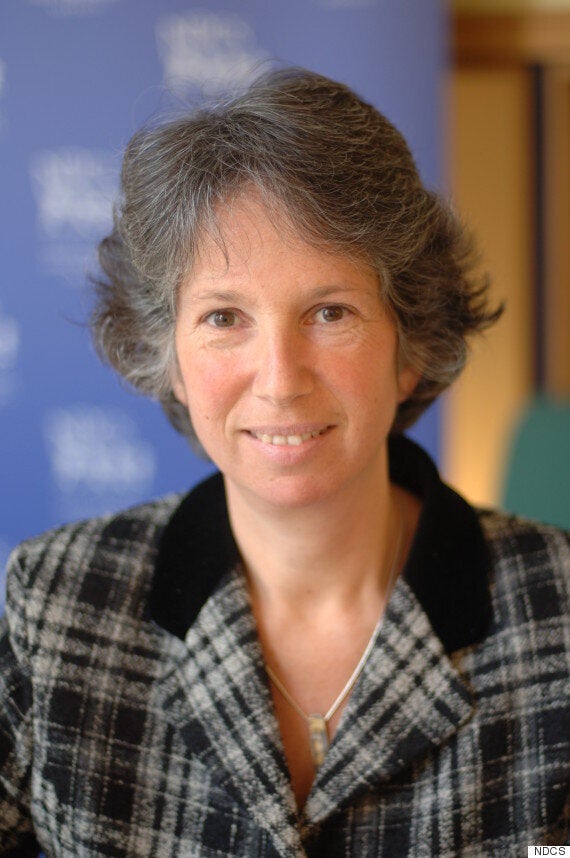 NDCS offer free information and support to families with deaf children through their publications, web forums, freephone helpline and family events.
On top of that, the charity offers deaf-friendly training to leisure organisations, to ensure deaf children aren't excluded from social clubs, such as football.
Daniels understands the difficulties faced by deaf children all too well.
She became deaf after contracting typhoid at the age of four after the powerful drugs she was prescribed caused her to lose her hearing. As she puts it, it was a case of "death or deaf".
"I did well at my mainstream school but relied a great deal on 'guess work' as I simply could not follow much of what the teachers were saying," she recalls.
"Unfortunately, the anti-bullying policies schools now have in place didn't exist when I was a pupil. Although I had one or two close friends I could rely on, I did experience some teasing. Most the time, I just got on with it.
"However, the frustration at the injustice of being mocked - for sitting at the front of the classroom in order to lip-read - built up so much that I once threw my lunchbox at a particularly persistent and unpleasant bully.
"Thankfully, it narrowly missed its intended target, landing on a nearby vending machine. We were both so shocked by my uncharacteristic and never-to-be-repeated outburst that we sat together sobbing in a classroom afterwards."
It is memories like this that make Daniels so passionate about helping the 45,000 deaf children and young people in the UK today.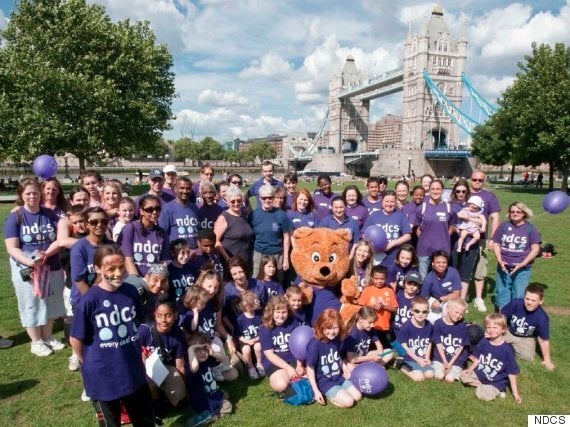 Difficulties with language, communication and social skills, such as simply not understanding a joke that everyone else is laughing at, can contribute to a deaf child feeling isolated and make them at risk of being bullied by their peers.
Today, NDCS helps mainstream teachers and special educational needs co-ordinators spot, handle and prevent bullying from happening in the first place.
Daniels puts her career success down to "fantastic parents" who supported and encouraged her throughout her childhood. She studied French at A-Level and took part in sporting activities - pastimes which some may consider off limits for deaf children even today.
But even with family support, a deaf child can find themselves at a disadvantage to their peers
Jodie, 16, from West Sussex, is moderately deaf with two hearing aids. She lip reads, but doesn't have any speech difficulties. She was diagnosed as deaf at four, though it's likely she'd had hearing loss for some time.
Aged eight, Jodie developed a cholesteatoma in her right ear - a rare and potentially dangerous growth in the ear drum, which grows into the middle ear and can destroy the delicate hearing bones and even the skull bone.
"Jodie was fitted with hearing aids while waiting for surgery to remove the first cholesteatoma and that's when we were given a leaflet about NDCS," Jodie's mum Elayne Nunan tells us.
"It was a scary time and I went on the NDCS website parents' forum where I could discuss it with the few others who'd been through the same."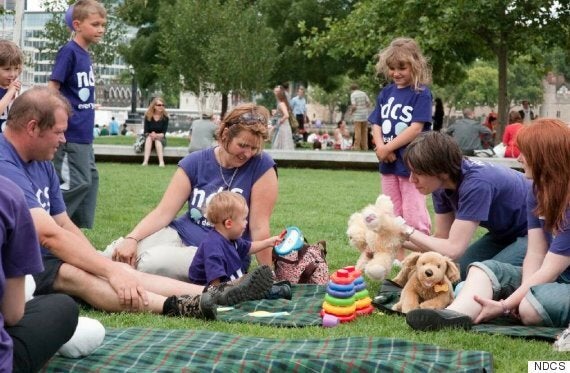 Families at an NDCS event day
Nunan says she had to "constantly battle" to get her daughter support at primary school. But after she contacted NDCS for help, the charity assigned a Family Officer who provided them with information and supported them in meetings with the school's special needs coordinator.
"Being deaf meant Jodie struggled at school, not just to learn, but socially too.
"All of these things can knock the self-esteem, cause feelings of isolation and lead to being ostracised – all of which happened to Jodie," Nunan says.
Thankfully, family fun days ran by NDCS helped Jodie regain her confidence. She went on a 'first time away weekend' when she was 10 where she spent the weekend with other deaf children doing activities like canoeing.
"It gave Jodie a sense of belonging, for once not feeling like the odd one out for wearing hearing aids," Nunan says.
Jodie is about to take her GSCEs and has Exam Access Arrangements in place - an extra 25% exam time plus a separate room - thanks to NDCS.
The help the charity has provided will hopefully enable Jodie to pave a successful career for herself against the odds, just as Daniels has.
When she took up the position of CEO in 1992, Daniels was not only a minority as a female CEO, but she was also the first deaf CEO of a national charity.
Not bad for someone who had to copy lecture notes from friends during university because she couldn't hear the discussions.
With Daniels at the helm, the National Deaf Children's Society has been able to influence the government in a number of ways, including securing an NHS new-born screening programme for all babies in the UK, which gives them a hearing test within a few days of birth.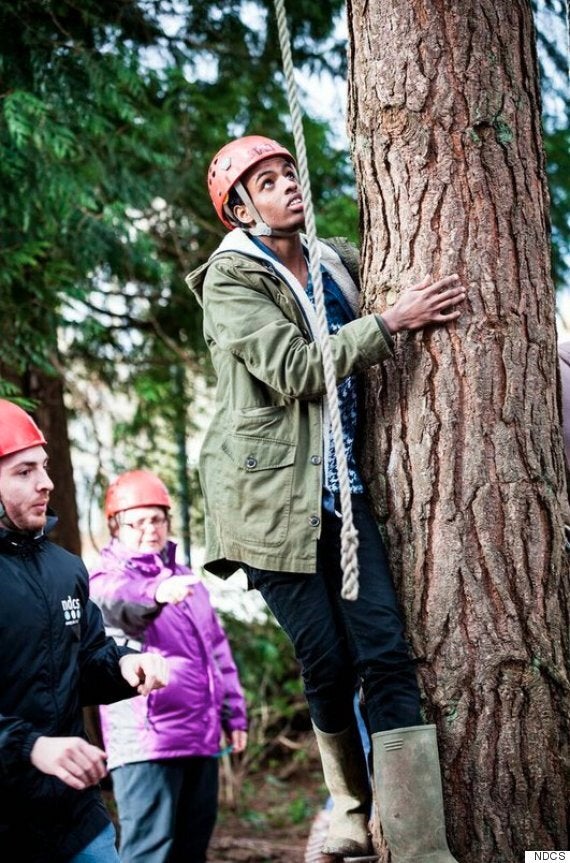 The charity has also grown from a small organisation, employing 23 people with an annual income of £1 million, to an income of over £20 million and over 250 staff.
But Daniels says more still needs to be done.
"In too many parts of the UK, deaf children are not getting the support they need. This is unacceptable," she says.
"That so many deaf children are being set up to fail is a tragedy. But worse still, is the very real possibility that in coming years, the situation will get worse, not better.
"Local authorities are cutting back on the support that deaf children need, leaving families desperate for help and worried for their child's future.
"I have an unwavering resolve to eradicate the attainment gap between deaf students and their hearing peers so that deaf young people have every possible opportunity to realise their ambitions in the future, just as I have been fortunate enough to do."
To find out more about the National Deaf Children's Society visit ndcs.org.uk, call their freephone helpline on 0808 800 8880 or email helpline@ndcs.org.uk.
As part of HuffPost's What's Working initiative, we're profiling inspirational people and organisations who are making a positive contribution to society by finding solutions to the world's problems.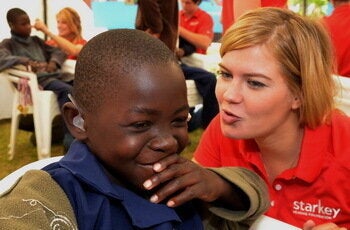 Deaf Kids Hear For First Time