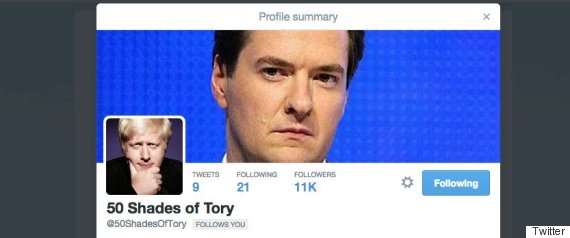 We've already had 50 Sheds Of Grey and 50 Shades of Gran. So does the world really need another '50 Shades Of Grey' parody Twitter account?
Yes. Yes, it does.
Not least because the Tories, now in power for a second term, need a damn good... parodying. And not least because the man behind 50 Shades Of Tory is Jason Spacey, the wit who brought us the hilarious Twitter account @UkipWeather.
Here are some of the account's finest tweets so far - be sure to follow @50ShadesOfTory for more delights...
As she lay there, trembling and powerless to resist, Iain Duncan Smith threw away her wheelchair and declared her fit for work.

— 50 Shades of Tory (@50ShadesOfTory) May 9, 2015
"I want you to talk to me like I'm dirt, like I'm nothing," She urged. "Have you considered a career in teaching?" Michael Gove replied.

— 50 Shades of Tory (@50ShadesOfTory) May 9, 2015
"You look sexy as hell and I want you inside me right now," whispered Eric Pickles to the dessert trolley.

— 50 Shades of Tory (@50ShadesOfTory) May 10, 2015
"Harder! Faster! Deeper! Harder! Faster! Yes! Yes! Harder!". No-one could doubt George Osborne's enthusiasm for public service cuts

— 50 Shades of Tory (@50ShadesOfTory) May 9, 2015
He ripped open her top and electricity surged through her body. Sadly, due to increased ambulance response times, defibrillation was futile.

— 50 Shades of Tory (@50ShadesOfTory) May 10, 2015
"I'll do anything you want, and I mean anything"...

"I know, David, I know," replied Mr Murdoch.

— 50 Shades of Tory (@50ShadesOfTory) May 9, 2015
"Down a bit...a bit more...more...just a bit more...oh, yeah, that's perfect!" Iain Duncan Smith loved massaging the unemployment figures.

— 50 Shades of Tory (@50ShadesOfTory) May 10, 2015
SEE ALSO: Say Goodbye To The Human Rights Act Now The Tories Are In Charge