Ukip's only MP, Douglas Carswell, has refused to endorse Nigel Farage's decision to abandon his pledge to quit as leader and remain in charge of the party.
Farage had said he would resign as Ukip leader if he failed to win election to parliament from South Thanet at the general election. After he lost to his Conservative challenger he said he would keep his word and step down.
However on Monday afternoon Farage surprised Westminster by reversing that decision after Ukip's National Executive Committee (NEC) "unanimously" rejected his letter of resignation. The move was dubbed his "unresignation".
Asked by The Huffington Post on Monday evening whether Farage remained the "best person to lead Ukip", Carswell declined to back his leader.
"I heard about the unresignation on, I think Twitter, or whatever, you know. You'll need to ask me about it later, I'm not going to talk about that now," he said.
The Clacton MP had been speaking at an event in central-London organised by the Conservative Home website, the Taxpayers' Alliance and the Institute of Economic Affairs.
Asked later by reporters whether he backed Farage, as instructed, as they followed him down the stairs, Carswell refused to comment. He also refused to comment on whether he was still a member of Ukip or if he would quit the party.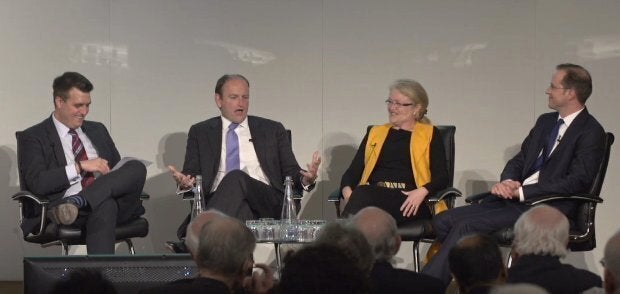 Douglas Carswell was on a panel with ex-South Thanet Tory MP Laura Sandys
Earlier in the evening Carswell also warned that the eurosceptic movement "must not appeal to people's base instincts" when making the case for Britain to leave the European Union.
In remarks that are likely to be interpreted as critical of Farage, he said: "If the case for leaving the EU is basically an argument framed as a debate between people who are anti-Romanian immigrants verses business interests, the 'out' campaign will lose. If, on the other hand, this is presented as a pragmatic step to make Britain a more free-market, open, classical liberal society, then I think we can win it."
He said: "I am incredibly excited about the prospects for change. For the first time in a generation we have a majority in the House of Commons that will vote for an in/out referendum and I think thats an extraordinary opportunity. We should be very excited about that.
"But the thing that bothers me, and I'm going to be frank about this, is sometimes the most passionate advocates of change are not always the best people to persuade the undecideds. And we have got to build a broad-based coalition that wins over - not what my core supporters in Clacton think about this, they're up for quitting the EU - we need to bring on board people who aren't decided.
"And that means making arguments in a way that is softer, more gentle. And we need to recognise that if you want to be listened to sometimes you need to adjust your tone. And I think we need to do that and we will fight a very inclusive campaign."
Farage has repeatedly cited the impact of Romanian immigration as one reason why the UK should pull out of the EU, including warning about a "Romanian crime wave". He also apologised after saying he would not want to live next door to Romanians.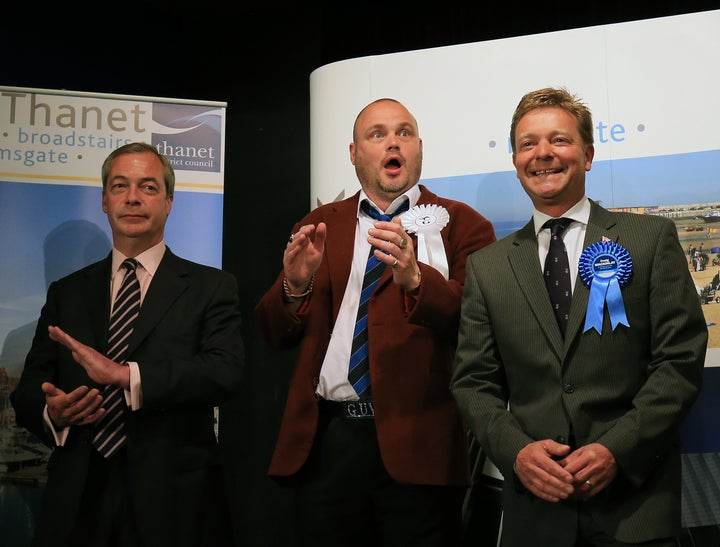 Nigel Farage lost South Thanet on election night to the Conservatives
Asked who should leave the campaign for Britain to leave the EU when David Cameron holds his referendum in 2017, Carswell said it should not be "career politicians" but someone who has a "hinterland" outside of politics.
"I think there are lot of people who could pay a role, but I think they have all got to have certain characterises. They've got to be optimistic, they've got to be upbeat," he said.
"They've got to choose their language and their tone incredibly carefully. People are going to need reassurance and people are going to need a sense that what is driving us is a belief that things can be better.
"If you want to get people to follow you politically you need optimism and sunshine. There are lots of people who can play that role. Perhaps career politicians might not be the best way of doing it. Perhaps we also need people who have a bit of hinterland beyond politics."
When Farage stood down as leader on Friday, he indicated he could decide to run for the position once again after a short break over the summer.
He said: "There was only one person the NEC wanted for the job."
He added: "I realise now that the party comes before me, and indeed, that this country comes before both."
Asked on the BBC's Daily Politics programme on Monday, before Farage decided to unresign, Carsewell named five senior Ukip members he thought could lead the party. Carswell himself has ruled out a leadership bid.
He said Paul Nuttall, Suzanne Evans, Patrick O'Flynn and Steven Woolfe would all be good leaders. "These are people who have fought and won seats in the European Parliament who have a different perspective on the way forward and I think we need to listen to them and make a considered decision," he said.
Despite winning over 3.5 million votes at the general election across the UK, Ukip only won one seat in the Commons - Carswell's Clacton. In a meeting with Tory MPs on Monday, Cameron said the Conservative victory over defector Mark Reckless in Rochester was his favourite win of election night.
Related