Ed Miliband has reportedly flown to Ibiza with his wife - in the most surprising outcome of the General Election so far.
PICTURE EXCLUSIVE: Ed Miliband Lands in Ibiza: http://t.co/9z0fCuiNx3 pic.twitter.com/9BVjSCcTvG

— Guido Fawkes (@GuidoFawkes) May 11, 2015
Author Leo Hickman's mother texted him to say Miliband and his wife Justine Thornton were on her flight to the Mediterranean island, a clubbing hotspot for teenagers and 20-somethings.
My mum just texted to say Ed/Justine Miliband are on her flight to Ibiza (sans enfant). An all-nighter as Pacha to cure post-election blues?

— Leo Hickman (@LeoHickman) May 11, 2015
Twitter produced the first images of Miliband getting down to it after he arrived in the most flattering Photoshopping he has ever been subjected to.
Ed Miliband havin' it large in Ibiza pic.twitter.com/tD3KQ93pPe

— Elliot Wagland (@elliotwagland) May 11, 2015
Ed Miliband is going to Ibiza... to team up with the Vengaboys https://t.co/DcFRYZXLxl pic.twitter.com/Ifgh9sUlkf

— Steve Clark (@steveclarkuk) May 11, 2015
As well as avid speculation about how the 45-year-old Miliband would party and rave into the night.
Ed and Justine Miliband are on their way to Ibiza without kids to rave off their election loss with @anniemac and @petetong #ACID

— Jack Evans (@jackcevans) May 11, 2015
I'm sorry, Ed Miliband has gone to Ibiza? Seriously? I suppose that's one way to wind down.

— David Pegg (@davidtpegg) May 11, 2015
Swear down man like Ed Miliband's gone Ibiza to rave away the sorrows of defeat 😂 we've all been there Ed mate 💯

— The Manor (@_TheManor) May 11, 2015
Miliband to Ibiza on holiday. From the agony to the ecstasy..?

— Donal Blaney (@Donal_Blaney) May 11, 2015
Others decided the best course of action was to get a film crew to the island produce Miliband's own ITV 2 show.
Ed Miliband In Ibiza sounds like an ITV2 reality show

— OH JESUS CHRIST (@abstex) May 11, 2015
This revelation suggested Miliband might well get down to some sick beats (Can someone check this is a saying? - Ed).
Ed Miliband has gone to Ibiza. Our work ex Alex saw the Miliband brothers at a rave in Limehouse a few years before the leadership election.

— theQuietus (@theQuietus) May 11, 2015
But it might be more subdued than that. Labour Party sources confirmed to The Independent that Miliband had gone to Ibiza simply to "get away from it all".
Ed Miliband has gone to Ibiza with his family to get away from it all - confirmed by Labour party sources

— Matt Dathan (@matt_dathan) May 11, 2015
He follows in the footsteps of David Cameron, who went on holiday with Samantha in Ibiza in 2013, which, for reasons unknown, was not greeted with howls of incredulous laughter.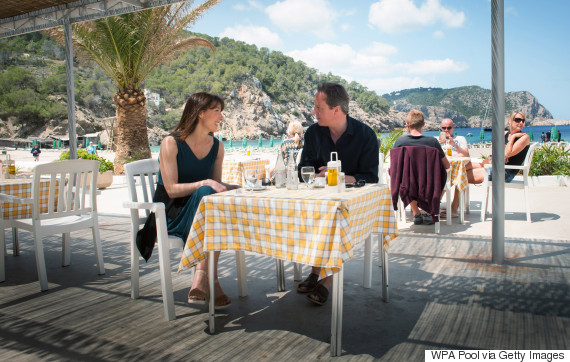 David and Samantha Cameron in Ibiza in 2013
SEE ALSO: