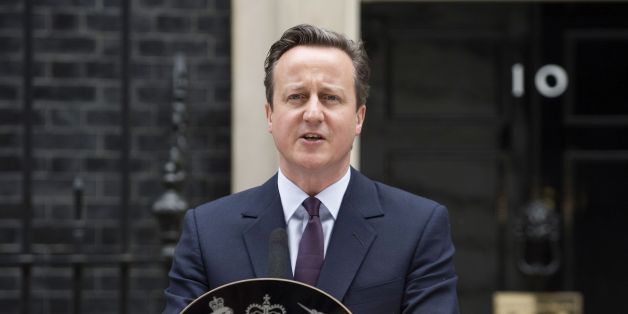 Anthony Devlin/PA Wire
For many young people, this was their first time voting in a General Election.
Last week's emphatic result of David Cameron and the Conservatives returning for another five years in government has polarised opinion among the young electorate.
Nearly as soon as Cameron had announced he had met the Queen and a majority Conservative government was to be formed, hundreds of anti-Tory demonstrators, including many young people, protested on the paths outside Downing Street.
With fears of 100 days of Tory cuts, will five years of a Conservative government help or hinder the nation's young people?
We look at what the Tories have planned for Health, Housing and Higher Education, just some of the issues facing young people today.
Health:
The future and protection of the NHS was a key topic mentioned in many of the live televised debates we saw in the build-up to the election.
Whether it's the A&E department being on hand in the early hours of the morning to fix a friend's bloody nose or making sure an elderly family member is given the care and attention they require, young people want to know our NHS is in the right hands.
We saw Red Ed and Labour go on the attack of the Conservative's plans to increasingly privatise the NHS, with the ambulance service and GP's surgeries just some areas of the NHS already privately owned under Tory reforms.
But David Cameron has pledged an extra £8bn a year for the NHS by the next election. He also wants to guarantee that people can see a GP and receive the hospital care they need, seven days a week, by 2020. According to the Conservative party manifesto, the Tories will also make sure that mental and physical health conditions are given equal priority, "by enforcing new access and waiting time standards for people experiencing mental ill-health, including children and young people".
Young people will take Cameron's claims with a pinch of salt after his pre 2010 election empty promises on healthcare. He said the Tories would "cut the deficit, not the NHS", yet voters saw him make £20bn worth of NHS cuts. He also promised no top-down reorganisation of the NHS, before going on to launch the biggest top-down restructuring in NHS history.
Housing:
Housing is one of the biggest worries for young people.That's according to a ComRes survey of more than 6,000 young people for BBC Newsbeat in the run up to this year's election. Nearly a quarter of 18 to 24-year-olds raised it as a top priority for government in the survey.
For many young people, the prospect of never owning their own home is becoming a frightening and equally depressing reality. The number of people in England under 35 owning their own home has been falling in recent years, while the number renting privately has been rising.
However these figures contrast with what The Conservatives have been saying. They have labelled themselves 'The party of home ownership'.
They point to the introduction of the 'Right to Buy' scheme, which has seen over 200,000 people helped either on or up the housing ladder. Most of those helped have been young first-time buyers from Newquay to Newcastle.
At its core, the Conservative's housing promise is to build affordable homes, including 200,000 Starter Homes, which will apparently be sold at a 20 per cent discount, and "will be built exclusively for first time buyers under the age of 40." They also want to give more people the chance to own their home by extending the Right to Buy scheme to tenants of Housing Associations.
This all sounds, dare I say it, very promising for young people. But at what cost? Well, The National Housing Federation has hit back at Tory proposals saying, "This is the wrong solution to our housing crisis. A very conservative estimate of this policy puts the cost to the taxpayer of at least £5.8 billion."
Meanwhile, the Conservative's figure of 200,000 Starter Homes by 2020 appears tame when compared with Labour's proposals to "start construction on 1m new homes by 2020".
Higher Education and Apprenticeships:
For the last five years, all talk of tuition fees was focused on Nick Clegg and the Liberal Democrats and since has become somewhat of a taboo topic in political circles.
However, with Nick Clegg now out of government and out of the picture, young people are keen to see tuition fees back on the political agenda.
Clegg took the brunt of abuse from students after his 'empty promises' isolated an entire generation. However, many fail to remember that it was the Tories who were driving through legislation for the hike in fees.
Keen to recover the young person's vote, the Conservatives are aiming to create three million apprenticeships, by capping benefits. He wants to promotes apprenticeships just as much as a university degree.
The party has also said there will be a guarantee that 16 and 17-year-olds would get a place on the National Citizen Service to learn new skills. However, there will be no budging Mr Cameron on reducing university fees.