Another blogger has been hacked to death in Bangladesh - the third such fatal attack in as many months.
Ananta Bijoy Das was reportedly killed by a group of masked attackers in the north-eastern city of Sylhet, according to the BBC.
Das, a secular writer who wrote for Mukto-Mona (Free Mind), was surrounded by four assailants with machetes, a local police officer told Reuters.
Kamrul Hasan, commissioner of Sylhet police, told AFP: "They chased him down the street and first attacked his head with their machetes and then attacked him all over his body."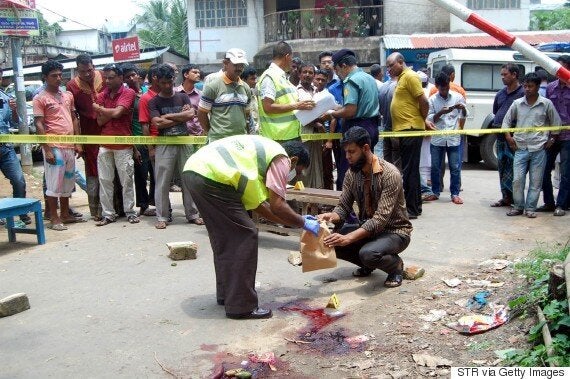 Police examine the crime scene in the city of Sylhet
He would not comment on the motive behind the attack but some of Das' fellow writers said that he had been on a hit list.
Sara Hossain, a lawyer and human rights activist in Dhaka, told BBC Newsday that Das and Mr Roy were on a list of targets.
"They've always believed and written very vocally in support of free expression and they've very explicitly written about not following any religion themselves.
"These last two have been part of a blog called Mukto-Mona (Free Mind), which is about free thinking and is about explicitly taking on religious fundamentalism and particularly Islamic religious fundamentalism.
"Their names have been on lists of identified targets."
According to the Guardian, much of Das' work focussed on science and evolution, but he also criticised some aspects of Islam and Hinduism.
The blogger's murder bears striking similarity to the deaths of Washiqur Rahman and Avijit Roy, earlier this year.
The death of Roy, who had been responsible for moderating Mukto-Mona, caused widespread protests in Bangladesh.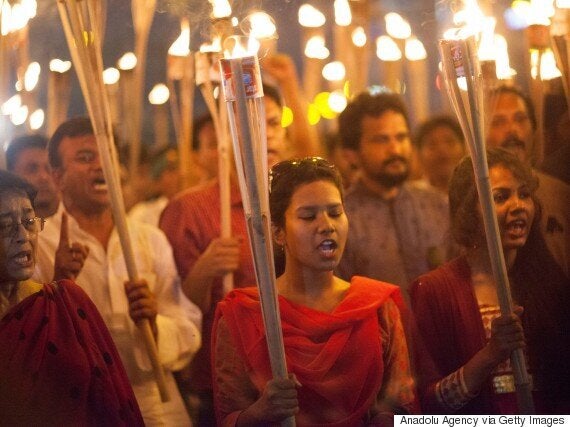 Protests following the murder of Avjit Roy earlier this year
A statement on Mukto-Mona's website simply read: "We are united in our grief and we remain undefeated."
Tributes were paid online to Das, as well as his murdered colleagues.
Helen Redding tweeted: "Awful price to pay for speaking your mind."
User @wonderoooo posted: "Disgusting that in 2015 people are being murdered for something they've wrote. #RIP."
Suswati Basu added: "Terrible news. Another blogger Ananta Bijoy Das, a science writer, was hacked to death in Bangladesh today."
Popular in the Community