Backers of Liz Kendall are hoping that an influx of new party members and supporters will wrest control of the Labour leadership race back from Len McCluskey.
The Unite general secretary is facing a backlash from MPs and local constituency parties after threatening to axe his union's link with Labour unless the party chose "the correct leader".
Acting leader Harriet Harman today pledged that the contest will be opened up to the public for the first time, with televised hustings and questions from non-Labour voters in areas where the party lost seats on May 7.
But she also underlined new leadership election rules would give the public a much greater say over the contest, with non-party members given the chance to pay a £3 'registered supporter' fee to take part in the election.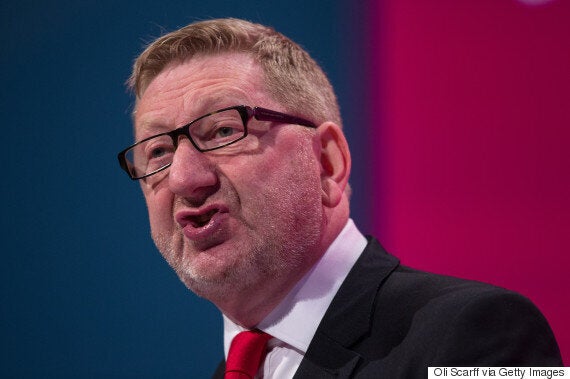 Len McCluskey: Threatening to axe his Unite's link with Labour
More than 30,000 people have joined Labour as full members since the general election defeat, adding to the already 200,000-strong rank and file eligible to vote in the leadership race.
Under new one-member, one-vote rules, individual members and supporters are eligible to take part in the election even if they joined just two days before the ballot opens on August 14. Previous strict rules on a lengthy qualifying period of membership have been overhauled in a bid to attract new blood.
Many of the new members are joining explicitly so they can have a say in the contest, and with a determination to 'stop the union barons' from dominating the party and the leader election, some party insiders say.
One Labour MP ally of Ms Kendall, widely seen as the leading moderniser in the race, told The HuffingtonPost UK: "Individual members and trade unionists are now in charge of this party, not one union baron making threats to get his way.
"The fantastic influx of new members since last week proves that people desperately want to Labour to speak for the wider public again so we can win in 2020.
"Harriet's drive to open up the race will help the party to focus on those who we need to win back not carry on with five more years of the same failed message."
With unions rapidly trying to sign up their millions of members as affiliates to Labour, the race is now on to counter their numbers with cut-price £3 'supporters' and others.
Supporters of several leadership candidates were furious yesterday after Mr Cluskey threatened that his union would axe its link to Labour unless it selected the 'correct leader' to speak up for his members.
Labour peer Baroness Prosser, a former deputy general secretary of the old T&G union, told BBC Radio 4 that McCluskey was "daft" to demand that Labour should focus on 'organised labour'.
Unite and other unions are due to hold meetings in coming months on whether to renew their funding for Labour. McCluskey this weekend suggested he could not ignore his members support for the SNP in Scotland.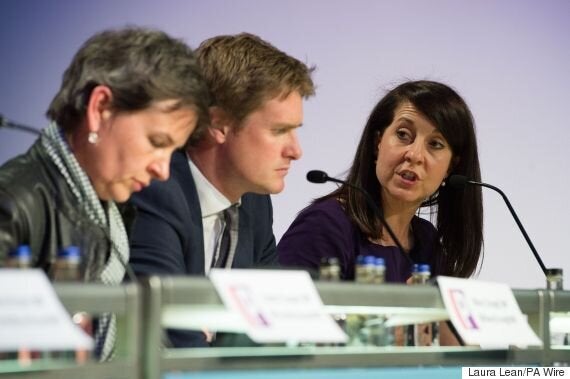 Contenders: (Left - right) Mary Creagh MP, Tristam Hunt MP, and Liz Kendall MP speak at the Progress annual conference, at TUC Congress House, central London, as they bid for leadership of the Labour Party
Former Scottish Labour leader Jim Murphy dramatically quit at the weekend, complaining about McCluskey's 'destructive behaviour' and warning that it would be the 'kiss of death' for Labour if it caved in to his left-wing demands.
In 2010, Ed Miliband was elected by an electoral college made up of MPs, members and trade unions, but following a row over Unite's alleged role in a Falkirk selection, the system was replaced by genuine a one-member, one-vote process.
Some trade unions pushed for a longer leadership timetable to give them time to sign up their members to Labour as individual affiliated supporters.
In a speech at the party's HQ today, Ms Harman said: "The winner of this election is not going to be the choice of the unions or any single section or faction of the Labour Party. He or she is going to be choice of the Labour Party.
"We will allow people who are not party members, or who are not affiliated supporters through a trade union or Labour linked organisation like the Fabian Society, to have a vote. Anyone – providing they are on the electoral register, can become a registered supporter, pay £3 to and have a vote to decide our next leader.
"This is the first time a political party in this country has opened up its leadership contest in this way and I think there will be a real appetite for it out there.
"We have changed the rules so that it means one person has one vote regardless whether they are an MP, a Shadow Cabinet member, a trade unionist or a registered supporter – everyone's vote is equal, as it should be."
She announced that hustings will be staged in the towns and suburbs where Labour had failed to make inroads on May 7. Labour members will be encouraged to bring supporters of other parties, or non-voters, to hear speeches by the contenders.
"As we conduct this debate, as we elect our leader and deputy leader, we must have the public in the forefront of our minds.
"We must let the public in. Into the process and into our minds as we make the decisions about who is our next leader and how we go forward. So we are going to start that with how we do the leadership elections."
She added that the aim was to involve a broad range of British voters. "Not the politically obsessed public, the people like us, but the people who don't decide about their choice of MP And choice of government until they have to."
Harman is in talks with broadcasters to ensure the hustings were taken out of the usual party venues.