A press trip arranged to boost the Qatari government's public relations ahead of World Cup has turned to disaster, after a BBC news crew invited on the tour were arrested for doing actual reporting.
The trip for journalists was meant to challenge claims that migrant workers are being abused and mistreated as they build the facilities the country will use for the 2022 tournament.
But a BBC crew were arrested and held after they went off on their own to report on poor-quality workers' accommodation used by Nepali workers.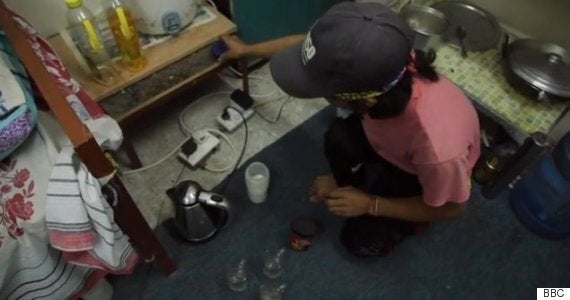 An accommodation area the BBC visited before they were detained
BBC journalist Mark Lobel, who was arrested alongisde his cameraman, translator and driver, said they were surrounded by eight cars while driving to interview a group of Nepali workers.
"A dozen security officers frisked us in the street, shouting at us when we tried to talk. They took away our equipment and hard drives and drove us to their headquarters," Lobel wrote of the arrest.
"Later, in the city's main police station, the cameraman, translator, driver and I were interrogated separately by intelligence officers. The questioning was hostile.
"We were never accused of anything directly, instead they asked over and over what we had done and who we had met."
He said the crew were "treated like spies" and held in "filthy" prison cells for two nights. Security agents showed them photos of them working and socialising which confirmed they had been followed.
"This is not Disneyland," an interrogator shouted at them during their detention. "You can't stick your camera anywhere."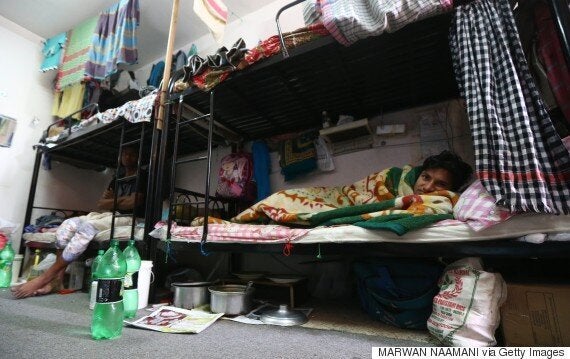 A photo of accommodation taken during the press tour earlier this month
Before his arrest, Lobel said he met an 18-year-old Nepali man whose salary was much lower than had been promised and was now trapped by the country's kafala system, which restricts the rights of foreign workers and and prevents them changing jobs for five years.
Mustafa Qadri, Amnesty International's Gulf migrant rights researcher, told the BBC that the arrests of journalists and activists could be attempts by Qatari authorities to "intimidate those who seek to expose labour abuse".
Tweeters turned their anger on London-based PR agency Portland Communications, which showed journalists around on the trip the BBC attended.
Some suggested the company should stop working with the Qatari government.
The Huffington Post UK contacted Portland Communications for a response but had not received one as this story went live.
In March, a crew from West German Broadcasting were arrested while interviewing workers for a documentary.
They were arrested and held for 14 hours and forced to remain in Qatar for five days until the German ambassador intervened and the country's foreign ministry allowed their departure.
Their cameras, notebooks and mobile phones were confiscated and returned four weeks later with all their data wiped, the broadcaster said.
Bizarrely, Lobel and his crew were allowed to return to the arranged press trip after their arrest.
"It was as if nothing had happened, despite the fact that our kit was still impounded, and we were banned from leaving the country," Lobel wrote.
A BBC spokesman said: "We are pleased that the team has been released but we deplore the fact that they were detained in the first place. Their presence in Qatar was no secret and they were engaged in a perfectly proper piece of journalism.
"The Qatari authorities have made a series of conflicting allegations to justify the detention, all of which the team rejects. We are pressing the Qatari authorities for a full explanation and for the return of the confiscated equipment."
The Qatari government appeared to agree that it was a "perfectly proper piece of journalism" that got the BBC crew in trouble, with a spokesman saying they could have avoided any problems if they had only stuck to the arranged press tour.
"The problems that the BBC reporter and his crew experienced could have been avoided if they had chosen to join the other journalists on the press tour," Saif Al-Thani, the head of Qatar's Government Communications Office, told Doha News.
In a statement, the Qatari Government added: "The Government Communications Office invited a dozen reporters to see - first-hand - some sub-standard labour accommodation as well as some of the newer labour villages.
"We gave the reporters free rein to interview whomever they chose and to roam unaccompanied in the labour villages.
"Perhaps anticipating that the government would not provide this sort of access, the BBC crew decided to do their own site visits and interviews in the days leading up to the planned tour.
"In doing so, they trespassed on private property, which is against the law in Qatar just as it is in most countries. Security forces were called and the BBC crew was detained."
This did not explain why the crew had been followed beforehand.
Last year, PR Week reported that the Qatari Government had hired Portland Communications to work on a "broad remit ranging from government affairs through to nation branding".
It quoted a source who said: "The country has fallen out with its neighbours, and the government is clearly recognising there are major issues to tackle.
"It may be one of the richest, but the country has a lot to learn on the global stage, and in going for the work Portland will have had to have thought very carefully, as it could count against the agency in other markets in the region."
Popular in the Community