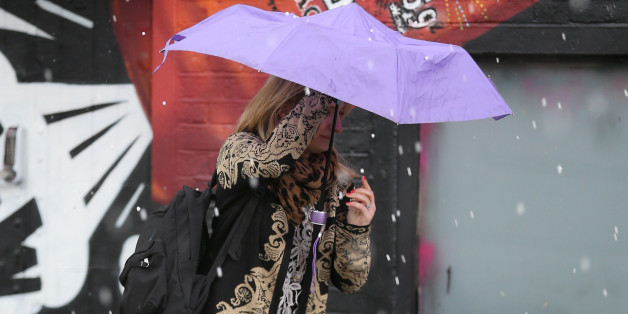 Peter Macdiarmid via Getty Images
The country came to a standstill as hailstones pummeled unsuspecting residents on Tuesday.
True to its name, the unpredictable British weather kept people on their soggy toes when the grey clouds and light rain turned into a torrent of tiny blocks of ice.
Brits were battered with hailstones and took to Twitter to express their shock at being caught off guard during the unruly weather conditions.
Is it REALLY May?
Hailstones/Snow in May ????

#boringweathertweet pic.twitter.com/B3UxTegT5b

— linda mcknight (@lindamcknight2) May 19, 2015
Why are there hailstones falling out of the sky in mid May?

— Suzi Hastings (@SuziHastings) May 19, 2015
When did we skip a few months and end up in autumn?! #hailstones #weathersucks

— Victoria Salter (@retlasv) May 19, 2015
Today at #Wimbledon ... #hailing #inMay #weird pic.twitter.com/LEOJSjzmm1

— Wimbledon (@Wimbledon) May 19, 2015
No, seriously?
Crazy hailstones on my afternoon run #britishsummer pic.twitter.com/RBtK7tVTic

— Elliot Wagland (@elliotwagland) May 19, 2015
So we went from summer sun to hail stones??? Lord, explain Yourself, please.

— Priscilla (@Queen_Pris) May 19, 2015
Hail stones!!! Crazy. pic.twitter.com/Ejt51GtSF9

— Jamie Nicholls (@jamienichollsuk) May 19, 2015
They're more painful than they look...
It's not good getting hit up the head and face with #hailstones it's pretty soar #Belfastweather

— valerie mccann (@valerie81206) May 19, 2015
Hailstones REALLY hurt!

— Foffa Bikes (@FoffaBikes) May 19, 2015
Almost got killed by those hailstones😂😂

— James Thomas (@Jamees_Thomaas) May 19, 2015
I WAS JUST ATTACKED BY HAIL STONES

— amy!¡ (@jaijavu) May 19, 2015
Actually, they're not so bad after all...
Got extra time for that geography exam because of the hailstones 😊

— Selassie (@_Kai100) May 19, 2015
Black sky and hailstones, at least it keeps my idiots next door neighbours from starting fires

— Darren Foxwell (@foxwell_darren) May 19, 2015
Heavy Rain and Hail Stones didn't stop stop the mums power through this afternoon's Get Active Mums Session!😛 pic.twitter.com/8PlGY11z7R

— GatesheadSport (@GatesheadSport) May 19, 2015
Please, can I JUST eat my falafel?
HAILSTONES IN MY FALAFEL

— Saskia Leach (@SaskiaLeach) May 19, 2015
SEE ALSO:

21 Animals Who Are Dealing With Snow Better Than British People

In Pictures: Snow Chaos Hits London