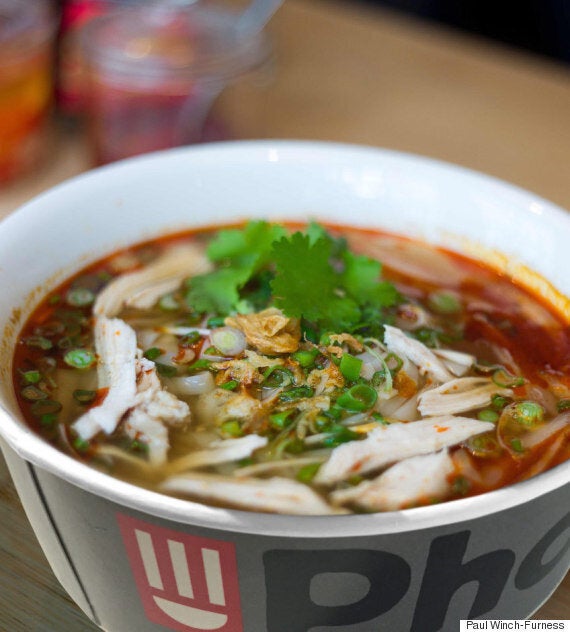 Whole roast chicken (chicken bones - whole carcass for stock) Tip – we recommend you roast a whole chicken (for Sunday lunch!) and afterwards use the carcass for the stock, then add leftover meat to each bowl of pho.
Cinnamon (2 large pieces)
White onion, cut in half (1)
Red shallots, cut in half (2)
Garlic bulb, broken into whole cloves (1)
Salt & sugar for seasoning
Side plate: fresh herbs (coriander, mint, Thai basil), beansprouts, lime wedges
Plenty of Sriracha and fresh chillies all quantities and can be increased or decreased depending on pot size and water used
Place the chicken carcass in a large stockpot and fill with water. Bring to the boil.
Cut the ginger lengthways in half and bash it with a rolling pin, then roast the ginger, garlic, shallots and half the white onion in a dry hot wok until a little charred
Add cinnamon, star anise, peppercorns and cloves to the wok and dry roast for a minute or two.
As the water reaches a simmer, if you are starting with raw bones, skim off any scum or foam that forms. Then add all the roasted spices.
Bring back to the boil (uncovered) then reduce the temperature to its lowest and simmer on low for 2-3 hours. Add a little more water if needed.
Drain through a fine sieve or chinois to get a clear stock, then return to the stock to the pot and season with salt, fish sauce and sugar.
The stock is ready to serve or cool quickly, cover and store in fridge. Serve stock over blanched Banh Pho noodles and sliced cooked chicken, then garnish with thinly sliced white onion and spring onion.
Serve piping hot with side plate of fresh herbs (coriander, mint, Thai basil), beansprouts, sliced red chillies and a wedge of lime, which should be added throughout the meal to tailor your bowlful as you eat. Build on the flavour with a second helping of hot stock, more fish sauce, a spoonful of rice vinegar for sourness, or even a raw egg yolk.
To kick that deadly hangover, be sure to squeeze loads of Sriracha chilli sauce over the top!
On Thursday 21 May, some of London's finest and most exciting chefs will join together under one roof, at Street Feast in Dalston Yard, to cook up Michelin-starred quality dishes street-food style.
Guests will have a chance to win some 'money-can't-
buy' experiences from the restaurant world, including:
a fishing trip with Tom Parker-Bowles and Mitch Tonks followed by a long lunch at The Seahorse restaurant;
the River Café to cook dinner in your house;
Pho's Emergency Hangover Cure for 25 people;
and the chance to dine out with Sir Terry Wogan.
London foodie website Hot Dinners will be supporting the event with a week-long online auction to help raise crucial funds for malnourished children worldwide. Simply visit their site until midday on Thursday 21 May, to place your bid.