In the middle of 'Game of Balls,' a porn film spoofing Game of Thrones, star Eva Lovia breaks character to demonstrate how men can check their testicles for signs of cancer.
In the middle of an erotic scene, Lovia uses her co-star's genitals to show how to check for lumps, to raise awareness about the disease which affects 21% more Australian men than the global average.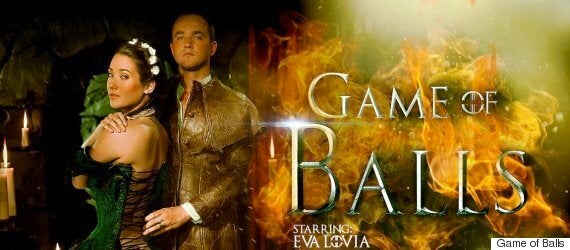 'Game of Balls' spoofs 'Game of Thrones'
She then invites viewers to visit a site called playwithyourself.org for more information about "playing with yourself" to check for cancer, before the film continues.
The marketing stunt, created by Aussie cancer charity The Blue Ball Foundation, is being nicknamed 'pornterruption' advertising. The advert takes up one minute of the 30 minute erotic movie.
The Blue Ball Foundation teamed up with LA adult film studio Digital Playground to add the advert to its film and reach as many men as possible in the 20-39 age group: 70% of whom watch porn.
The advertising agency, M&C Saatchi in Sydney, did no PR or promotional work for the film - it simply arranged for the cancer message to be part of the script, and waited as men watched it in their millions.
It seems to have worked: the film has been viewed over 2.5 million times since it was released last month, to coincide with the launch of the latest series of the real Game of Thrones. And 325,000 people have visited the campaign's website to find out more.
Testicular cancer is curable in 97% of cases if detected early, The Blue Ball Foundation says, so self-checking is crucial to saving lives.
M&C Saatchi Executive Creative Director Ben Welsh said: "We're always looking for surprising new ways to reach people with messages that matter. This time we really caught men with their pants down – and all for a good cause."