Trevor Smith is 62 and is one of 40,000 people living in the UK with early-onset dementia.
Eleven years ago, aged just 51, he started to lose his memory. First of all it seemed like a simple case of forgetfulness, but his condition rapidly deteriorated.
Before long he was unable to perform simple tasks at work, such as using his computer; he had three minor road traffic accidents in six months, which meant he had to stop driving; and he was eventually diagnosed in 2012, aged just 59.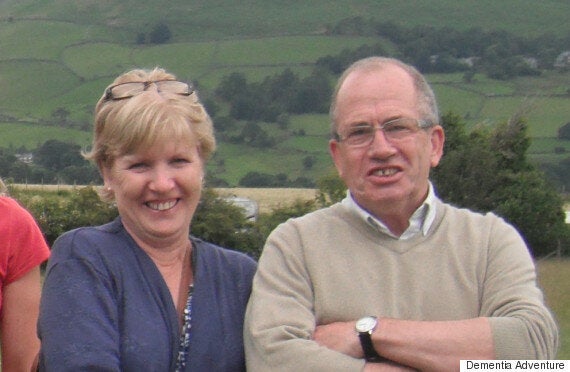 Margaret and Trevor Smith
"He went from being a really successful sales manager to scanning people's tickets at the local zoo," recalls his wife, Margaret. "But eventually even they had to let him go because the job was too complicated for him."
Now Trevor needs round-the-clock care. When Margaret, who is just 57 and works part-time as a district nurse, is at work, a carer comes to the house to sit with Trevor until he is collected to go to the local day centre.
The couple have four children, three of whom live locally, but while they support their parents as much as possible, they have their own jobs and families to tend to.
"Dementia turned our lives upside down," explains Margaret. "We were planning early retirement, but of course that's not possible anymore and I'll have to continue working for another nine years at least until I can get my state pension."
"Our stability and security has been rocked. I take nothing for granted and we live one day at a time," she adds. "I've lost the man I married and my children lost their dad. I see glimpse of him every now and again but it's not the same."
But there is hope on the horizon for the Smiths: a five-day holiday in Devon, where the couple will be able to spend quality time away from the stresses of daily life.
The holiday wouldn't be possible without Dementia Adventure, a social enterprise that provides short breaks for people living with dementia and their carers.
Dementia Adventure offer a range of dementia-friendly holidays that are supported by an expert term of volunteers and trained professionals.
From walking holidays in the Peak District to sailing trips from Malden, Essex, clients can choose from bespoke holidays for couples or group trips.
Lucy Harding, who co-founded Dementia Adventure with her husband Neil, told HuffPost UK Lifestyle: "We believe that people with dementia shouldn't see their diagnosis as the 'end of their lives' or the end of anything fun. If people stay in touch with the activities that they love to do and keep on doing them then they will stay better for longer - the 'if you don't use it you lose it' ethos."
The health and wellbeing benefits of such trips include improved appetite, better sleep, increased verbal expression and an uplift in mood.
"You don't need a memory to be able to appreciate a beautiful view or some sunshine or the feel of the sand between your toes - it's about the joy of the moment," she explains.
"While you may forget the facts, you remember the emotions. It doesn't matter what hill you were up or what you had for tea, what matters is the lingering feeling of happiness and elation."
Dementia Adventure have a team of volunteers, led by one full-time staff member Jesse Reed, who support carers in looking after their loved ones. On each trip there are two people to support each person living with dementia: their carer and one volunteer.
But it's not just the people living with dementia who benefit from the trip. Carers are also central to the care plan offered by Dementia Adventure.
"Carers take so much strain, it's a 24/7 job," says Lucy. "They relish being able to abdicate responsibility for the logistical stuff and just focus on their relationship with their partner."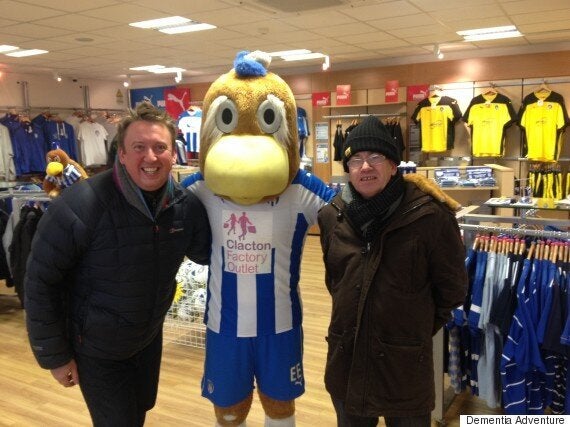 This will be the second Dementia Adventure holiday that Margaret and Trevor have been on and in September they will go on their third.
"In the year since we've know them, Dementia Adventure have changed our lives," says Margaret. "They've given us hope and a future to look forward to.
"The second I got into the car on that first morning I could feel myself relaxing, we didn't have to worry about anything."
For others, the holiday came at a crucial moment.
Iris*, who went on a four-day break in Suffolk with her husband Arthur*, described her holiday as a "lifeline".
She had been caring for Arthur for 18 years on her own and time had taken its toll. While Arthur had a "good holiday" enjoying walks and activities, for Iris, the break was more of a form of respite.
"I was on the point of collapse when we left and I did collapse later on," she says. "It turns out I had a fracture in my spine but I didn't know that at the time. I was in terrible pain."
In the end, the trip was far different to what she had expected. "The idea was that we would go and do what we enjoyed, but I didn't as I was ill," she says. "But it turned out to be a lifeline when things were breaking down."
Peer support is a crucial part of the group holidays, caring for a loved one can be isolating and put a great deal of emotional strain on the carer.
This is something Margaret knows too well. She describes Trevor as the "joker who everyone loved". But since he started to lose his memory, their friendship circle has near enough vanished.
"Apart from two friends who Trevor has known for 40 years, we don't hear from anybody," she says. "People don't seem to know how to cope with the situation."
Margaret describes being around other couples living with dementia on their previous holiday as "refreshing".
"We were all in the same boat and we could talk to each other quite openly although we were virtually strangers," she says.
For Lucy and her husband Neil, the stories of people affected by dementia are all too close to home. Lucy's grandfather had dementia in his late 80s, while three of Neil's grandparents had dementia.
Lucy has a background working for a tour operator and Neil, who studied psychology, has always worked with people living with dementia. Dementia Adventure is the perfect fusion of both of their respective skill sets.
The name for Dementia Adventure came from Neil's work in West London with families affected by dementia.
"Neil was taking a career break to go to explore Peru and a couple he used to work with said, 'oh you're having a break from dementia to have an adventure, are you?'" he said. "This couple, by contrast, couldn't take a break from it.
"There was nothing on offer to them to mean they could in anyway to get away from the situation they were in. This woman was going to a day centre and she hated it and her husband hated sending her there. Neil got angry and frustrated and pledged to do better for people in their situation."
Dementia Adventure try to help as many people as it can. Applicants fill out a suitability questionnaire to work out whether or not they are suitable. "If they need extra help to get out of bed in the morning, we buy it in," explains Lucy.
Holidays are heavily subsidised, with a five-day trip costing £500 per person on average. "It's not cheap but certainly cheaper than a full rate," explains Lucy. "After everything is added up a trip costs around £1000 per person, so we cut the price in half."
Last year they took 78 people on various holidays, but Lucy is keen to expand their offering. They train organisations in dementia care, are exploring licensing options to spread the idea and, of course, are keen to offer more holidays in more diverse locations.
Although the holidays may only be temporary, the impact on the families with dementia is long lasting.
"I felt that I'd been able to recharge my batteries," says Margaret. "I felt that I wasn't on my own anymore."
*Names have been changed at interviewee's request to protect identities
As part of HuffPost's What's Working initiative, we're profiling inspirational people and organisations who are making a positive contribution to society by finding solutions to the world's problems.