Four years ago, John Healey was riding high. As Shadow Health Secretary, he'd forced an unprecedented 'pause' in the infamous Lansley NHS bill, scoring Labour's first direct hit on the Tory-Lib Dem Coalition.
Months earlier, he had won more than 200 votes from fellow Labour MPs in the Shadow Cabinet elections, and was as popular in his party as among NHS staff.
Healey looked on course for greater things. But then, one day in October 2011, he surprised Westminster by announcing he was opting out of front-line politics.
In a letter to Ed Miliband, he explained that he was quitting his post to spend more time with his family. And although that very phrase has over the years attracted ridicule, Healey was deadly serious.
"We only have one son, Alex. And he was starting his sixth form. He and my wife Jackie had had to put up with me for 10 years being on the frontbench, the front line of politics," he tells The Huffington Post UK.
"They'd had to put up with me being away from home during the week. The Shadow Health Secretary role was a seven-day commitment. What really, in the end, tipped it for me was that I'd missed the first three Saturdays of his first new rugby season.
"The first I was campaigning in north Yorkshire, the second was a party event I needed to be at in East Anglia, the third I was in Liverpool. And I just thought: we only have him for two more years. Then he'll be gone." Healey's voice catches at the memory. "And I decided this is the time for the family."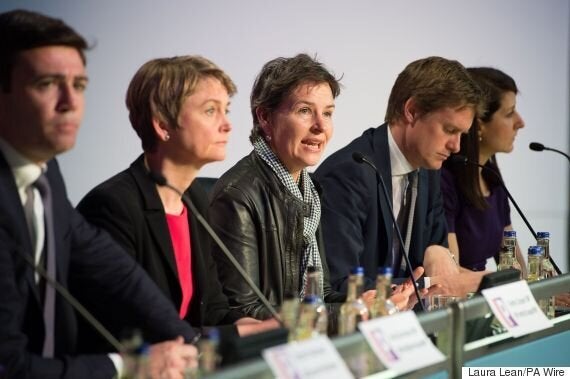 Labour leadership candidates Andy Burnham, Yvette Cooper, Mary Creagh and Liz Kendall, speaking alongside Tristram Hunt
Fast forward to today and John Healey is back. Since 2013, he's gradually been stepping up his profile, not least with a brutal assessment of the UKIP threat. Last year, he did something even the SNP haven't been able to do of late: take a seat from Dennis Skinner. In the Parliamentary election to Labour's ruling NEC, he came first with a staggering 85% of MPs' votes, while Skinner was edged out in third place.
And today, he's declaring that he will stand for the deputy leadership of the Labour Party. Healey's up against early front-runner Tom Watson, as well as Caroline Flint, Angela Eagle, Stella Creasy, Ben Bradshaw and now Rushanara Ali.
It's a packed field, so just why has he decided to join the race? "The truth is I've been dismayed at how narrow and shallow the debate has been so far," he replies. "We and many of the people who voted for us have been shocked by the scale of the defeat. It's different, but it's just as bad as 1983.
"The challenges are just as big. I want to make sure that some of the big problems confronting us not just as a party but as a country are part and parcel of the debate that we now have."
He insists that he opted to run after colleagues in the Commons said he had a chance. "I had no intention of doing this," he says. "I declared on Day One that I backed Yvette Cooper for leader, but as the days went on I was approached by a number of MPs who know me well.
"They were saying 'look at your record in the Shadow Cabinet elections, you were top of the poll among the men; look at the record you've got with the election to the NEC, where you beat not just Steve Rotheram but Dennis Skinner out of sight. You've always worked right across the breadth of the party and trade unions and we know your track record of getting things done'. They said 'we hope you're thinking about it and if you're not thinking about it, you should'. And so that brought me to the point today, where I'm confirming I'm in the race."
He sounds pretty confident that all that support in the Parliamentary party will at least get him past the first hurdle and onto the ballot. "I'm getting the backing. Not all the candidates who have thrown their hat into the ring will get the 35. I will. It's hard pounding because others have a big head start. But nothing in politics is easy."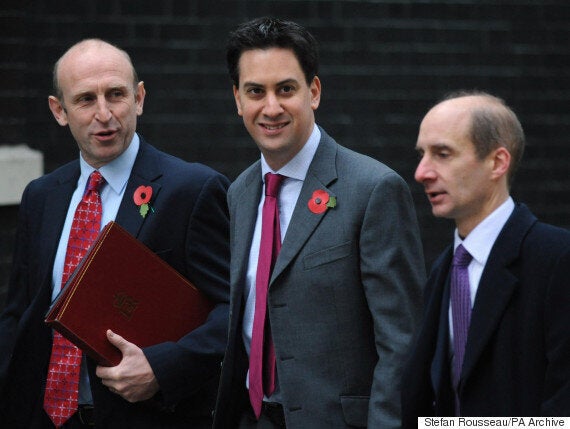 Healey (left) when he was housing minister under Gordon Brown, with then-Energy Secretary Ed Miliband and then-Transport Minister Lord Adonis
A former local government, Treasury and housing minister, with a previous career as a trade union official, Healey certainly knows the Labour movement well.
He's also used to beating more eye-catching opponents in party contests. Way back in 1996, he contested the candidate selection for the safe Labour seat of Wentworth against a young hotshot called Yvette Cooper. Cooper garnered just 14 votes and Healey won the candidacy by a large margin (also beating Roger Stone, a local councillor who later went on to lead Rotherham Council before quitting over the child grooming scandal).
Similarly, after Labour's general election defeat in 2010, Healey beat much better known rivals to get that landslide of MPs' votes in those Shadow Cabinet elections, with the Shadow Health Secretary role his reward. The shape of Andy Burnham's leadership campaign, based in part on his vigorous defence of the NHS, may have looked very different if Healey hadn't stepped down to create the Shadow Health vacancy.
Whoever wins the top job, Healey appears to make a virtue of the fact that he's the oldest of the runners - and that he's worked closely with Cooper, Burnham and Kendall.
"Labour's going to need someone with total loyalty to the party and the leader, someone who doesn't want that top job for themselves. It's going to need a deputy that allows the leader to give their full attention to the country. And not spend a great deal of time trying to hold things together in the party."
Building a team rather than relying on the leader is another challenge, he says. "If you think back to 1997, we had not just Tony Blair and John Prescott, we had a series of big figures making people confident. We had Gordon Brown, Robin Cook, David Blunkett, Mo Mowlam. And we went into this election with too much riding on the assessment of our leader."
He also wants to reshape the deputy leader role to focus on the big issues facing the party. "We out-organised, we outworked the Tories, so the answer just can't be more organisation, knocking on doors. Yes we need a bigger, better Labour party. If you go back to just after the war we had over a million members. We need to recreate a political party like that, a million members and signed up supporters is a good aim to have. But in the end the reason Labour lost is deeper and goes beyond that," he says.
"We are a country ill at ease with ourselves and our place in the world and Labour weren't able to offer the credibility and confidence that people want to see in a government."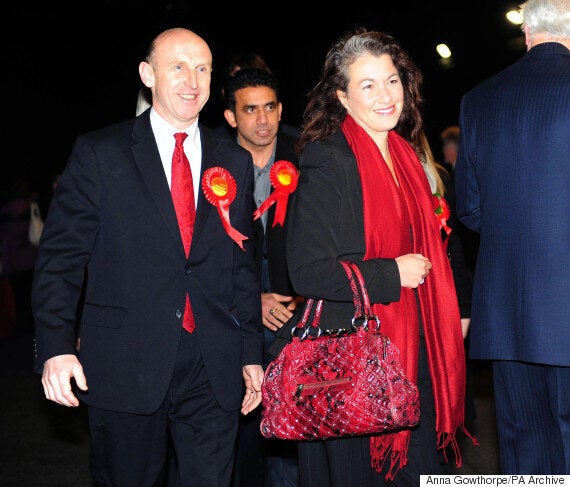 Healey with Sarah Champion, after her 2012 by-election victory in Rotherham
UKIP, as May 7 proved, were one of the beneficiaries of that sense of national unease. "That confirmed what I've been warning the party campaign chiefs for two to three years. The challenge UKIP pose is not short term. It's not a task just for 2015," he says.
"The reason for that is not the personal appeal of Nigel Farage and it's not the potency of an-explanation-for-all-ills being immigration. The real potency is this: UKIP now occupies the ground the Lib Dems used to have as the anti-establishment politics party but especially in the traditional Labour areas like Rotherham it taps into that sense of being left behind, having seen over three decades things generally not getting much better whoever was in power."
To expand the point, he refers to his constituency in South Yorkshire. "We used to know what we did in Rotherham. People knew what we were for. We were part of the coalmining base of Britain, we were part of steel making and engineering, we were part of Britain's place in the world. Now, we're not quite sure what we do, what we're for. That's a long term challenge that won't be simply solved by a better set of policies or better organisation.
"It requires a rethink of the way the party works, particularly those in parts of the party that have taken their area for granted to raise their game. But in the end organisation alone is not the answer, policies alone are not the answer, understanding some of the cultural changes about a lack of identity in the modern world are part of the bigger challenges we've got to face."
One solution is a radical transfer of power from Whitehall to regions and councils. "It means a devolution of powers that is deep-rooted and fixed in England. That allows people to feel the decisions that affect them are being taken by people within their region not in Westminster or Whitehall."
But he has a bigger point about the power of politics. "It means that the good jobs we've got to create are spread around the country. The answer to UKIP in the north is more Nissans, more Jaguar Land Rovers, more Boeings and Rolls Royces, investment in jobs.
"All those things have only come about because during a Labour government we had smart use of public investment alongside private investment to make those long term commitments happen in the first place. Restoring that belief that Government can act and will make a difference is part and parcel of the challenge that we face through to 2020."
Some in the party have blamed Douglas Alexander for failing to grasp not just the threat of the SNP north of the border, but also UKIP south of it. Healey is careful not to "blame individuals", but it's clear how frustrated he was that his warnings fell on deaf ears back in 2013.
"There was a complacent conventional wisdom not just among our campaign chiefs but generally in the policy and commentating world, that somehow UKIP was a bigger problem for the Tories than Labour," he says.
"The view was UKIP was taking four Tories for every one Labour voter, UKIP was causing great divisions in the Tory party, 'so let's just sit back boys and watch this happen.' It changed and it changed rapidly. We acted in the last nine months before the election but we were slow to pick this up."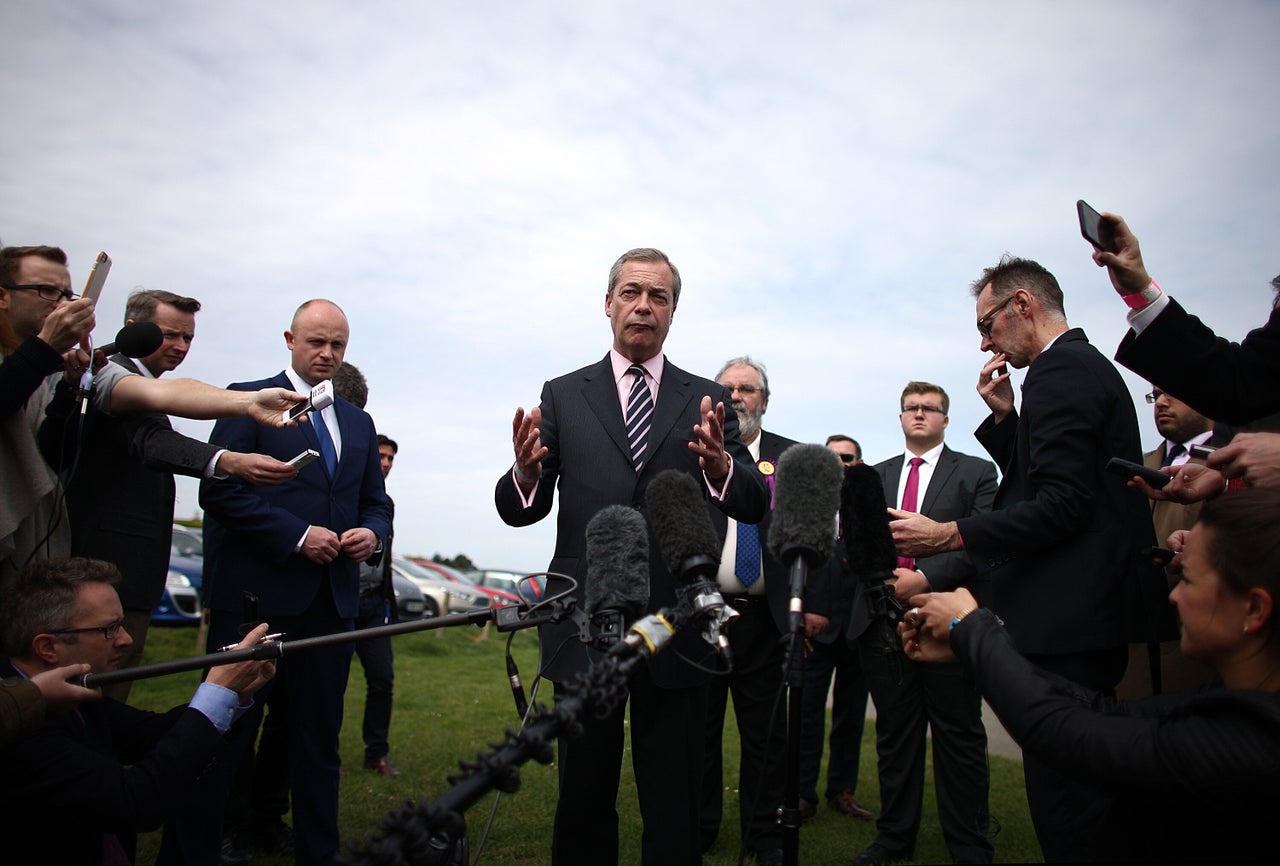 Nigel Farage resigns, before un-resigning
For Healey, the threat posed by Farage's party is very real, despite UKIP holding just one Westminster seat. His big worry is that what happened in Scotland, where Labour was swept aside after years of one-party rule, could happen elsewhere. "We can see the signs of a backlash against politics and therefore because Labour is strongest in these areas, it's a backlash against Labour," he says.
"If you talk to winning and losing candidates in the north and in Wales, some of them are seized with the risk that what happened in Scotland could be repeated in other parts of the UK. We can certainly stop that but we must wake up to it and fast."
As for alarm calls, Healey tried to make his party wake up to the problem of falling living standards back in 2010. Once the ballot for the Labour leadership had closed, but before the winner was announced, he wrote a personal memo to all five of the candidates – Ed Miliband, David Miliband, Ed Balls (whom he had backed), Andy Burnham and Diane Abbott – urging them to focus on the 'squeezed middle'. This wasn't 'Middle England' but more the large swath of voters struggling with rising prices and frozen or falling wages.
"It's about the real middle, the squeezed middle in Britain. I called it then the 'just coping classes'," he says. "I think it's still as relevant now, the people who are the backbone of our economy are the people who do jobs we all rely on. The IT workers, the HGV drivers, teaching assistants, lab technicians, call centre supervisors, and they have got to feel that things can be better."
Miliband famously picked up on the theme, but Healey says that although some of the policy answers were right "we couldn't make it add up to convincing vision".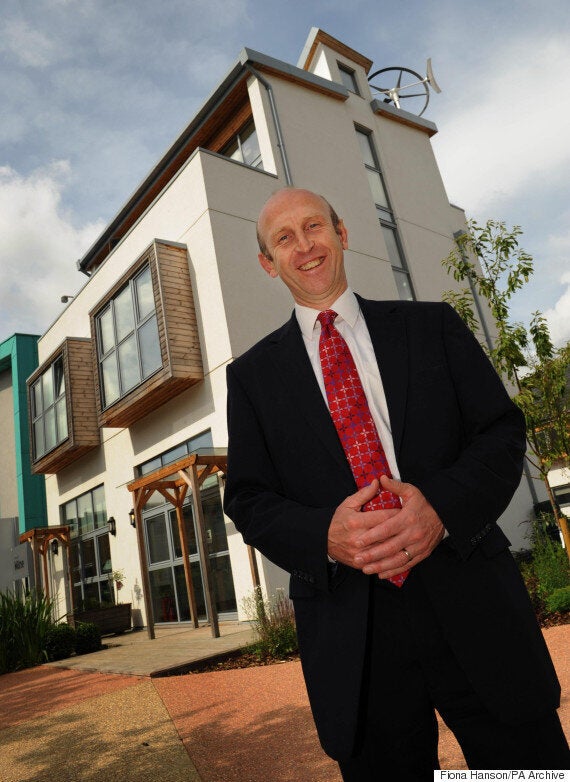 Healey announcing four new eco towns when he was housing minister
Another area where he tried to shift policy was on housing. Among his proudest achievements in office was getting the last Labour Government to agree a huge new investment in housebuilding, after years of neglect.
Some MPs say housing – now one of the hottest political issues in the country - was one of Tony Blair's biggest blind spots in domestic policy and it took more than a decade for Labour to realise it.
"I was the one who convinced Gordon Brown that a big part of our economic stimulus needed to pull the country through recession needed to be housing," Healey says. "We had a £1.5bn boost to the housebuilding programme. We built, from a standing start, 60,000 more affordable homes in that programme. We got local authorities building more homes than they had for two decades.
"But if you ask local government they will tell you that the biggest single devolution of the last three decades is the removal of the council housing finances from the grip of the Treasury. I did the deal with the Treasury that even Grant Shapps and the Tories then followed through."
Healey also forced through a big change in how Whitehall leverages its bargaining power. "People talk about using the power of public procurement now. But for the first time ever in Government we had with that funding for housing a new condition: no apprenticeships, no money. Whether you were council, housing association or private housebuilder. And it was the first time we had ever made apprenticeships or anything condition like that mandatory."
Not everyone was convinced, however. "I had a month long battle with the civil servants on this. They came back and they said 'ooh, you can't do that minister, I tell you what we will do, we will produce a good practice guide on apprenticeships and local recruitment'. I said 'No, we will make it mandatory'.
"About a week later they came back and said 'minister, we see that a good practice guide is too weak. What we will do is get them to report the apprenticeships they've got publicly and that will really concentrate minds'. I said 'No, we will make it mandatory'.
"And they went away and came back and said 'Minister, here's a proposal for tough guidance as part of the grant programme'. I said 'No, we will make it mandatory'. And this went on for a month and in the end they came back and said 'We can do this, we will do this.' In those first six months, we created in the building industry right across the board, 3,000 new apprenticeships. So it can be done."
The power of government to lead change was underlined during his time as Financial Secretary to the Treasury too. "I signed off the final repayment to the US of our Second World War debt in December 2006," he recalls. "What our government did then in wartime is what governments uniquely can do", using Keynesian spending to help a country in need.
"It's why part of the answer for the future is to be able to draw on the power of the public balance sheet to make the big investments that make the country grow for the long term."
Like plenty of Yorkshiremen, Healey likes a good pint of bitter, with his favourite tipple being Timothy Taylor's Landlord ("It's unsurpassed"). But even in the prosaic world of the pub, he points to the power of government to tackle a flawed market.
"I was the minister responsible for the small breweries tax relief which spawned the beginning of around a thousand local independent breweries around the country."
In 2009, with 39 pubs a week closing down, he was worried a great British institution was still under threat. After persuading Gordon Brown to make him pubs minister, the government produced a plan for pubs "which is still the touchstone for those in the industry", he says.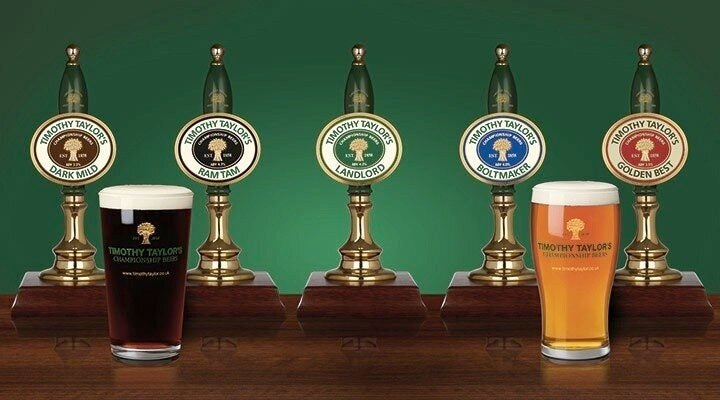 Healey's favourite tipple
So, on housing, the squeezed middle, the threat posed by UKIP, and even the fate of our British pubs, it sounds like Healey is the man who prides himself on spotting the issues coming down the track. Is he Labour's canary down the coal mine?
"No one can see the future," he laughs. "But you've got to have your feet sufficiently on the ground to pick up what's going on. And you've got to be capable of looking and listening beyond the Westminster world to see some of the things that really matter to others," he says.
And he returns to the central theme of his deputy leadership bid: to ensure Labour 'gets it' among the broader public and that its leader is never again blindsided by what's really happening on the ground.
"We've got to get beyond the days of looking to the leader's office for the line on things. No one person can provide the leadership that's required, the insights that are required. But we've got to have a leader, deputy, Shadow Cabinet that is open to the views that the broad range of our MPs and others in the party have to contribute."
Still, with both Dan Jarvis and Chuka Umunna putting family before politics of late, it seems Healey was a few years ahead of his time on that issue too.
So what happened to Alex, the teenage son for whom he stepped off the Westminster treadmill? "He's left home. He did his A-levels, worked in a local warehouse for five months, earned the money to work and travel abroad and he's started at university," he says, with unabashed pride.
"He's nearly finished his first year on an economics course, doing something much more useful than I ever learned. [Healey studied Social and Political Science]."
It's clear he has no regrets about his decision. And it's equally clear that, win or lose in the deputy Labour leader race, he's glad to be back in the game.
Popular in the Community