Goldsmiths university's student diversity officer is being investigated by police after she tweeted the hashtag "kill all white men" from the official student union account.
Bahar Mustafa also used the phrase "white trash", and has been urged to resign by an online petition, which deemed the language "hate speech", and has been signed by more than 20,000 people.
An open letter supporting Mustafa, which said she had been "unfairly singled out for attack" has received 2,000 signatures.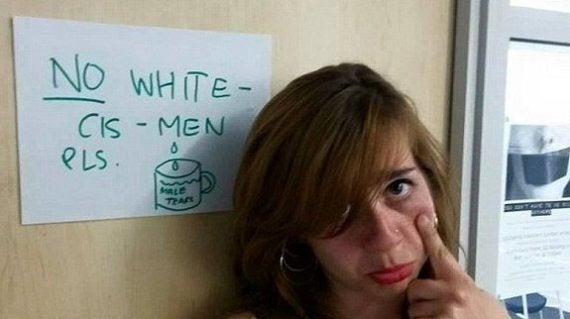 Bahar Mustafa, posing outside a sign which depicts a cup of "male tears"
Mustafa first landed herself in hot water after banning white people and men from a diversity event at the university. The organisers of the meeting later backtracked, adding "allies now welcome" to the event's description.

Mustafa's message on Facebook about the anti-racism event, which was later deleted
Mustafa has defended herself saying the tweets were "in-jokes" and a way of "reclaiming power", but the Twitter account has since been closed down.
She also added she was "acutely aware that social media is not conducive to nuanced discussions and I recognise that my online persona can be stifling or come across as intimidating".
But a police spokesperson confirmed Scotland Yard was investigating: "Police received a complaint on 7 May about a racially motivated malicious communication that had been made on a social media account. There have been no arrests and enquiries are continuing."
The petition on Change.org, started by Andy Keene, asks: "As a university recognised in the United Kingdom and in receipt of endowment you should recognise that this type of hate speech is unforgivable in terms of hate crime legislation in the United Kingdom.
"This is a very serious offence and it is not something which has been done for individual debate, it is forced segregation by a so called "Diversity Officer" whom calls for the murder of a race due to their skin colour and gender using the university name on a public platform."
Goldsmiths has distanced itself from Mustafa following the incidents, saying she is "not employed by the university" and "not a current student".
A spokesperson told HuffPost UK: "She is the Students' Union Diversity Officer and is elected by students. Students can vote for an elected officials to be removed from office, via a vote of no confidence. A petition calling for such a vote is currently underway.
"The Students' Union is an independent body run by elected student officials and we have no involvement in their decision making or the programme of events that they offer. We have no involvement in the appointment of the student representatives."
A motion of no confidence in Mustafa can only be held if a petition of at least 3% of student union members (which equates to around 250 students) is presented to the students' union by 26 May. Only then will a referendum for the entire student body be held.
In a video where Mustafa addresses the university's student assembly, she says: "There have been charges made against me, that I am racist and sexist to white men. I want to explain why this is false. I, an ethnic minority woman, cannot be racist or sexist to white men, because racism and sexism describes structures of privilege based on race and gender.
"And therefore women of colour and non-binary genders cannot be racist or sexist as we do not stand to benefit from such a system."
Goldsmiths' SU has repeatedly been contacted for comment but has yet to provide an update.