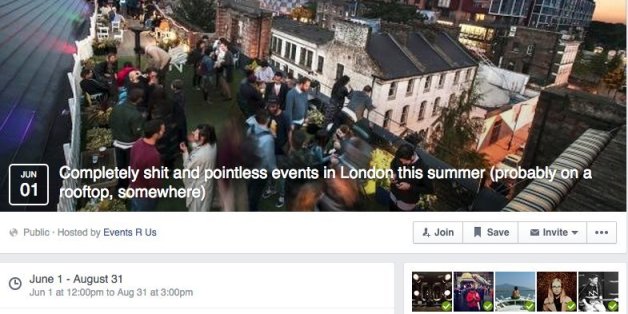 Facebook
Any Londoner - or regular visitor to London - knows what summer in the capital now entails. Pop-up rooftop events. Open-air cinema screenings. Artisan cocktails - to be enjoyed while watching an open-air cinema screening at a pop-up rooftop event.
But this summer, the best London happenings are being hosted by the not-at-all-made-up events company Events R Us - who have created this year's must-attend Facebook event page: 'Completely shit and pointless events in London this summer (probably on a rooftop, somewhere)'.
As the page explains:
This summer is looking to be a mad one for Londons events.. Join us and keep up to date with all of the most ridiculous events London has to offer...

We are talking:

- Rooftops parties well over capacity

- Open air cinemas

- Slip and Slides

- Multiple Dj's playing in one night, most of which you may or may not have heard of

- Flute recitals on a mad scale

There my even be a University wipeout course!

WHO KNOWS!!!!!!

But lets click attending anyway!

For:

Hashtags

Lashtags

Mashtags

Ridiculous banter
The events have already prompted some brilliant, and very pertinent questions (and yes, Darude - Sandstorm is a theme):
While over on Twitter, @Events_R_Us_LTD - aka 'Bearded London Events' - are also keeping us amused, with tweets about invisible raves:
Hi gang. I'm hosting a pop-up invisible disco rave and there's a very strict door policy: you can only come if you are invisible.

— Bearded London Ents (@Events_R_Us_LTD) May 24, 2015
Hot tubs:
Before I commit can you confirm the water in the vintage hot tub will be period accurate & from an underground source and not a mainstream?

— Bearded London Ents (@Events_R_Us_LTD) May 22, 2015
And mullets:
Roof Top Mullet Rave to celebrate the Mullet and all its splendour, versatility and attractiveness.

£1150.00 per ticket.

— Bearded London Ents (@Events_R_Us_LTD) May 21, 2015
Marvellous. See you at the rooftop bar in Peckham, guys...