The Queen is meant to be strictly neutral and her annual Queen's Speech is written by ministers - she has no say in its contents.
But it looked like she couldn't help but make her feelings known when she read the part about how her government will explore abolishing the Human Rights Act and replace a British Bill of Rights.
The proposal to scrap that act is intended to reduce the influence of the European courts' decisions on British judges but has been criticised for being vague and misguided.
In the speech, the Queen said: "My government will bring forward proposals for a British Bill of Rights."
She then looked up, and appeared to fix her eyes on Cameron, before sighing - as you can see in this clip made by Jon Harvey.
Tweeters who oppose the abolition of the Act were delighted with the apparent gesture.
They variously described the brief moment as the Queen doing "a huff and an evil", "looking horrified" and rolling her eyes.
The fact the speech only mentions "exploring" axing the Act was taken to be a significant climbdown by the government.
The Times' headline today was "Cameron blinks first in Human Rights row".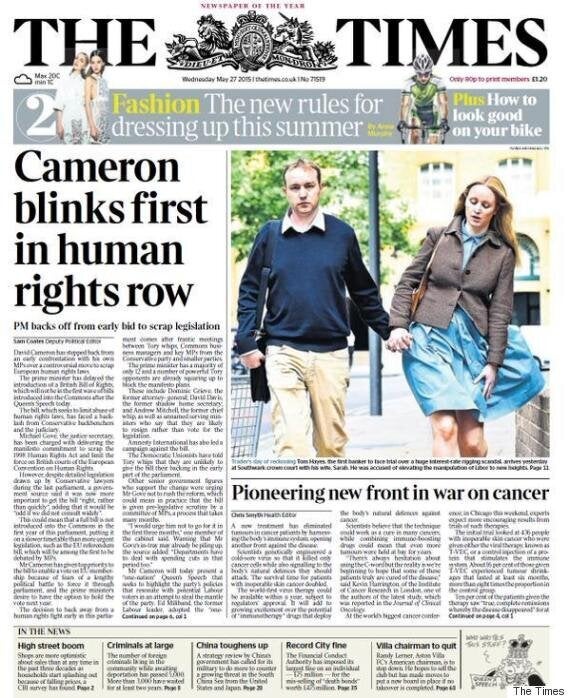 Former shadow home secretary David Davis told HuffPost UK: "I'm glad that they appear to have listening about the folly of abolishing the Human Rights Act in the 800th year of the Magna Carta.
"I hope that this indicates that they are thinking very carefully about the enormous constitutional ramifications of what they are planning."
His comment reflects unease among some Conservative backbenchers about their party's plans to axe the Act.
Civil liberties campaigners have also opposed the plan.
Shami Chakrabarti, director of Liberty, said: "It is heartening that a Conservative Government committed to scrapping the Human Rights Act has at least paused for thought in its first Queen's Speech. There is a long struggle ahead but time is the friend of freedom.
"The more this new Parliament understands the value of the Act for all of us in this United Kingdom and our reputation in the world, the more it is likely to understand how dangerous it would be to replace human rights with mere citizens' privileges."
Labour leadership candidate Andy Burnham defended the Act, suggesting it could have helped the families of Hillsborough, for whom he has campaigned as an MP.
Writing in today's Daily Mirror, he said: "Of course, there have been occasions when the Act has been misused - and these have been widely reported. But there are many other examples where it has helped vulnerable people stand up for themselves against government agencies, public bodies and large corporations.
"For instance, if the Human Rights Act had been in force at the time of the Hillsborough disaster, it might have given the families more ability to fight the appalling abuse of power they have suffered for 26 years."