Participants are being recruited for a new BBC2 show which pits jobless youths against each other to compete for cash prizes, while the format has been criticised as having a "distinctly Hunger Games" feel.
Only those earning less than £15,500 per year may apply to be on the programme, which is being produced by Twenty Twenty - the company behind Channel 4's 'First Dates' show.
'Britain's Hardest Grafter' is the current working title for the series, commissioned through BBC Current Affairs. Posters advertising for participants asks for those who have been in and out of work since leaving school, sick of living of their parents, and anyone unable to get a job due to lack of experience.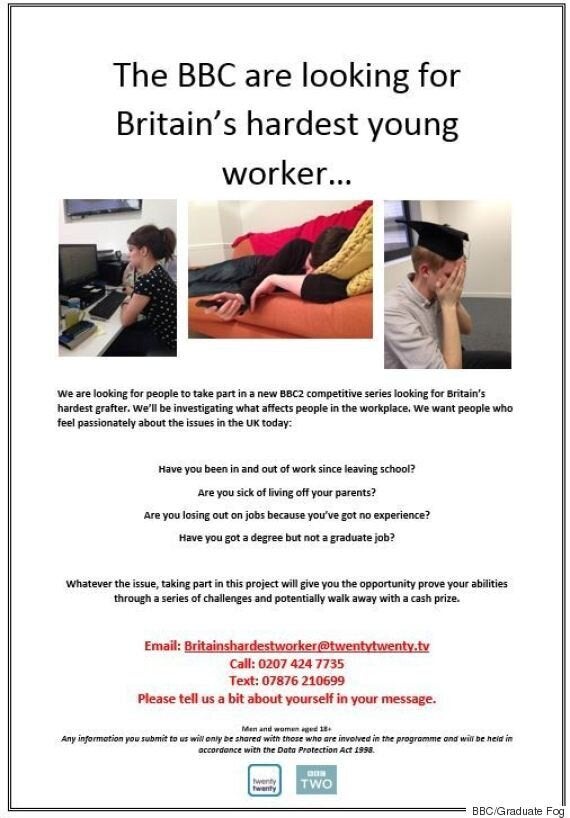 The poster adds: "Whatever the issue, taking part in this project will give you the opportunity prove your abilities through a series of challenges and potentially walk away with a cash prize."
"In each episode, people will be put to the test in a series of challenges and tasks. At the end of each episode, those who have produced the least will be eliminated and by the end of the process, just one worker will remain. The winner will receive in the region of £15,000 which is a year's living wage (outside of London).
"All contributors will receive compensation for their time as part of filming for the show (it will be filmed across two weeks) – we're still working out the specifics but obviously it will not be below the national minimum wage."
Graduate Fog added: "The final cut of Britain's Hardest Grafter (which we understand is the working title – although the show is also referred to as Britain's Hardest Worker) may end up being more sensitive and thought-provoking than this advert suggests.
"Desperate young workers must not be exploited for entertainment value."
Speaking to HuffPost UK, a Twenty Twenty spokesperson added: "Britain's Hardest Grafter is a serious social experiment for BBC Two which investigates just how hard people in the low wage economy work. Each week the contributors - who are all in work or actively looking - will experience a different 'blue collar' role as the series explores the truth about Britain's work ethic. Throughout the series, the contributors are rewarded for the work they do."
"This is the next rung down the ladder in the disturbing trend of voyeuristic "poverty porn" made popular in programmes like 'Benefits Street'," said James Pauley, the man behind the campaign. "Unemployment and poverty are serious social issues and should not be the subject of a cheap game show format, designed to exploit some of the most impoverished in our society for the purposes of dubious 'entertainment'."
Related