Chloe Louise Crawford is the first female magician to grace the 'Britain's Got Talent' stage, however, her performance in Friday night's live show didn't impress everyone.
READ ALSO:
While Simon Cowell heaped praise on the magician, the other judges - and viewers on Twitter - weren't quite so satisfied.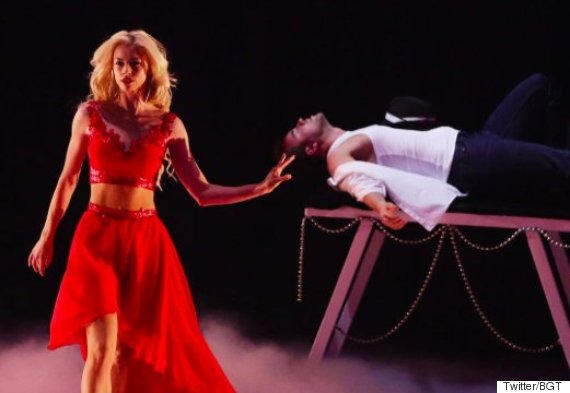 Sorry Chloe, but you didn't fool us...
Alesha Dixon was the first to share her views on Chloe's act, admitting that while she looked great, her magic wasn't exactly.. well, there wasn't any magic was there?
Amanda swiftly agreed - though Simon protested, telling Chloe that he couldn't work out how she was flying.
Here's what the good people of Twitter had to say...
Why is she dancing around, + it's obviously string lmao #bgt

— ,, (@deeperhes) May 29, 2015
Mandem on a forklift truck #bgt

— grace cole (@Gracelikesfood) May 29, 2015
All I will say about that magic act on #BGT is I remember seeing it done much better on the Paul Daniel's show. Although not as sexily done

— Claire Wilson (@tggirluk) May 29, 2015
Sorry, I agree with the girls about Chloe Louise Crawford. She is absolutely STUNNING. But that was boring compared to her audition #BGT

— Chloe Ching † (@ChloeChing3) May 29, 2015
Omg that act was so stupid it was barely a magic trick and it was a black backdrop so there was obviously wires #bgt

— forever larking (@ItIsAlwaysReal) May 29, 2015
Well, that's that then, isn't it? It's not been a great week for magicians on the show, and viewers at home saw through Jamie Raven's trick earlier this week - though he still nabbed a spot in Sunday's final.
Still, neither of them were anywhere near as bad as this lot...
LIKE US ON FACEBOOK | FOLLOW US ON TWITTER